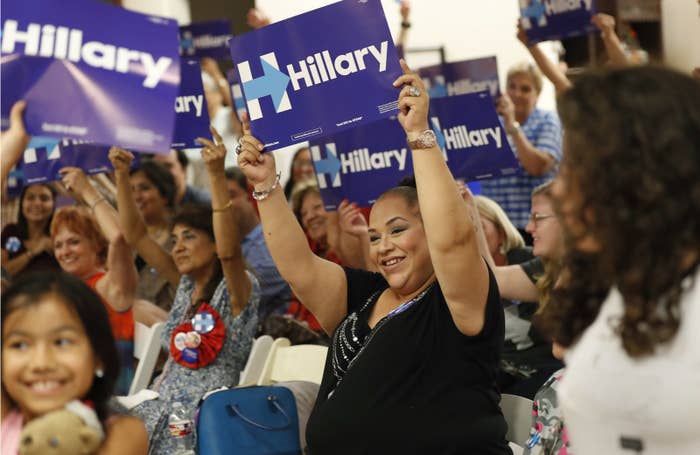 Two operatives have joined the Clinton campaign's Florida Latino efforts with deep experience in organizing people and in Hispanic media — in fact, one is coming directly from Univision.
Francisco Pelayo has left Univision to become the campaign's Florida Hispanic press director — a decision he partly attributed to the candidacy of Donald Trump, who blacklisted his former employer and kicked out its popular anchor Jorge Ramos from a press conference. Pelayo was not a writer for the television giant, but did work on booking and production.
Jose Plaza, meanwhile, joins the campaign from the liberal nonprofit group, Enroll America, which works to sign people up for Obamacare. As national director for Latino engagement, Plaza led a coalition of 15 Latino-serving organizations and oversaw staff in 11 states to get Hispanics signed up. When he heard the words on the phone from the Clinton campaign — "Florida decides presidential elections and Latinos will once again elect the next president" — Plaza decided to move from Washington D.C. to serve as the Hispanic vote director in the state.
Making Latinos aware of the health care law is a lot like getting them involved in an election, Plaza says.

"The biggest alignment is we did roll out a massive campaign to Latinos that they weren't engaged in just like millions of Latinos are not politically engaged," he said. Working in conjunction with the White House and Health and Human Services, Plaza hosted large-scale Latino enrollment summits and worked with local leaders to engage Hispanics in their schools and churches, and to connect with small businesses, LGBT Latinos, and youth. The efforts led to 4.4 million Latinos signing up.
Polls often show that immigration is a passion-point for Hispanics, described as a foot in the door issue with them — even if immigration doesn't affect them personally, if you're talking harshly about kicking out people that look like them or may be their neighbors, you're not getting in the door.
But it often does not register as the top issue of concern for them, either. In July, the Pew Research Center found that 86% of Hispanics said the economy was very important to them; 82% said health care; 80% terrorism; and 79% immigration. Education, which often registers as a top 2 or 3 issue for Latinos, was next on the list.
Which is why Plaza said he's looking beyond immigration, to unemployment and health care, to engage Latinos, but also climate change and student loans to speak to young Hispanics that may have been enthusiastic about Bernie Sanders in the primary.
And as Donald Trump's Hispanic engagement efforts, stop, start and sputter, the Clinton campaign is working with a playbook Democrats and Republicans with experience doing this work say is crucial to meeting Latinos where they are.
"With the ACA we learned people were not going to open the door and have a conversation about their health, you have to go to their churches and schools," he said.

Pelayo, who as Univision's senior elections coordinator worked on logistics but also provided editorial support when needed, got a front row seat to election events. He worked with the Clinton campaign in his former capacity, but not with the Trump campaign, which after kicking out Ramos, ignored dozens of interview requests and requests for comments on stories the network was working on.
Pelayo declined to get into Trump's treatment of the network during his time at Univision. That treatment from the campaign stands in contrast to a Clinton campaign that has been much more willing to do Spanish-language television interviews, even as it stonewalls mainstream news outlets. Clinton sat down with Univision's Maria Elena Salinas nearly a year ago, and Tim Kaine now seemingly appears weekly on Univision and rival Telemundo. During the primary, Clinton did interviews with Latino radio hosts in California and in Florida.
"My goal is to be available whenever Spanish-language media needs anything from the campaign in Florida, if they're working on a story, or want to come to events," Pelayo said. "It's about having a relationship with them, making sure they know what we're doing, and to help them to get credentials."
He said his time at Clinton campaign events gave him an "understanding of what the needs of the campaign are with the media" and pointed to Monday news that the Florida Republican Party spokesman Wadi Gaitan was leaving his role because he didn't want to elect Trump.

"What happened to Wadi, you feel something is happening, a disconnect between the Trump campaign and Latinos," he said.

The predominantly English-language media doesn't often know what is going on in the world of Spanish-language news, but that doesn't mean it doesn't help shape elections.
Pelayo will also be doing the routine, behind-the-scenes work that the campaign believes leads to the most effective communication with Hispanic communities: getting Puerto Rican surrogates, who might talk about the island's financial crisis, on TV in Central Florida; or Cuban and Venezuelan surrogates on Spanish-language networks in South Florida.
And while Hispanics are a disproportionately younger voting bloc, they are also bilingual, a fact that Pelayo says the media doesn't always understand.
"People can get the news from both, they can be tuning into the local ABC affiliate and switch to local Telemundo and get a balance of whatever they're interested in," he said.

This new role won't see Pelayo interacting with his former national Univision network colleagues, he said — his focus will be on Florida's local markets — but it may give fuel to those who disparage the network as an advocacy arm for Democrats or Latinos.
But just as the network doesn't apologize for its pro-Hispanic bent, Pelayo — who said he is not a journalist, but has a political science background — said he couldn't just stand on the sidelines of Clinton events any longer.
"One of the reasons I switched my hat is because this is such an important election for our community, it's an important choice about the future of the country," he said.