NCLR President Will Attack Republicans: You Don't Care About Latinos
A year after NCLR President Janet Murguia called Obama the "deporter-in-chief," she will rip into Republicans at the NCLR Capital Awards Tuesday, in prepared remarks viewed by BuzzFeed News. "Our complaint is not partisan, it is personal."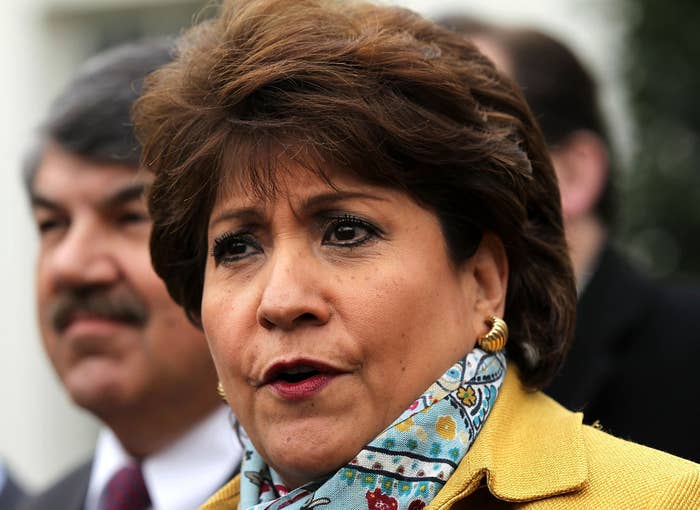 Almost a year to the day National Council of La Raza (NCLR) President Janet Murguia called President Obama the "deporter-in-chief," she will lay into Republicans for opposition to his executive actions and immigration legislation, saying they don't care about Latinos and have made it "personal" with the community ahead of the 2016 election, according to prepared remarks provided to BuzzFeed News.
Murguia will make the speech at Tuesday's NCLR's annual Capital Awards in Washington, D.C., an event recognizing officials from both parties for their support of issues that affect the Hispanic community. In her remarks, she makes clear she is now training her ire and that of her organization at Republicans, lumping together those who support tying Department of Homeland Security funding with ending Obama's immigration actions and the governors and attorney generals leading the 26-state legal fight against the president.
"This feels like it is about us — that when it comes to Latinos and their families, too many in the Republican Party simply don't care," she will say, according to the remarks. "They don't care about the human toll their inaction has on our community. They don't care how many of our children will lose a parent. They don't care about the financial devastation they cause to our families and our communities."
In an interview with BuzzFeed News, Murguia said Republicans should see her tough words through the prism of the coming 2016 election.
"We're taking the opportunity to make it crystal clear to Speaker Boehner and the Republican Party that if they don't change course, they will lose the Latino vote for a generation," she said, arguing former California Gov. Pete Wilson's perceived anti-Latino rhetoric in the early 1990s made the state a bastion for Democrats.
She also addressed a concern recently shared by DREAMer activists who met with advocates close to the White House. The activists see an opportunity to attack Republicans on the issue, but worry doing so could stoke fears in the undocumented immigrant community and prevent people from even considering applying, if the program is reinstated during or after the legal challenge.
"We need to do both," she said of the balance between partisan attacks and informing the community about the status of the legal challenge to Obama's actions.
Murguia incurred Obama's wrath after calling him the "deporter-in-chief" last March — she wasn't invited back to the White House again until late last year — but many advocates highlight the moment as a turning point in the fight for immigration actions.
This year Murguia won't hit Obama — she'll thank him.
"The reason I'm thanking the president is we have had our differences on timing but at the end of the day he acted, he had a lot of options, but he did act boldly," she said.
The awards will also honor New Jersey Sen. Cory Booker and Frank Sharry of America's Voice.
With her speech framed toward the 2016 election, Murguia not-so-subtly hinted at what she wants to hear and see from presidential candidates, like Hillary Clinton, whose shadow looms over the entire field.
"That they can articulate their positions on policy issues that we care about and their campaigns reflect our community in staff, including in their inner circles, and that they're present in our communities with outreach and messaging," she said.
"Nobody is going to get by on their past record, we need to understand what they are committed to doing in the future."