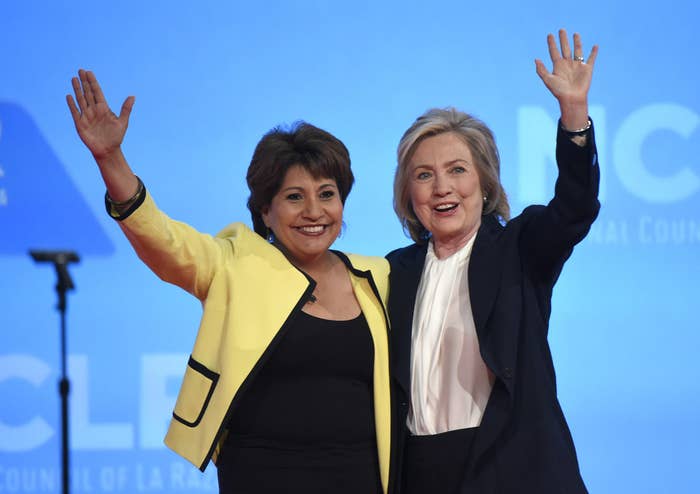 National Council of La Raza (NCLR) president Janet Murguia will call out Donald Trump for "xenophobia, race-baiting and religious bigotry" in a speech in Washington D.C. Tuesday and exhort Hispanics to become citizens and register to vote, according to prepared remarks obtained by BuzzFeed News.
While she's best known for drawing President Obama's ire two years ago when she called him the "deporter-in-chief" during the same speech at the NCLR Capital Awards, Murguia hasn't shied away from blasting Republicans. Last year she hit them for ignoring immigration. This year the target is Trump.
She will say that as the head of a nonpartisan organization she can't tell anyone how to vote, but as the head of a civil rights organization she will "denounce nativism."
"Mr. Trump, prejudice is not leadership, it is ignorance," she will say. "Scapegoating is not strength, it is cowardice. And hate will not make America great again."
While Murguia told BuzzFeed News her organization can not legally endorse, the question of a possible endorsement of Hillary Clinton if she is the Democratic nominee facing Trump is something the NCLR Action Fund, the group's 501(c)(4) may consider.
Clinton attended the group's national conference last summer.
But just as important as calling out Trump, Murguia wants to get across that the Hispanic community is not his punching bag and not powerless to respond.

"The rhetoric Trump has been espousing is having a mobilizing effect in our community but we need to make sure they're connected to resources on how to participate in the election," she said.

These initiatives include a traditional partnership with Univision and Telemundo stressing the important of Latinos naturalizing and registering to vote but also a new app in partnership with mitú called Latinos Vote aimed at young Hispanics, who make up half of all eligible Latino voters.
NCLR also has civic engagement classes, English classes and pilot loans to facilitate the naturalization process, which has been fueled this year by Hispanics who want to become citizens to vote against Trump.
Murguia will tell the story of Bernadette Pinetta, a third-year UCLA student who she met when she was introducing the Latinos Vote app. The young woman became emotional recounting the importance of her vote, particularly this year.
"If we don't go out to vote, they will not hear us," Murguia will recount the young woman saying.