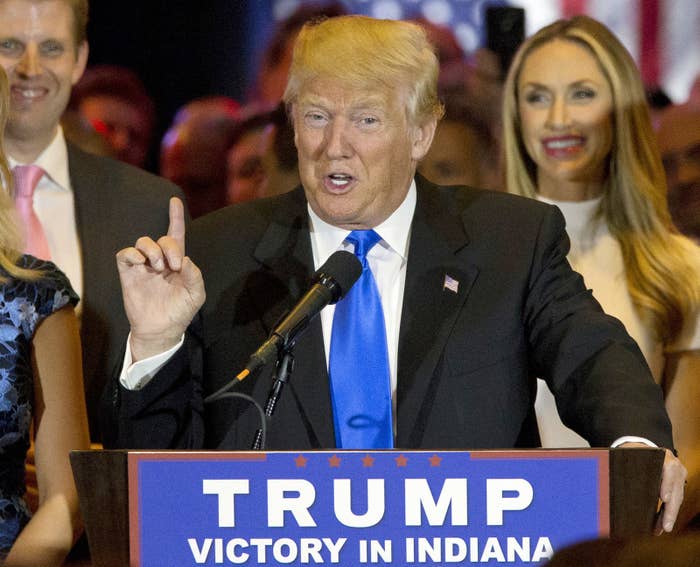 The next two months will be instructive on whether the presumptive Republican nominee Donald Trump will seek to engage communities he has angered — like Latinos.
In the next two months, Trump will likely have opportunities to speak at the national conferences for major Hispanic organizations like the National Association of Latino Elected Officials (NALEO), the League of United Latin American Citizens (LULAC) and the National Council of La Raza (NCLR).
Already this weekend, Trump (and Hillary Clinton) will send video messages for the meeting of the National Hispanic Christian Leadership Conference (NHCLC) in Anaheim, the largest Hispanic evangelical group in the nation.
Rev. Samuel Rodriguez, the NHCLC leader, said that while he "completely repudiates the rhetorical hyperbole and demagoguery" employed by Trump "about Latinos, immigrants and Mexicans," it is critical for the candidate to speak to the Hispanic community and for organizations to invite him.
That's the plan at NALEO and LULAC, who have sent formal invitations to the candidates, but who have had difficulties getting responses from the Trump campaign.
"We think it's important for anyone who wants to be president to speak to the constituency of NALEO," said Arturo Vargas, its executive director of the conference which begins June 23 in Washington, D.C. "The men and women at the front lines of America's challenges, to create a partnership with the people the running school districts, cities, and counties."

LULAC envisions a grand plan: partnering with Univision so that its influential anchor, Jorge Ramos, can interview the nominees individually at a town hall during its conference being held in Washington this July, according to sources with knowledge of the plan.
That pitch presents an obstacle. Although LULAC is the oldest Hispanic organization in the nation, the candidate butted heads with Ramos last summer, speaking over him, refusing to answer his questions, and kicking him out of a press conference, where he snapped "Go back to Univision!"
"With Ramos doing the questioning it won't just be a free pass to talk to the community," said Brent Wilkes, LULAC executive director.
Not everyone is doing backflips to get Trump to speak. NCLR, the civil rights organization that has blasted Republicans for blocking immigration legislation and drawn Obama's ire for labeling him the "deporter-in-chief," is holding a board meeting in two weeks to decide whether it wants to invite Trump at its conference in Orlando in late July.
The conversation — expected to be a "spirited" one — will center on whether Trump should have to answer for the comments he has made, viewed as offensive, or whether the organization should even extend its platform to him at all.
"It's a dilemma, no question," said NCLR's Lisa Navarrete.
This point of view is perhaps unique to Trump, but not exclusive to NCLR, said Rev. Rodriguez.
"These are great organizations for our community but some demagoguery out of the Trump campaign has been so negative to the Latino community, that outside of faith groups, some groups have told me 'God bless you, but we won't provide space for him in our events,'" he said.
"To say there's bad water would be an understatement."