MSNBC's Chris Matthews Apologized For "Two Cubans" Line After Internal Pressure
Complaints from NBC staff and advocacy groups. "How do you control someone like Chris Matthews?"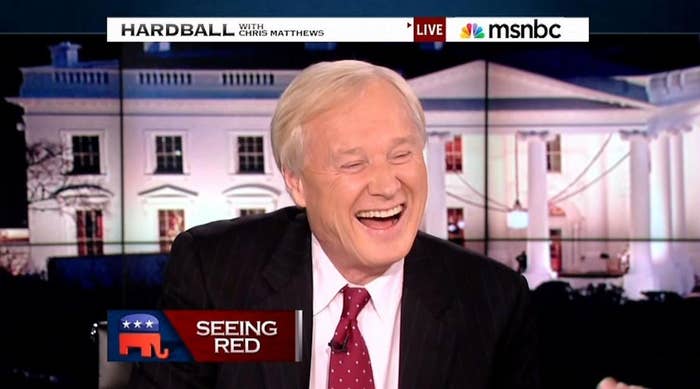 MSNBC anchor Chris Matthews apologized during his show Thursday night ahead of the Republican debate, after wondering who would want to watch a Donald Trump-less debate with "two Cubans" — Sens. Marco Rubio and Ted Cruz.
"It had nothing to do with the point I was making and came off as condescending, even derogatory," Matthews said. "It sounded like I was putting them down because of their background. It was raw and insensitive and not just to the good Cuban-American people who have found freedom and pride in this country. Important groups which I respect have called me on it and have been right to do so. I'm sorry I said it."
The apology came after internal complaints were raised at the network by Hispanic and non-Hispanic employees, according to conversations with eight NBCUniversal employees in the company's various news divisions. (NBCUniversal is an investor in BuzzFeed; this reporter once worked for the now defunct NBC Latino, and criticized its closure.)

The remarks are the second time Matthews has been criticized for comments he made about Rubio and Cruz. In November, he questioned whether they are truly Hispanic, calling them "Cuban nationals."
"People have been going to management, not just Latino employees, but people have been going to management and complaining sort of like 'What the fuck? Did that really happen on our air?'" an NBC employee said.

Many of the people at NBC that spoke with BuzzFeed News posed the hypothetical of what would have happened had Matthews been talking about someone else. "Can you imagine if someone said what's up with two old white people debating among the Democrats? Or two Jewish people or two black people?" a second staffer said.
The remarks come amid MSNBC's long-running attempts to keep its talent and voice in line with its diverse, progressive brand. The channel has occasionally had to apologize, as for a 2014 segment meant to educate viewers about Cinco de Mayo which went off the rails when it featured a producer donning a sombrero, shaking a maraca, and stumbling around acting like he was drinking from a tequila bottle, and more recently over NBC News executive Deborah Turness using the term "illegals" during a meeting with Hispanic lawmarkers angry over Donald Trump hosting Saturday Night Live.
Critics have also pressed for more diversity at the channel and across broadcast and cable news. A spokesman for MSNBC declined a BuzzFeed News request for comment, but the cable network has long been heavily watched by black viewers. Last summer, Lester Holt became the first African-American solo anchor on a network news program in history. Just three people of color, Jose Diaz-Balart, Tamron Hall, and Al Sharpton, anchor MSNBC shows.
Matthews's remarks reopened a sensitive subject, and drew criticism across the board — from Democrats and Republicans alike, as well as Spanish-language giants Univision and Telemundo in news reports, the latter of which is part of NBCUniversal.
Democratic donor Freddy Balsera, who called the comments "bigoted" in a tweet, told BuzzFeed News, "If we as progressives project ourselves as people who fight for equality and civil rights, then it can't just be talk. We have to conduct ourselves in that fashion. It's not a funny comment," he said.
"By the way, these are two people I thoroughly disagree with, it's not like I want to hear them," Balsera said, referring to Cruz and Rubio. "But these are two Americans, not two Cubans."

Republican Carlos Gimenez, the Cuban-American mayor of Miami-Dade County called the remarks "antiquated" and said they showed "bigotry and ignorance." Alfonso Aguilar, who led a Hispanic Republican effort to bash Trump and Cruz because of their immigration rhetoric before previous GOP debates, said Matthews comments were "offensive to all Hispanics and especially those of Cuban origin."
Posting an unflattering photo of Matthews before his apology, Univision anchor Maria Elena Salinas wrote, "Why am I not surprised? He should apologize but probably won't," adding in Spanish, "As if it wasn't enough to hear racist comments from candidates now we also have to hear them from journalists." Univision aired a follow-up segment Friday, after covering the initial remark. Meanwhile on Telemundo, anchor Maria Celeste said there was criticism from the Hispanic community of Matthews's remarks in a broadcast.
Internally, meanwhile, there was a new wave of recriminations.
"There's embarrassment and shame at the things that we've done," an NBC source said. "No one here has malice towards Latinos but we keep shooting ourselves in the foot."

Employees suggested the uproar would be bigger internally if more people felt it would make a difference, with some noting with frustration that the sombrero-clad producer from the Cinco de Mayo segment, Louis Bergdorf, now plays a prominent role on the show Way Too Early.

"Why this is all offensive is because of the tense environment Latinos are living in right now," a third NBC employee said. "The bigger issue is no one bothers to say anything because they feel no one will be held accountable."
The latest incident comes months after Latino groups mobilized after a fall report that Diaz-Balart would be the odd man out of lineup changes at the network, by having his show cut from two hours to one or being canceled. At the time Alex Nogales of the National Hispanic Media Coalition spoke with MSNBC president Phil Griffin who reassured him that the report was inaccurate.

"Jose is a highly valued part of the network and we expect him to continue to be for a long time," an MSNBC source said at the time.
In fact, Diaz-Balart is a permanent member of the rotation of anchors for the Saturday edition of the Nightly News on NBC News and is a regular Meet the Press contributor.
Felix Sanchez, chairman of the National Hispanic Leadership Agenda's (NHLA) media committee, which sent a letter to the network after the erroneous report, said the network has repeatedly said it wants to be better at diversity and Latino representation.
"There's a history of an apologia mentality," he said of the network. "'Let's sin and then let's ask for forgiveness.'"
Nogales, who has had some of those conversations with Griffin and NBC executives, said he has been upset with all things NBC after SNL had Trump on as a host, but said he believes Griffin cares about the network doing better when it comes to Latino representation.

"I have great confidence in Phil Griffin, he has proven himself to be a good leader," Nogales said. "He really gets it, he tries to have his people be equitable."
"He could say to his people 'Goddamn it, don't say these things or you're going to get us into trouble,'" he said. "But how do you control someone like Chris Matthews?"