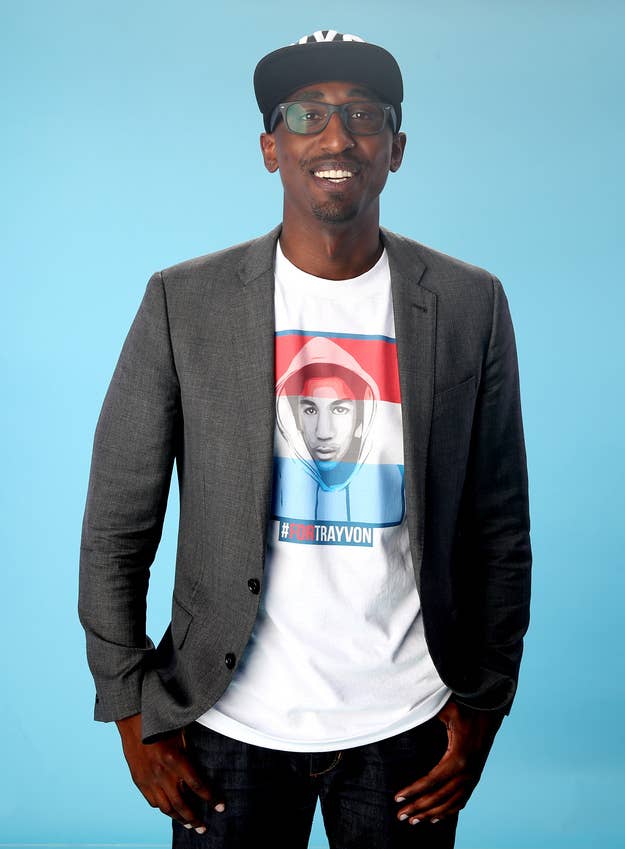 Daniel Maree, the founder and executive director of Million Hoodies, a national non-profit, wants to capture the attention and energy of young people with a Virtual March on Washington that will speak to them through music, celebrities and social media.
"We knew very early on that we wanted to do something different around the March on Washington," Maree told BuzzFeed ahead of the 50th anniversary of Martin Luther King, Jr.'s Great March on Washington.
The virtual march will be livestreamed on Saturday, August 24, which will include musical performances, shout outs from celebrities and a push for people around the country to send in photos of themselves wearing hoodies with the hashtag #HoodiesUp.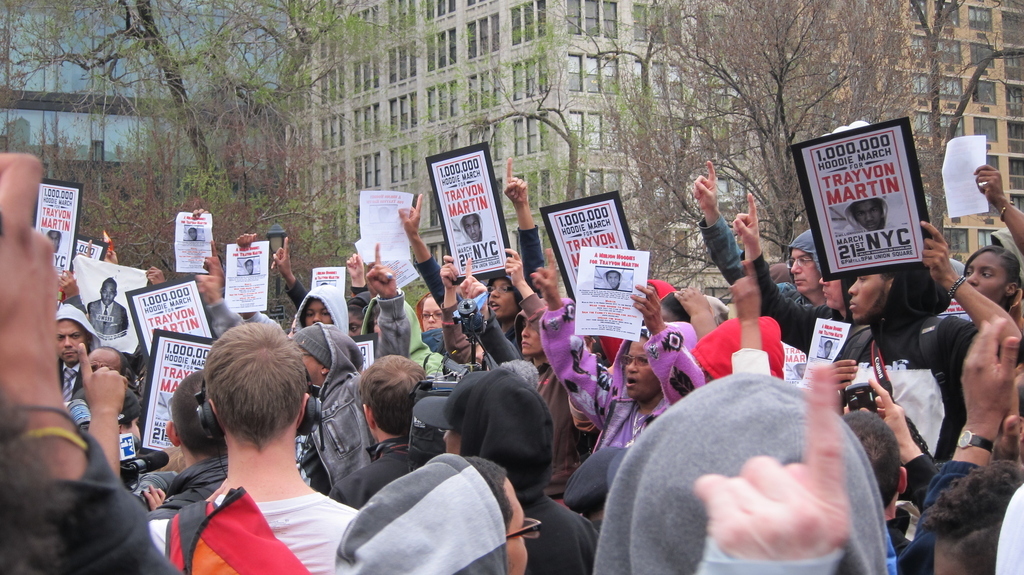 Maree says the older generation of leaders "have taken us very far," but now is the time for youth to harness their power.
"For us to see real change we need to focus on the voices of young people who are being killed in Chicago and stopped and frisked in New York," he says.
The focus of Million Hoodies has been on the death of Trayvon Martin, a moment that many young people rallied around. "We were able to mobilize 50,000 people around the U.S. to sign the Change.org petition for Trayvon, which reached over 2 million signatures and is the fastest growing petition on the site," Maree says.
Maree was honored for Million Hoodies at the Do Something Awards — a ceremony sponsored by the non-profit activism organization, Do Something — winning a $100,000 grand prize that he says will be used to grow college chapters and infuse the organization's efforts to stop racial profiling. They've already received reports of 2,000 instances of police misconduct from young people around the country, he says.
The young founder sees Million Hoodies as a cross between a non-profit, an ad agency and a startup and he uses that mindset in how the organization does youth outreach and engagement.
"My background is in advertising and entertainment and I believe strongly in the power of the medium to reach them in their own way on their own terms," he says. "I'm a member of the Millennial generation and we believe in honest content and we're not seeing that."
The virtual march will be supplemented by 50 to 100 young people who will come to Washington from New York by bus. He's also using Thunderclap, a website that brings people together to send out a message on social media at the same time to amplify their message. At 7:16:56 on Sunday, the moment of Trayvon Martin's death, they will send the message below.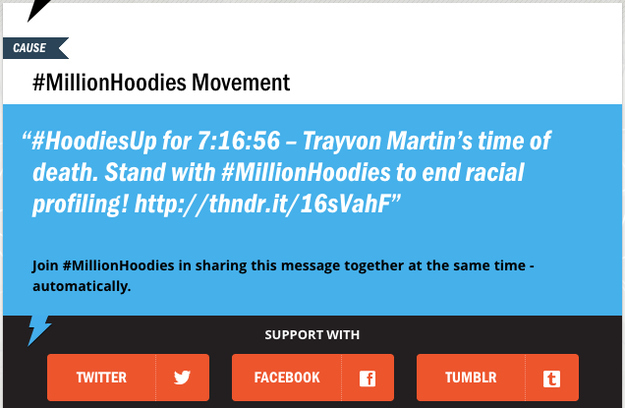 It's clear that Maree believes in Million Hoodies, even before you see that he tattooed the hashtag #MillionHoodies across his forearm. He says ending racial profiling is immensely important to him, but the organization also seeks to mobilize people to vote and improve education.
"For the educational component we're in discussion with the Bill and Melinda Gates Foundation to help middle school and high school students," he says.
Rallies are rallies and all organizations, big and small, have mission statements and pet projects, but you can't help but sit up and take notice when Maree says Million Hoodies is in discussions to work with Matt Dover of Civis Analytics, one of the principal players on the Obama 2012 data team, to analyze voter registration and look at gun violence and racial profiling data.
"From a larger picture stand point we want to figure out how we can leverage big data and analytics," he says.
On Saturday, people can go to MHoodies.org to watch the livestream, sign a petition against racial profiling or start a college chapter, he says.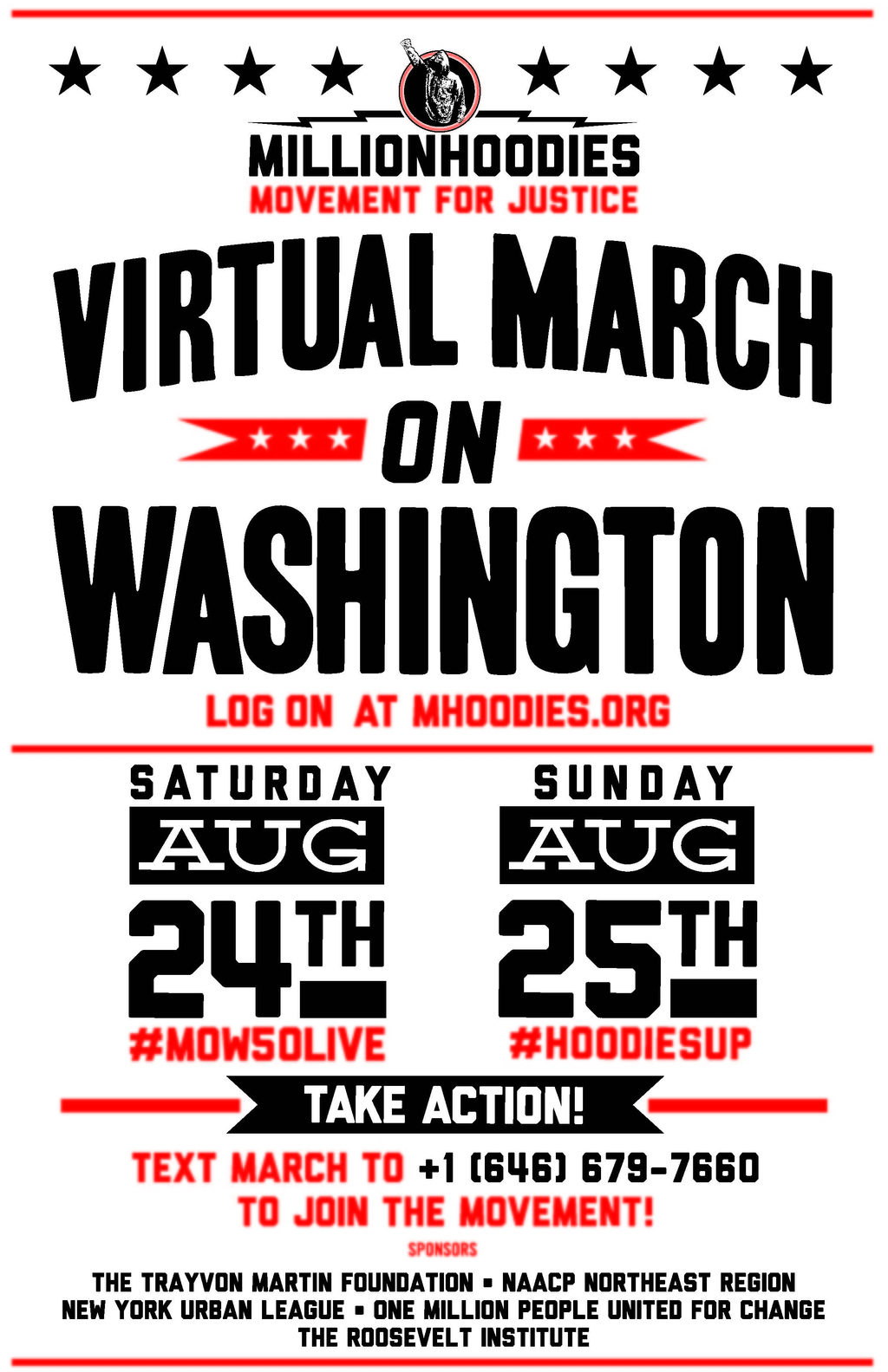 Maree says people have forgotten about the nature of Martin Luther King Jr.'s dream and he sees parallels between the March on Washington and the virtual march:
"We often lose sight of what Dr. King's dream really was. It wasn't just racial profiling. It was understanding that we are all our brother's keepers. I grew up in South Africa and I think of the South African term Ubuntu. "I am what I am through other people." I feel that's what the world hasn't taken away from Dr. King's legacy. Not just racial harmony but human harmony, humanity. We're at an unfortunate point in American history, back at the table, back in the same discussion, because of a racial profiling case. Dr. King's dream hasn't been realized fully. But what gives me hope is 50 years ago we didn't have social media. So to me, the virtual march on Washington, is the modern ancestor, the natural next step.