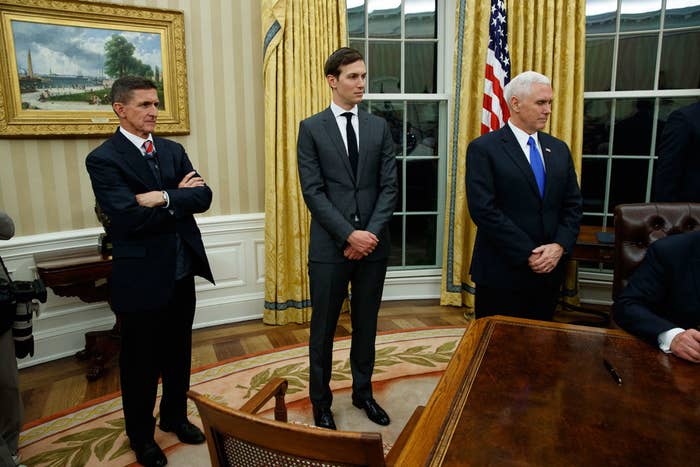 WASHINGTON — National Security Adviser Michael Flynn's resignation Monday night might have been a stunning early setback for the new administration, but it also offered proof that Vice President Mike Pence does have some power to spur change in the White House.

Flynn resigned after reports emerged that he discussed the issue of sanctions with Russian officials prior to President Donald Trump's inauguration and, worse, misled Pence, leading the vice president to claim falsely that Flynn had not spoken to Russia on Sunday TV shows. Flynn apologized to Pence, but the relationship had soured, with Pence's credibility at stake.
Earlier on Monday, after Trump counselor Kellyanne Conway said on television that Flynn still had the president's full confidence, a Pence ally would not say the same for the vice president. It was frankly "unclear," the ally said, if "Flynn has his trust."
Another Pence ally said, "I hope they get rid of Flynn for Pence's sake," hours before the resignation.
"How much power does Pence really have?" a source with ties to the administration said Monday afternoon. "There's a difference between being in the room and being able to move things."
For Republicans who spent much of the campaign skeptical of Trump, his choice of Pence as vice president and his subsequent cabinet picks were cause for growing confidence. Many Republicans who remained uncertain about Trump himself were enthused by his cabinet picks. Flynn represented a different kind of pick: a loyal Trump adviser, an advocate of a much closer relationship with Russia, and a virulent critic of Islam. His being forced to resign — and so early in the administration — deals a blow to Trump's oft-repeated insistence that he picks only the best.
Pence's exact role in that exit is unclear. The vice president spent hours on Capitol Hill Monday meeting with different groups of lawmakers. Over the course of two hours, several Republican members moved in and out of Pence's first-floor office in the Capitol. Among them were Florida Reps. Ileana Ros-Lehtinen and Mario Diaz-Balart, Indiana Rep. Jim Banks, and Tennessee Rep. Phil Roe.
The subject of Flynn, Roe and Banks said afterward, did not come up at all in the closed-door discussions. And Pence ignored repeated questions from reporters on the issue. But on a day when Flynn's future in the White House was up in the air, it was clear that members in the meetings were no less confident in Pence's ability to drive administration policy.
"Having recently served with him, I know that he listens and will relay those thoughts to the administration and do what he can to take that into account," Banks said.
And even as Republicans were reluctant to comment on the specifics of the situation with Flynn, dodging repeatedly and saying they were more concerned about policy and leaving personnel matters to the executive branch, they strongly defended and praised Pence. "Mike Pence is a trustworthy person, I don't think he would deliberately mislead anyone," said Florida GOP Sen. Marco Rubio.
Jeffrey Lord, a former Reagan administration official and CNN commentator who supported Trump during the general election, said the resignation is a signal that Pence is a powerful player in the young administration.
"You don't look Vice President Pence in the eye and not tell the truth," Lord said after Flynn's resignation. "The president is going to look to the VP and say, 'What happened?'"
"If the VP says, 'You're being told A and I know B,' the president is not going to take that well, particularly this president," Lord continued, adding that he believed Pence would be a strong vice president, on his way to "Dick Cheney-style, Joe Biden-style clout" with the president.
Throughout the day on Monday, the White House offered varying responses to whether Flynn would remain in the administration. Besides Conway, White House press secretary Sean Spicer soon issued a statement saying Trump was still "evaluating the situation" around Flynn.
Pence got dragged into a wave of reports concerning Flynn and Russia when he did a round on Sunday shows in January.
"I talked to Lt. Gen. Flynn about that conversation and actually was initiated on Christmas Day he had sent a text to the Russian ambassador to express not only Christmas wishes but sympathy for the loss of life in the airplane crash that took place," Pence said on Face the Nation on Jan. 15.
"It was strictly coincidental that they had a conversation. They did not discuss anything having to do with the United States' decision to expel diplomats or impose censure against Russia."
A Washington Post story on Monday evening reported that the Justice Department had warned the White House about Flynn's communications with Russia — even before Pence had defended Flynn on national television.
That revelation was ultimately too explosive for Flynn to continue on in the administration. His resignation was announced less than three hours later.
"Unfortunately, because of the fast pace of events, I inadvertently briefed the vice president elect and others with incomplete information regarding my phone calls with the Russian ambassador," Flynn wrote in his resignation letter. "I have sincerely apologized to the president and the vice president, and they have accepted my apology."
CORRECTION
A previous version of the story misidentified the state Tennessee Rep. Phil Roe represents.