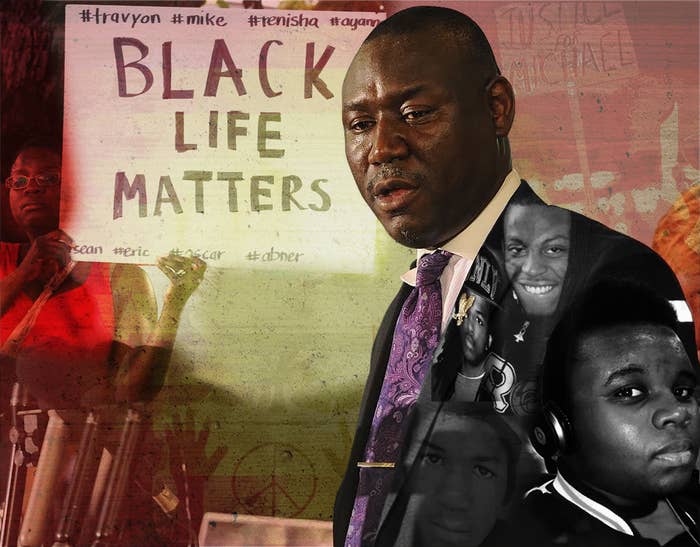 Benjamin Crump often meets his clients for the first time when they're mourning the death of their young black son. And among the first things he tells them is what they should keep in mind at press conferences and in interviews with the media:
"All I want you to do is talk about your baby. Talk about how good he was and what your baby meant to you. I'll handle the rest."
And so as Ferguson, Mo., roiled and simmered after Brown's Aug. 9 shooting, Crump's phone began ringing almost instantly. The president of the NAACP chapter in St. Louis suggested he take on the case, as did a lawyer who is Brown's cousin. A third call came from Tracy Martin, Trayvon's father and an East St. Louis native, who had been Crump's best-known client to date.
"A lot of people are turning to attorney Crump. Even before our incident, we knew a lot of people were reaching out to him," Martin told BuzzFeed. "I knew that this case needed attention right away, and through the resources he has and the contacts he has, that he would bring a lot more attention nationally."
On Aug. 11, Brown's family announced that they had, in fact, retained Crump to represent them in seeking criminal charges against the police officer who shot their son. Their decision cemented Crump, 44, — already a prominent Florida trial lawyer with a decade of high-stakes litigation behind him — as a new figure on the national civil rights stage.
"This is the reason why you go to law school. To try to fight for people, to make sure your community gets equal justice," Crump said. "When I get these calls, like so many other calls, like Trayvon, they're devastated."
But while Crump made his name with the case of 2013 and Trayvon Martin — and is now at the center of the explosive Brown case — he has long, lower-profile experience representing families who don't receive as much media attention, as they seek justice for a child's death.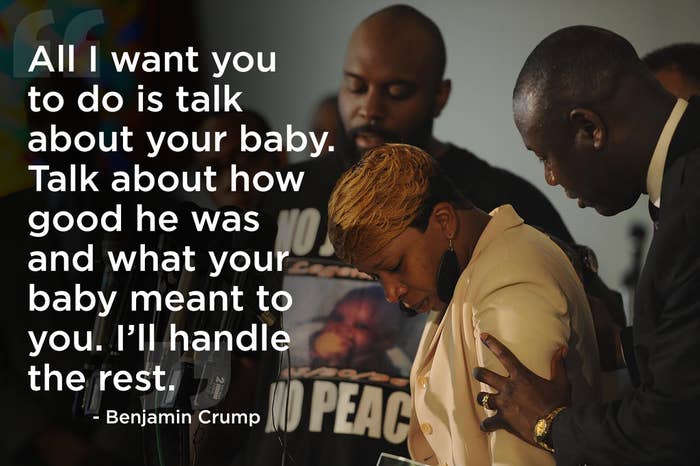 On July 29, 2012, Chavis Carter, 21, was stopped by police in Jonesboro, Ark.
A small amount of marijuana was found on him and he was put in the back of a police car, without being handcuffed, when a background check revealed an open warrant for a marijuana charge in Mississippi. He was then searched more thoroughly a second time, according to police, and handcuffed and put in the back of the police car again.
That's when police say the left-handed Carter retrieved a gun he had somehow managed to conceal through two searches, maneuvered his cuffed hands, and shot himself in the right temple.
Police quickly made a video reenacting how Carter could have managed to kill himself in such a position.
Kareem Ali, a community activist who has been working with the Carter family on the case, said the young man was a cheerful and happy person who was not suicidal. After the family felt the case was going nowhere with their initial attorneys, they decided to enlist Crump's help.
He said community activists and lawyers who work with these families often experience their personal pain.
"This is what's unique about Crump as I've watched him over the last couple years," Ali said. "Crump is very effective at making the pain of the victim become universally expressed in the most simple format. He gets family members to talk about the humanity of their child. Like my child or your child, he was a simple kid, on his way to college. He had the rest of his young life ahead of him to be great. He's very sharp at letting the world know that these are children. They are our children: innocent victims who had the rest of their lives in front of them, and someone felt they had the authority to take their lives and snatch away their future."
Repeatedly, those who know Crump have said he has a strong reputation in the community, and the Trayvon Martin case helped sear that image in the minds of black families across the country.
"These families want a fighter. It's hard for them to fight because they're in the middle of grieving," Ali said. "He takes on the pain. He takes on the pain and the suffering. When he speaks, he's speaking from their pain. That is what is very effective."
And he spoke about Mike Brown.
"No human being could say what happened to Michael Brown was not devastating," Ali said.
"When I was first reading of it and saw him lying in the street, blood rushing from his head, I just cried. I just broke down crying. Enough. Is. Enough."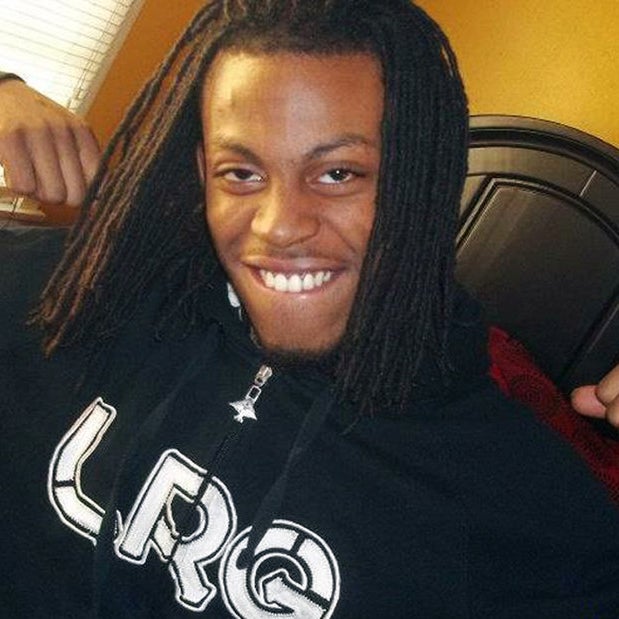 Chavis Carter (left), and his mother Teresa Rudd (right) with her son Kizziah Carter.
Crump, who was raised by a single mother in housing project in Lumberton, N.C., has been married to his wife Genae Angelique Crump for 13 years and is raising his year and a half old daughter along with his cousin's two teenage boys.
Carter's mother, Teresa Rudd, said she liked the way Crump handled the Martin case.
"I love his spirit. He goes above and beyond as if it was his son," she said.
She spoke about her son, who wanted to be a veterinarian.
"My son, he was a lovable person. He was into everything that a 21-year-old did. He wasn't a bad kid. He wasn't suicidal, he had his life ahead of him," she added.
His grandmother Annie Winters-Carter, who had raised him since he was 8 years old, said the way things turned out is impossible to fathom.
"I instilled belief and values in him and in his life," she said.
"His younger brother looked up to him for leadership and direction. It's just so painful to discuss it. As time goes by he's still in my heart."
She said she wanted to work with Crump because of how he connects with African-Americans who feel their voices are not being heard.
"Mr. Crump, his voice speaks louder to our black community," she said. "Us, as black Americans here in the state of Mississippi, [white people's] word just doesn't have enough value for us. Having Mr. Crump — as black Americans, the black community, we listen to another black leader."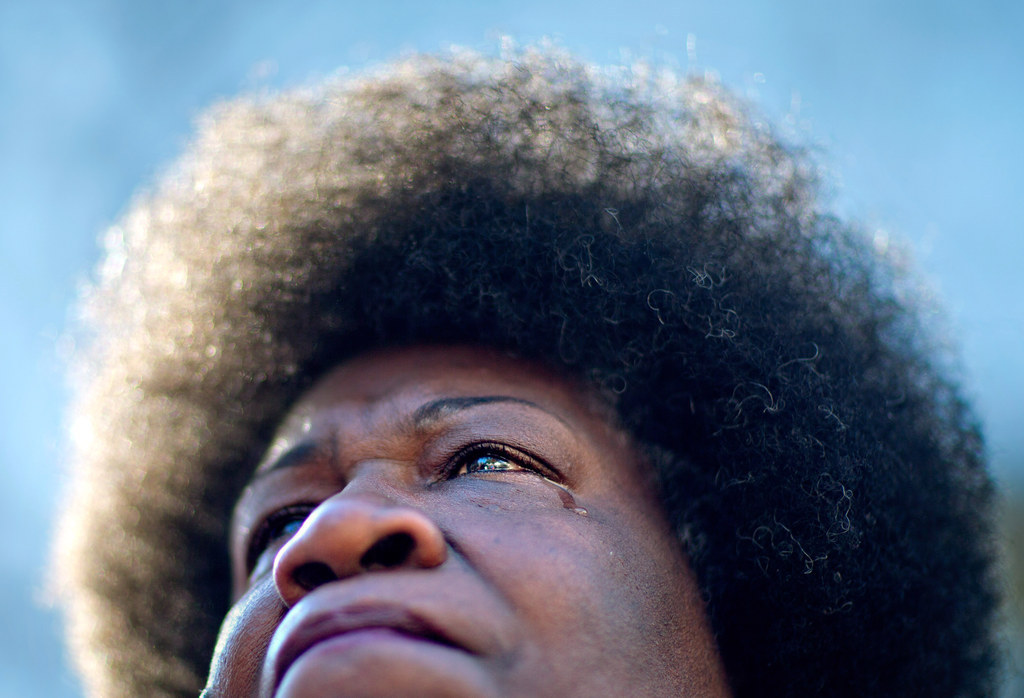 Kendrick Johnson is the name of another young black man, found dead, with a subsequent investigation that raised more questions than it answered, which brought Crump into the fold.
The 17-year-old Georgia teen was found dead on Jan. 11, 2013, his body rolled inside a wrestling mat in his high school gym.
The Lowndes County Sheriff's Office maintains that Johnson must have crawled into the gym mat, gotten stuck, and died. They closed the case, infuriating Johnson's family.
A CNN investigation showed a forensic video expert the surveillance video, which it was able to obtain only after filing a lawsuit. The video was provided by the school to authorities, and they were deemed "highly suspicious."
"Those files are not original files, they are not something that an investigator should rely on for the truth of the video," the video expert said.
At issue is the missing video from four cameras trained on the gym where Johnson was found dead. The first camera captures video from the morning until 12:04 p.m., but then the feed goes out until 1:09 p.m. The second camera records until 11:05 a.m. and then picks up again at 1:15 p.m. The third camera shows two hours and 11 minutes of missing video after 11:05 a.m., and the fourth has nothing from 12:04 p.m. to 1:09 p.m.
"They've been altered in a number of ways primarily in image quality and likely in dropped information, information lost," the expert said.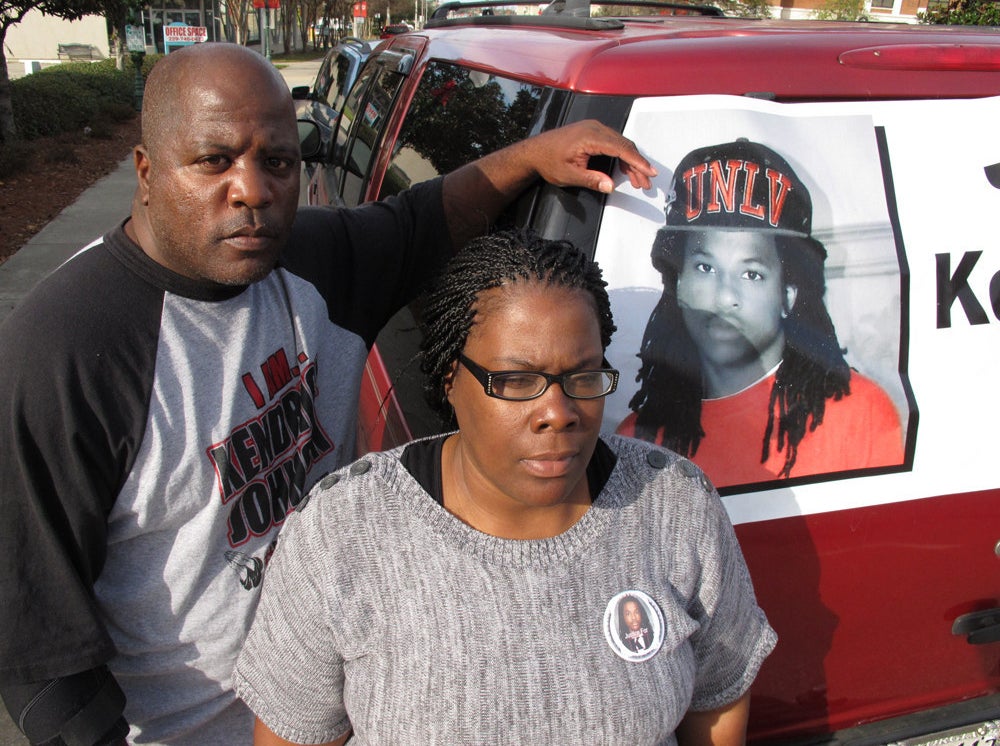 Kenneth and Jacquelyn Johnson stand next to a banner on their SUV showing their late son, Kendrick Johnson.
Johnson's parents make it clear that they are tired, with the pain evident in their voices.
In a short conversation with BuzzFeed, they declined to talk much about their son but spoke about why they chose Crump to represent them.
"We trust him," the slain teen's father, Kenneth Johnson, who has a tattoo of his son on his right arm, said. "We need someone we can trust."
"Someone to put Kendrick's name in the public eye so he can help Kendrick get some kind of justice," his mother Jacquelyn said.
Marcus Coleman, the family's spokesman, said Crump, who in August was named the president-elect of the National Bar Association, the largest association of African-American lawyers and judges, makes it no secret that the Martin case put him in position to represent other black families looking for justice.
"He always prefaces it with Trayvon Martin — his fame is because of the blood of Trayvon," he said. And Coleman, whose former boss was Al Sharpton, said the civil rights leader has helped.
"It doesn't hurt when Sharpton gives him the stamp of approval," he said.
"Knowing brother Crump, his spirit is sincere, and that is rare in this particular arena. This is a nationwide movement and people look at him as a symbol," he added.
Coleman says the Johnson case, which is now a federal investigation headed by U.S. Attorney Michael Moore, will receive attention this year because of so many unanswered questions. After a big April 4 rally was held on the date of Martin Luther King Jr.'s assassination in the name of Johnson, Coleman said the family was told Moore would be conducting and releasing an analysis of the FBI report on the case, which also concerns the hours of missing video surveillance. He said he believes the release is being stalled.
G.F. "Pete" Peterman III, the first assistant U.S. attorney in Georgia, said he'd like to see the process move more quickly, but that it's more important they be thorough. He said because it is an ongoing investigation he is limited in what he can share.
"It's taken longer than we had hoped, we're trying to be very thorough. The family and the community were concerned about the original investigation and we want to make sure we're leaving no stone unturned," Peterman said.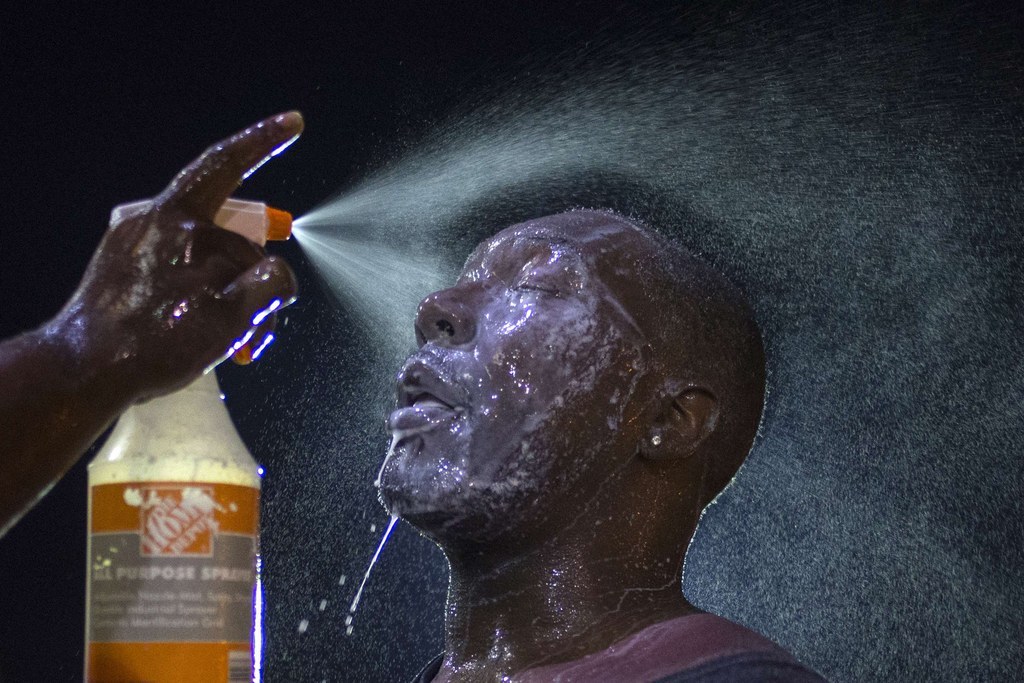 Now, with all eyes on Ferguson, Crump stands at the center of the biggest story in America, and has navigated the media swarm with striking dexterity.
Dazi Lenoir, a lawyer who has worked with Crump, was one of the people who suggested he take on the case after learning, to her surprise, that Brown was a distant cousin.
"Even without ever having met him, I reached out to attorney Crump and said, 'You definitely need to look into this,'" she said. "He does care very much about his clients and about the families. They're almost family to us, whether it's Kendrick Johnson's family or Trayvon Martin's family."
And the family members of other young men, who remain devoted to Crump, see themselves in the Brown case.
"I can't watch it, Ferguson — I can't watch it," said Rudd, Chavis Carter's mother. "It's our story all over again. It hurts my heart. I understand the pain and frustration his parents are going through because I went through the same thing."
Adolphus Pruitt, the president of the St. Louis city NAACP chapter, also suggested to Crump that he should take on the case. He said he was heartened to see Attorney General Eric Holder in Ferguson on Wednesday and said he's confident they're going to be able to paint a complete picture of what happened and who should be held responsible. But he did caution that things could get ugly if this case ends the way many others like the Martin case have.
"My only concern is if it turns out that the officer did not use excessive force or violate civil rights, my concern is the calmness that we're starting to have is going to go away," he said. "I'm hoping for truth and fairness, but I'm also praying that we don't end up at the height of the hostilities that we just went through again."
Crump, who won an undisclosed civil settlement from a Sanford, Florida homeowners' association in the Martin case, remains close to that family, and said that he views the cases as a calling.
"It's important to think about how these cases affect our community, especially little black boys and girls," Crump said.
"There's not anything we can do to bring Trayvon back, but now we're fighting to make sure it doesn't happen to your child — whether in Ferguson or in your home. We're all in this together."