Meet The Undocumented Teen Who Confronted Hillary Clinton On Immigration Reform
Nova Bajamonti, 19, came out for the first time as undocumented in a question to Hillary Clinton, and the Clinton Foundation said it will try to help her. "Truthfully, there's nothing to hide. That's my status, it's not who I am."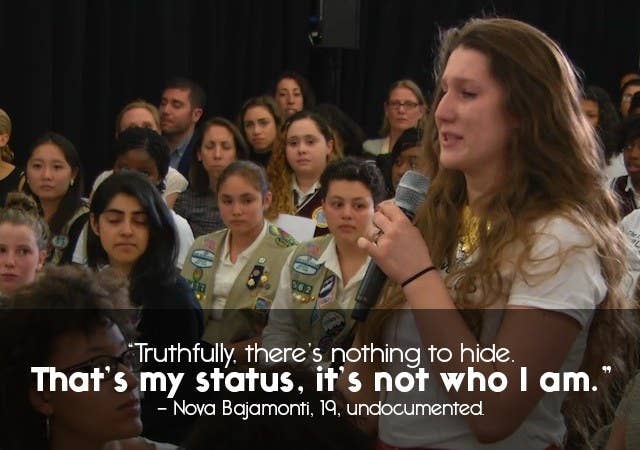 "My name is Nova, I'm 19 years old, and I've been in the Lower East Side Girls Club now for nine years. I have a very different glass ceiling than some of the girls are exhibiting here. For the first time publicly I want to say that I am an undocumented immigrant."
On Thursday, Nova Bajamonti said those words to Hillary Clinton and felt like she was finally the feminist and activist she always wanted to be.
"I've always been a feminist, but just mentally going through the dilemma of keeping this secret to myself for so many years, I thought how much of a feminist am I being?" she told BuzzFeed. "I'm not representing my story. I would tell people, 'Stick to your guns, say what you have to say, be honest.' I finally followed my own advice."
Bajamonti's situation underscores two lesser-discussed features of the undocumented immigrant population living in the United States: the existence of people without current legal status who came to the country legally, and that, of the 11 million undocumented immigrants in the nation, at least 2 million are not Latino.
After Bajamonti told her story of leaving Croatia and coming to the United States legally, but then having her green card application denied, Clinton told her she was brave and that she believes the undocumented should be given legal status. Bajamonti was connected with the Clinton Foundation, which she said plans to help her.
"Hillary is trying to help me in regards to my situation," she said, adding that she plans to speak with the organization this week.
The Clinton Foundation did not respond to a request for comment before publication.
The undocumented teen said none of her friends and no one at the girl's club knew about her status. She said she was blown away by Clinton's response to her.
"I was like, 'Oh my god, This isn't real life. This is surreal. Hillary Clinton is telling me how great I am.' It empowered me even more to tell my story even more loudly and even more boldly."
Since Friday, Bajamonti said others have messaged her on Facebook to let her know they also are undocumented.
She said one of her idols is Malala Yousafzai, the Pakastani schoolgirl who was shot in the head by the Taliban and survived, and continues to speak out against them. "Her story — she didn't have a democratic platform to showcase her opinion — I have that thankfully in America," she said.
The young activist also equated coming out as undocumented with the fight for women's rights and LGBT rights in the U.S.
"My own philosophy is we've progressed so much towards women's rights and gay rights," she said. "I truly believe we've progressed, and years from now on immigration reform people will say, 'Can you really believe we kept 11 million people stuck like that?' But obviously, there's a long way to go."
Ruby Cramer contributed reporting to this story.