Meet Fusion, The ABC-Univision Frankenbaby That Wants Millennials To Laugh And Get Their News On
Highlights include the former head writer of The Daily Show, one of the most respected Latino news anchors in the U.S., and puppets interviewing newsmakers. The Holy Grail: a new audience of twentysomethings.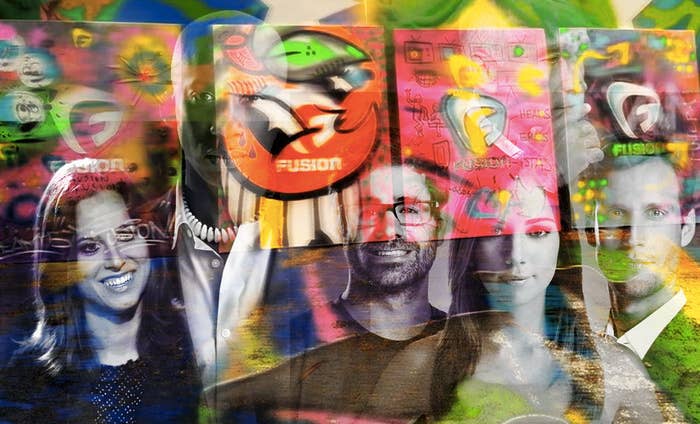 A Jim Henson puppet that looks like an alien, talking about immigration reform. Maybe a turtle, explaining the nuance of why legislation takes so long to make its way through Congress. This is, in a rough sense, the vision for No You Shut Up on Fusion, a news and entertainment cable network and joint venture from ABC News and Univision, launching Oct. 28.
Its newly promoted CEO, Isaac Lee, said the channel will not only be aimed at young Hispanics, but — contrary to some of the early reporting — a multi-ethnic audience aged 18 to 34, one intensely sought after by advertisers.
"If we produce content to appeal only to Latinos, they're not going to like it," said Lee during a phone interview from Miami, where the national network will be based. "We've done two years of research to make sure it's something mainstream."
The demographic argument for content aimed at a younger audience with an eye toward Hispanic viewers is clear. One in five millennials are Hispanic, and 65% of Hispanics are millennials. The U.S. Census Bureau estimates one in three Americans will be Hispanic by 2050.
It's also working off data showing that its core audience watches popular English-language shows, like The Walking Dead, Dancing with the Stars, and Game of Thrones.
The larger challenge for a new network is a radically shifting landscape, one that features video on demand, internet streaming, Netflix, HBOGo, and an ever-increasing crowd of entertainment options. A recent study commissioned by The New York Times found that 34% of millennials (18 to 34) watch no broadcast television: They're online, on social media, listening to music, playing games, or just out of the house away from the TV.
Lee said Fusion knows it is vital to have a strong online offering because the audience "voraciously consumes" content online, on mobile, and through social media. The channel's app, he said, will launch in 2014.
"We are doing that now through our mobile-responsive website and through engaging the audience on social media," he said.
But Lee also argued that even the diminished youth audience is a huge one.
"Millennials are watching 26 hours of linear television a week; that is a very healthy amount," he said, citing Nielsen data.
A big part of Lee's vision is for humor and serious journalism to co-exist on the network to reach a younger audience.
That's why Fusion hired David Javerbaum this summer, the former executive producer and head writer of The Daily Show, who steered a show that is a darling of young people across the country and won 12 Emmy Awards in the process.
"David Javerbaum has come up with an innovative way to do political satire and commentary," he said, adding that Henson studios puppeteers will control animated anchors to interview people live.
Javerbaum, based in Los Angeles said he is working on two shows for Fusion — one he is tight-lipped about, which hasn't been announced and will be unveiled Monday. He will also have input on other comedy offerings, including a sports show called Sports Talkers and Open Source with Leon Krauze.
Javerbaum said the network's tagline, "Championing a Diverse America," will not influence his comedy and writing.
"As a comedy writer, when you're someone with a mission, then you're dead," he said. "To laugh cathartically is a worthy enough goal."
And Fusion isn't the only new network hoping to bring in ad dollars because it can reach the coveted millennial viewer. Participant Media, the company behind An Inconvenient Truth and Lincoln, launched Pivot this summer, but the channel hasn't made waves.
Lee says Fusion is a very different project than Pivot.
"We are non-scripted. We are going to talk about pop culture and current events. Satire will play a big role. We are not going to get into fiction," he said recently.
"And we also start from a point where understanding the Hispanic audience that is completely underserved and growing in a dramatic way gives us a huge advantage in doing what we have to do. But all the projects that are focusing now on millennials are doing the right thing, because if you understand that Hispanics and millennials are the two most important demographic waves since the baby boom, you will see that the bet is right on," he said.
Brad Adgate, a veteran TV analyst at Horizon Media, also said there are important differences between the two.
"The difference is that Fusion has two huge media companies behind it, so they have leverage in negotiations," he said. "ABC can say, 'You have to pick this up.' Univision won the July sweeps, it beat NBC in February, so this is something advertisers have on their radar. It's very hard for an independent network to compete. Pivot has encore shows like Friday Night Lights; Fusion is going to be original shows. They have something unique and different coming out of the box so Fusion will have a leg up."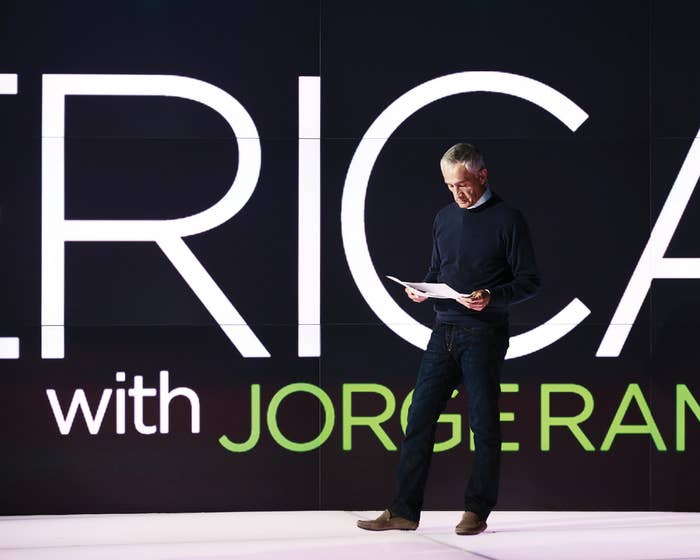 And while Fusion is planning to use humor and satire to draw in millennial viewers, any new entrant from ABC News and Univision was always going to have a focus on news.
That part of the initiative is anchored by veteran news anchor Jorge Ramos, whom Univision has previously tasked with interviewing big politicians like President Obama and Mitt Romney during events like Univision's 2012 election candidates forum, where Ramos hit Obama for breaking a promise to focus on immigration reform in his first term and Romney for the idea that immigrants should self-deport.
Ramos also has the distinction of being someone the Latino community respects and views as a leader. A Pew Research study found that he was at the top of the list when it comes to Latino leaders, along with the likes of Sonia Sotomayor.
So why would someone entrenched in his position roll the dice with a new network like Fusion?
"I would argue the opposite," Ramos told BuzzFeed. "I have to do it to reinvent myself and be relevant." He said while Univision is doing well, it's not enough to be a small part of the conversation in America. "Every day we have great interviews and incredibly appealing stories in Spanish, but only 55 million Latinos will know — the other 250 million will have no idea."
Ramos relayed the story of speaking to the Los Angeles superintendent two weeks ago.
"He told me in the L.A. school district, 72% of children are Hispanics. L.A. in just a few years will become the future," he said.
Ramos is also very familiar with the offerings on television aimed at Latinos, which includes Univision as well as Telemundo, Mun2, MTV Tres, and others. But a study of Nielsen data done by Simulmedia found that U.S. Hispanics spent the majority of their TV viewing time watching English-language programming and 37% cannot be reached at all on major Spanish-language television networks.
And Adgate, the media analyst, said Fusion's decision to play with news formats also makes sense.
"It sounds like they're veering off in other directions — a little more fun, tongue-in-cheek, satire — that's a pretty smart way to go about it," he said.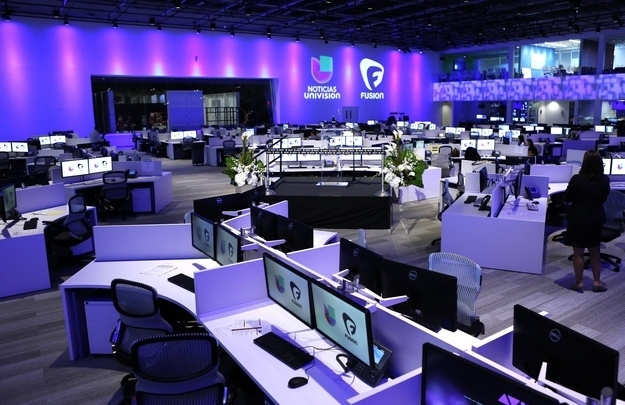 Rick Najera, who wrote for comedy shows In Living Color and Mad TV and has worked for CBS for nine years to increase diversity on television, said Fusion's offerings have promise but the new network faces the challenges that go along with a changed TV landscape.
"The democratization of the web has happened, but it's also happened to TV," he said. "Someone said, 'I didn't get smaller, the screens did.' We've got smaller screens. What's happening is people can program what they want to see, when they want to see it." Which means people will find a way to watch Fusion if they like it, but also have more options than ever if they don't.
Najera said In Living Color, which helped Fox as part of a larger focus on urban programming as it sought to become a major broadcast network, is proof of the power of strong comedy offerings. He said Fusion seems to understand that its programming must be varied to reach millennials.
"It doesn't have to be silly, there can be a smartness to it," Najera added. "But if you can make someone laugh, you can make them think. If you make someone laugh, you can make them feel."
"Fusion is the latest — and perhaps the biggest — attempt to capture the new Latino media market, which mostly prefers English," said Giovanni Rodriguez, CEO of SocialxDesign, a consulting firm that advises the White House, businesses, and nonprofits on cultural innovation. He said a challenge for the network will be incorporating rising tech trends, which media companies are often slow to adopt, like the increasing importance of mobile.
Mariana Atencio, a 29-year-old Venezuelan journalist who worked in the investigations and documentary unit for Univision and will be a co-host for The Morning Show, said Fusion's own investigate unit, comprising four women and led by Peabody Award-winning journalist Mariana Van Zeller, will focus on hard-hitting investigations, allowing her to embrace the less serious stories on The Morning Show.
She said she and co-hosts Pedro Andrade, a Brazilian journalist, and Yannis Pappas, a Greek comedian from Brooklyn with a big presence on YouTube, will aim to have fun on the air.
"We might bring up dinosaur erotica," she said, referring to recent stories on the genre, which can be found on Amazon. "We will go into the whole genre and read some lines from it."
Last week, George Stephanopoulos, host of ABC's top-rated show Good Morning America, said, "Welcome to morning television, guys,'' to Fusion's morning show hosts on air, as part of a high-profile effort by ABC to give exposure to the nascent network. On launch day, the network will be introduced not only by GMA, but also by Univision's Despierta America, which are coming together for a "crossover mega event" for the first time.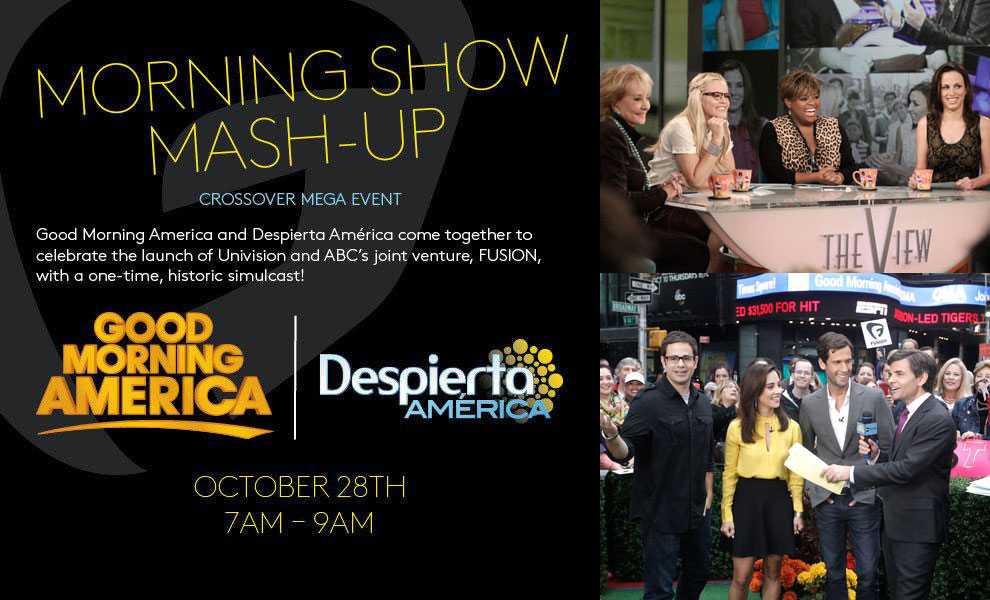 While ABC News and Univision appear to be highly invested in the project that was said to be a $285 million initiative, the network still faces the challenge of growing and being seen by enough people.
Lee said Fusion will be in 20 million homes when it launches, thanks to deals with Verizon, Cablevision, Charter, AT&T U-Verse, Google Fiber, and Cox, but that leaves Comcast, Time Warner Cable, and satellite carriers DirecTV and Dish Network still needing to be locked in. The goal is to be in 40 million homes in 2014 and 60 million the year after.
Fusion has also received criticism online for not featuring a more varied group of faces among its show talent.
In a post on the Maynard Institute for Journalism Education (MIJE) website, the network was taken to task for not having Afro-Latino faces among its talent.
Fusion's David Ford responded by saying, "He's not an Afro-Latino, but Derrick Ashong will be anchoring a nightly program on Fusion called DNA. Born in Ghana and educated at Harvard, Derrick was raised in Brooklyn, Saudi Arabia, Qatar, and New Jersey. Derrick previously anchored The Derrick Ashong Experience on SIRIUS XM's Oprah Radio and the Emmy-nominated The Stream on Al Jazeera English."
Arlene Davila, a professor of anthropology and social and cultural analysis at New York University, took to Facebook to air complaints about the talent before the network launch.
"Remember ABC/Univision 'Fusion''s promise to represent 'Latino millennials'?" she wrote. "Well get ready for more of the same: super white anchors, no Mexican-Americans or Puerto Ricans or U.S. Latinos but same old cast you'd find in any Latin American exportable show-- except they speak English!"
While Davila's sentiments were echoed by others, Leon Krauze, who has his own show, said, "I'm a Mexican who has lived, studied, and worked in the U.S.A., on and off, for half his life." Fusion's talent also includes U.S. Latinos, contrary to what Davila asserted.
The MIJE post's author said the channel for "Latino millennials" was dropping the ball because in Ashong they have someone who is not Hispanic, but as Lee corrected, the network will be aimed at both young Latinos and all millennials.
Ramos said the stories — like an interview with Arizona's sheriff Joe Arpaio, who is a target of ire for many in the Latino community, as well as a commitment to speaking up for victims and covering inequality — will be what separates Fusion.
"We have a series coming on sexual abuse in the Catholic Church that no one would expect," Ramos said. "People would expect that we would have more respect for traditional authorities in the Hispanic community like the church, but that's not going to be the case. Everyone is going to be kept honest."
Looking ahead, Ramos plans for Fusion to be part of the national conversation as the 2014 midterm elections heat up and more so as the 2016 presidential election comes into view. Some early evidence of how Fusion could serve as an important platform for politicians comes in the form of an exclusive interview with President Obama by Ramos and a sit-down with Ted Cruz, Monday on launch day.
"I used to say no one can make it to the White House without Univision," he said. "Now no one will be able to make it to the White House, to governorships, to Congress, without Fusion."