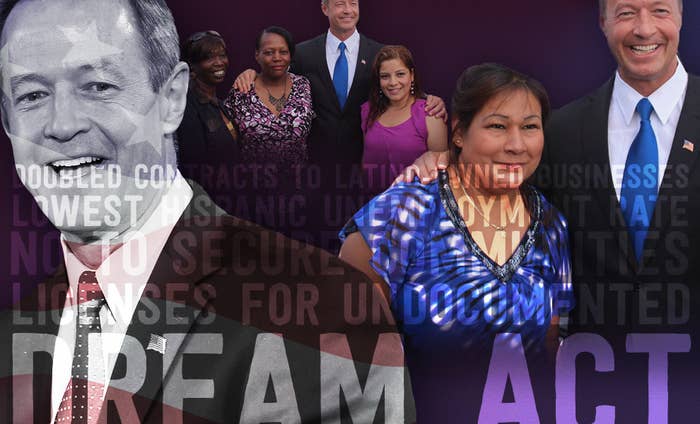 If you ask Maryland Gov. Martin O'Malley about immigrants, he'll tell you about "new Americans" instead.
The Democrat and presumed 2016 candidate drops the phrase into nearly any conversation or speech about immigration — and he has had frequent opportunity to do so.
Over the past few years, O'Malley has enacted what reads like an activist's wish list. He passed the DREAM Act in 2011 (now 36,000 undocumented immigrants have access to in-state tuition); the state gave driver's licenses to tax-paying undocumented immigrants in 2013; and in April of this year, O'Malley informed the Department of Homeland Security that Maryland would no longer comply with the Secure Communities program that facilitates the deportation of undocumented immigrants.
"On my desk, as I sit here, is a sign from Baltimore that says, 'No Irish need apply,'" O'Malley told BuzzFeed in a June conversation. "My great-grandparents didn't speak English but I think America is made better by people who come from elsewhere."
He argues the state actions are an acknowledgment that "our nation should have passed comprehensive immigration reform."
"In the meantime what do you want?" he said. "Do you want them to be able to get to and from work or do you want them to drive without a license and god forbid you or your wife are involved [in an accident]? That doesn't make a hell of a lot of sense."
The legislative push has also coincided with rapid population growth among Latinos in Maryland, up 48% from 2000 to 2006 and an additional 51% from 2006 to 2012. Among the statistics O'Malley is glad to publicize: Maryland has the lowest Hispanic unemployment rate at 5.1% (compared with 9.1% nationally), and the state has more than doubled contracts to Latino-owned businesses during his time as governor.
What O'Malley doesn't do, though, prominent Latinos say, is make immigration an exclusively Latino issue or think that Latino issues begin and end with immigration. And this has not gone unnoticed.
Gustavo Torres, the executive director of CASA de Maryland, has worked extensively with O'Malley. He was effusive in his praise, noting it comes down to a simple but powerful feeling: O'Malley treats immigrants with respect.
"He's very clearly the most pro-Latino and pro-immigrant governor in the country," Torres said. "He believes we are all immigrants, for centuries we are immigrants. He calls us new Americans because he believes it is a really good way to describe the contribution of the immigrant community."
At a recent speech at a Casa de Maryland awards reception, O'Malley was in his element. He talked about starting the Maryland Council for New Americans in 2008, an initiative to help immigrants with English proficiency, job training, and "starting on the path to becoming a citizen," to whoops and applause from the crowd.
"If you think you can ignore immigration reform, then you are a fool, and Gov. O'Malley is not a fool," said Matthew McClellan, executive director of the NCLR action fund.
In March, six advocacy groups, including the NCLR Action Fund and CASA de Maryland, reached out to nine governors for a meeting to generate ideas for advancing their cause. O'Malley was the first to respond. At the meeting, McClellan said, O'Malley committed to using his influence with other governors in his capacity as the head of the Democratic Governor's Association. The groups also asked O'Malley to work with the president to ease deportations and family separation.
That issue — deportations — has been a powerful motivator for immigration activists this year. Their sustained pressure on the White House resulted in an administration-wide review, the results of which are expected to be released later this summer. In the wake of House Majority Leader Eric Cantor's loss, activists are pushing President Obama now more than ever to take executive action on the issue.
O'Malley chose his words carefully — but came down on the side of executive action. "I think the president should continue to do things like he did with the DREAM kids and use the prosecutorial discretion given to the executive branch to lessen the hurt for families and our society as a people," he said.
Not everything O'Malley's done has been golden with activists. In December, a trade mission he organized to Brazil and El Salvador with representatives from more than 30 Maryland companies was criticized for not including enough Latino elected officials. Some felt they were invited as an afterthought, after complaining.
And on Thursday, his decision not to comply with the Obama administration's deportation program Secure Communities — first lauded by activists — was questioned in terms of its execution.
CASA de Maryland itself was one of the groups that was disappointed with the way things have been working out. "You have dozens and dozens of rural, Republican sheriffs in the country who have decided they're not going to hold anyone because it violates their constitutional rights," Kim Propeack, the political director said, according to The Baltimore Sun. "You would think a state like Maryland could do better." O'Malley spokeswoman Nina Smith defended the implementation and said a third of federal requests to hold immigrants in Baltimore since the new policy began have been denied, a major change from the previous approach. "We will continue to monitor how Secure Communities is implemented in Baltimore and will work with our federal partners and stakeholders to make sure this program is narrowly focused on its core public safety mission," she said in a statement.
Republicans also take issue with O'Malley's leftward lurch on a whole range of topics during his governorship, from gun control to marriage to immigration. The Republican National Committee questioned the legality of policies he put in place in 2004 when he was mayor, to give $3,000 grants to Hispanics to buy houses in Baltimore.
"What Martin O'Malley won't say is that under his leadership 39,000 Hispanics have entered poverty and more Hispanics are earning less due to the 78 new taxes he has imposed on Maryland's economy," RNC spokeswoman Izzy Santa said in a statement to BuzzFeed. "Winning elections is based on substance, and so far Martin O'Malley is relying on Hispandering to win. Talking about immigration and hoping no one pays attention to his failed economic record will not overcompensate for his dismissal of the Hispanic community and attempts to play divisive racial politics."
But O'Malley's overall pursuit of policies meant to assist undocumented immigrants and Latinos in the state has put him on the national radar with Latino groups and campaign activists.
"The guy represents the promise of American politics," said Javier Palomarez, the president of the U.S. Hispanic Chamber of Commerce (USHCC). "If you look at the record, he increased contracting by Hispanics 133%, which stands in contrast to the abysmal attempt by the federal government."
USHCC, which represents 3.2 million Hispanic-owned businesses, has pursued a bipartisan approach in recent years, inviting high-profile Democrats and Republicans like Vice President Joe Biden, Xavier Becerra, Nancy Pelosi, as well as Paul Ryan, Grover Norquist, and Reince Priebus to speak to its members.
Palomarez has invited O'Malley to speak to USHCC three times in four years.
"America believes immigration is the only issue on the docket for Hispanics. We're not monolithic, it's not just immigration reform," he said. "But if you look, [O'Malley] has led where others have not."
O'Malley is one of a few Democrats people think might challenge Hillary Clinton for the Democratic nomination in 2016. In February, he floated that he was preparing the groundwork to get ready to run. This weekend, he was in Iowa.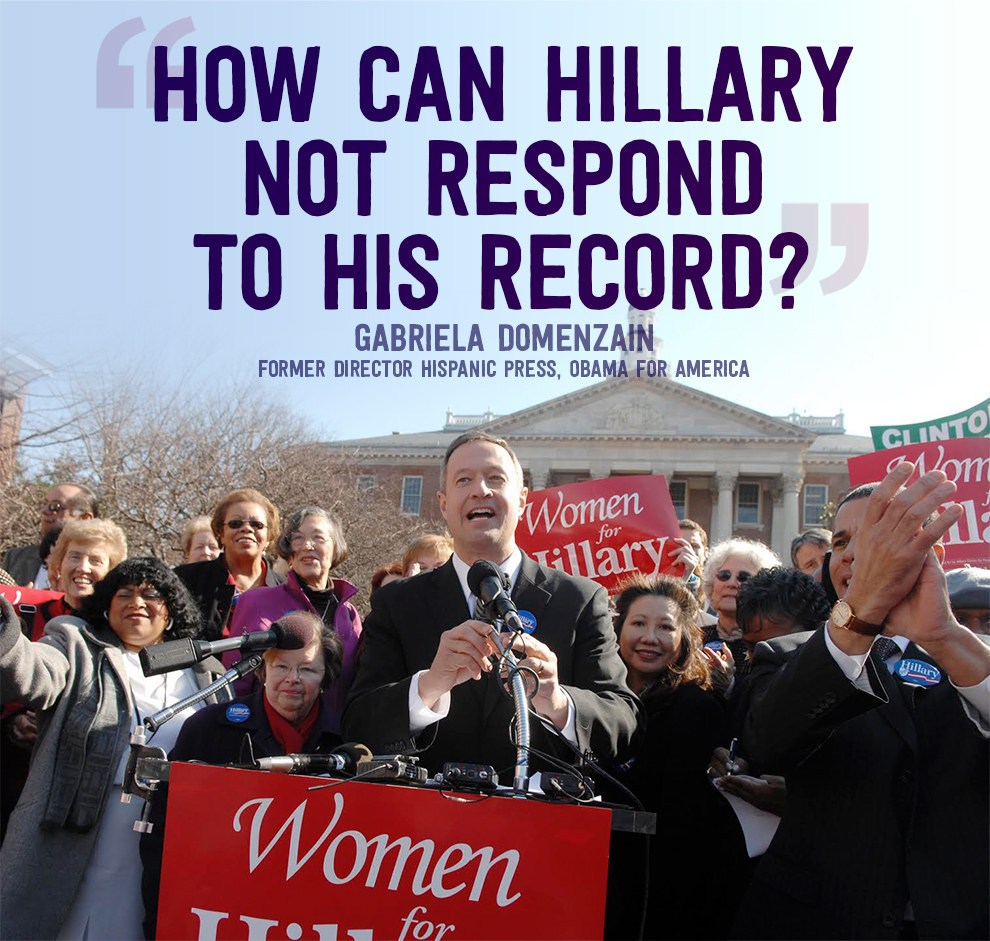 Asked if going forward, candidates for president will have to have substantive stances on issues that affect Latinos and immigrants, O'Malley paused. ("I'm trying to avoid your 2016 question," he said.)
"In the past, politicians, and those who report, create checklists to go through. Labor, check this; Hispanic constituency; Irish, check this," he said. "What we need now is a better understanding of our story together and how these pieces need to be addressed to solve the big problem that's on the table of how do we grow the middle class, how do we create enough jobs for this generation and the next, and how do we restore our economy so it once again has a human purpose."
Others are more than willing to discuss O'Malley's place in a potential 2016 field.
Gabriela Domenzain, former director of Hispanic press for Obama for America, said that while O'Malley needs to work on his name recognition, there is no question that the top activists and organizations know who he is and what he's done.
"Everything that comes out of Maryland that helps the Hispanic community is done in such a principled fashion, that it inspires respect," she said. "You could say Latinos didn't know about Obama, they knew Clinton, but he won."
(This simplifies what happened a bit. In the 2008 primary, Clinton beat Obama among Latinos by a 2 to 1 margin, according to Pew Hispanic.)
Still, Domenzain noted that what separates O'Malley are his policies.
"He's going to have an actual record, where other Democratic candidates can and should be contrasted," she said. "He can say in those debates, 'Well, I stopped Secure Communities,' not 'I'm against it.' 'I passed the DREAM Act,' not 'I support it.'"
Perhaps one of the biggest ways O'Malley can influence the 2016 primary, Domenzain said, is by making other candidates respond to him and move to the left.
"I don't see how he doesn't get noticed by Latinos," she said. "It will push other candidates. How can Hillary not respond to his record?"
She said O'Malley has shown a certain degree of savviness when it comes to the Latino community, evidenced by his engagement with Spanish-language media to raise his national profile. "He made the Secure Communities announcement from the Baltimore facility, he broke that on Univision national news, he gave that to Maria Elena Salinas," she added.
"There is a difference between courting the vote and understanding the vote," said Palomarez, the USHCC president. "It's the difference between shooting a bullet and throwing a bullet. He's not just courting, he understands the Hispanic community. Not dialogue, not speeches; it's going to be about let's see your track record."
Torres of CASA de Maryland laughed as he said he believes O'Malley would be well-served to learn Spanish to more effectively communicate with Latinos, but shared that he has introduced the governor to the leaders of advocacy organizations across the country like the Coalition for Humane Immigrant Rights of Los Angeles (CHIRLA), the New York Immigration Coalition, the Colorado Immigration Coalition, and the Illinois Immigration Coalition.
"He reminds me of President George W. Bush," Torres said, before immediately regretting the comparison and clarifying. "He was so engaged with the Latino community in Texas, that for him it was very natural to speak about Latinos. That's exactly what's happening here. He has been so engaged with us, it's very natural to be engaged with immigrants."
Still, Gary Segura, a Stanford political scientist with national polling firm Latino Decisions, sought to tamp down the expectations for O'Malley 2016.
"The presence of Hillary obscures everyone else," Segura said. "We haven't tested him, we haven't run his name by the electorate. The biggest problem he or anyone challenging the Hillary juggernaut has is name recognition."
Segura said O'Malley is a leading candidate in a world where Clinton doesn't run.
"Then we're in a world where it's Joe Biden, who would be turning 183, and Cuomo, who has a lot of negatives and is looked at with mistrust by liberals," he said. "O'Malley looks very good there. He's a dream candidate."
Palomarez, the USHCC president, underlined that he and his members believe O'Malley's secret weapon with Latinos and immigrants is how he speaks to them with understanding and respect.
"When you see someone like O'Malley that treats us in that way..." he began, searching for the right words. "At every turn, that guy treats us like the rest of the American public."