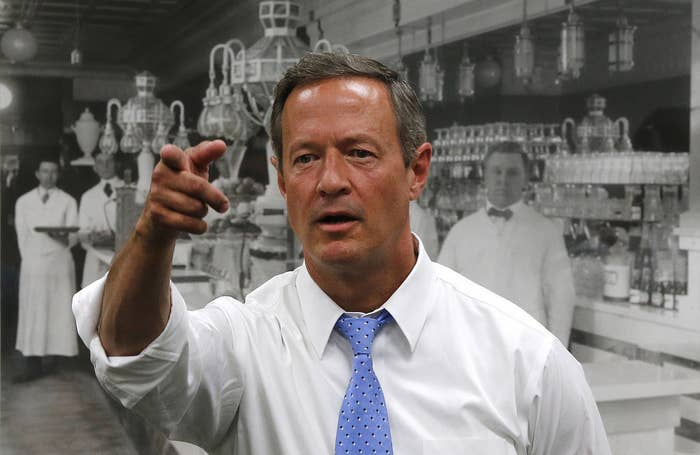 The Martin O'Malley campaign has hired Jose Aristimuño, an operative and Spanish-language media commentator as director of Hispanic media, the campaign confirmed.
Aristimuño, a Venezuelan immigrant, who began with the campaign as a volunteer, said his priority is to engage Latino press regionally and nationally, a major challenge for O'Malley who is not yet well known in the Hispanic community, despite an early focus on Latino issues.
"There's no question that the governor is not as known among the other candidates in the race," Aristimuño said. "But when they get to know him and understand his record and what he stands for, people start reevaluating who they want to vote for."
Gabriela Domenzain, the director of public engagement and highest-ranking Latina in the campaign said Aristimuño's passion and persistence when it came to O'Malley got her attention "but his dedication and effectiveness in informing the Latino community about the governor's record on Latino issues" earned him the role. She said he will play an integral role in the campaign's efforts to engage Hispanics in a "culturally and linguistically sensitive" way.
Most recently, Aristimuño was getting out the word that O'Malley was one of only two candidates, along with Lincoln Chafee, who accepted an invitation to a Des Moines Register Iowa immigration forum featuring immigration activists and faith leaders on Saturday. Candidates of both parties were invited to the event.
Aristimuño, who also started the aspirational Hispanic issues site Latino Giant, said he was drawn to O'Malley after he saw the way he "stood against those wanting to deport unaccompanied children at the border last year" and instead welcomed the largest amount of children per capita to Maryland.
The campaign has struggled to gain traction even with stances like that and an immigration policy paper called one of the most progressive and inclusive by people like influential Univision anchor, Jorge Ramos.
A Univision poll conducted by Bendixen & Amandi in July found that 74% of Latinos did not know O'Malley and only 1% would vote for him.
A Gallup poll released last week found that the former Maryland governor had a -2 favorability with Hispanics, trailing Hillary Clinton at +40 and Bernie Sanders at +5.
Still, the campaign has continued to put O'Malley in front of Latino voters, betting that once they get to know him they will like what they see, and adopted a strategy of taking on Donald Trump, who in the same Gallup poll was shown cratering with Hispanics at -51 favorability.
Two weeks ago in Las Vegas, O'Malley held a press conference in front of Trump's hotel, knocking him on immigration and saying he was with workers attempting to unionize. And last week a Spanish-language op-ed by O'Malley ran on Univision.com, the most popular website among U.S. Hispanics, entitled "Why am I confronting Donald Trump?" Saying he "denounced Trump's racist and divisive" rhetoric, O'Malley laid out the reason for the op-ed.
"It was maybe one of the first times that many of you had seen me on television and that's why I wanted to explain why I did it," he wrote.