Martin O'Malley Has Carved Out A Focus On Latino Issues So Why Does No One Care?
O'Malley has come out strong on immigration, Puerto Rico's financial crisis, and has called Donald Trump racist for his comments about Mexicans. So why isn't anyone paying attention?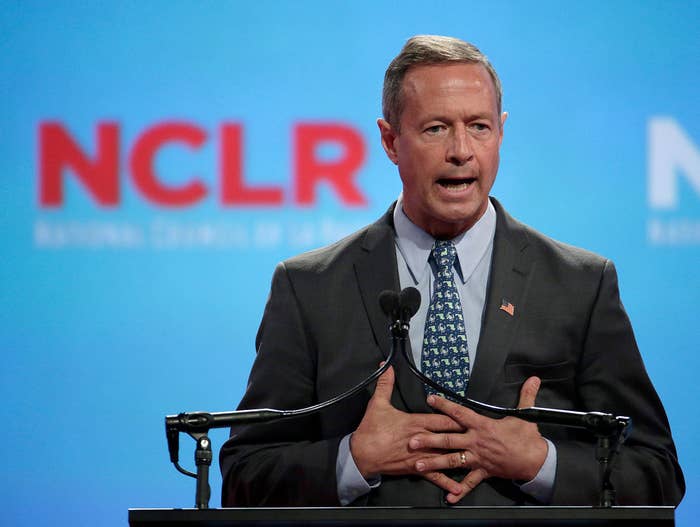 At the National Council of La Raza conference in Kansas City last month, Martin O'Malley talked about his Maryland record with Latinos: passing the DREAM Act, giving licenses to undocumented immigrants, and increasing government contracts to Hispanic-owned businesses by 154%.
The next day in New York City on July 14, he laid out a progressive eight-page immigration plan, and took time to call Donald Trump "racist" for his comments about Mexicans while he was at it.
And then he was in Puerto Rico two weeks later, too, addressing the island's financial and health care crisis, between sips of a mango smoothie.
The former Maryland governor has gone to great lengths to focus on issues relating to Hispanics — making a personal plea to former Obama Hispanic media director Gabriela Domenzain to join the campaign and advise him — but has thus far found it difficult to gain traction in the polls between the growing and adoring liberal crowds coming out for Bernie Sanders and the well-known, well-funded frontrunner, Hillary Clinton.
Lost in the coverage of Clinton slipping behind Sanders in a New Hampshire poll released Tuesday, was that O'Malley was polling at the same level as former Virginia Sen. Jim Webb and former Rhode Island Gov. Lincoln Chafee in the state. Both have done little to no campaigning. A Wednesday fundraising email from the campaign titled "a personal request" cited four polls showing that O'Malley's support has gone from 1% to 3% to 5% to 7% in Iowa, rising, but still far behind the other candidates.
Still, the campaign has made it clear that it believes O'Malley is leading Clinton and Sanders on issues that matter to Hispanic Americans, and even though he won't use those words himself, the campaign hopes it can be an area where he separates himself from his opponents.
"I think I'm leading Bernie Sanders and Hillary Clinton on issues that matter to all Americans," O'Malley told BuzzFeed News. "We're running a campaign focused on the better choices we need to make as a country and comprehensive immigration reform is one of those."
Many Democrats say that before promising big changes to the immigration system during elections was enough; but the environment in 2015 is that Congress has not passed new immigration laws despite multiple major campaigns to do so — and meanwhile, executive action has become a frontier for policy change.
O'Malley supports further executive action — and specific policies long desired by activists. For instance, he'd like an end to the 34,000-bed mandate that maintains large populations in federal detention centers; he's even called for Affordable Care Act coverage to be extended for DREAMers and millions of undocumented immigrants affected by Obama's executive actions. The last point led influential Univision anchor Jorge Ramos to tweet that it was the most inclusive immigration plan released by a presidential candidate thus far.
The problem for O'Malley is simple: Clinton stole any potential thunder for him on immigration.
In the late spring, at a high school event in Nevada, Clinton may have had the benefit of low expectations, but she stunned activists who were more than ready to be disappointed. She said she would go further than Obama administratively and blasted the bed mandate and private management of detention facilities, though she did not mention the health care issue.
The O'Malley campaign says while Clinton has her words on immigration, he has his record. During his NCLR speech he said "las palabras NO son hechos" in Spanish — words aren't actions.
The campaign points to Clinton's comments during the height of the surge of unaccompanied minors coming from Central America when she said they should be given as much love as possible, but many should be ultimately sent back.
O'Malley angered the administration by saying sending back the children would be sending them "back to certain death" and now Maryland, the campaign says, has more of the children per capita than other states.
"They're no longer unaccompanied," O'Malley said. "They're being taken care of by foster families in Maryland."
On Puerto Rico, the campaign stresses that he was the first declared candidate to go to the island. (Jeb Bush went before he announced he was running and Clinton announced her trip on Tuesday.) The campaign said Puerto Rican companies should be able to file for bankruptcy, and Puerto Ricans should be able to file for equitable reimbursement rates on Medicare under the health care law. Right now they receive 6 or 7 cents on the dollar compared to Americans in the United States.
O'Malley has long had an old sign on his desk that reads "No Irish need apply." He said it's perhaps because of this that he has "a soft spot for island people being treated unjustly."
He argued that how the federal government acts regarding Puerto Rico, a U.S. commonwealth unable to pay its debts, will reverberate throughout Latin America, and framed it as a way of regaining lost standing in the region.
"Whether we stand with the governor and help him renegotiate this debt or do a hands off approach and let them get worked over by powerful folks from Wall Street broadcasts much farther than Puerto Rico," he said.
The candidate's interest in the issue mirrors his staff's. Domenzain was at her family's farmhouse in Florida when she received a May phone call from O'Malley himself.
Two days before he announced his candidacy, he told her that he was not just playing constituency politics, he was ready to run on issues that speak to people of color.
Domenzain dismissed those who would say that speaking up for undocumented immigrants or Puerto Ricans on the island who can't vote is a waste of time politically.
"The I-4 corridor is a decisive vote in Florida," she said of the largely Puerto Rican part of Florida. "It's not true that if you talk to press in Puerto Rico the I-4 doesn't know about it." But the larger argument is that it's the right thing to do, she said.
Domenzain noted that O'Malley includes immigration in his criminal justice platform, linking black and brown issues, and is the only candidate who has called on the Dominican Republic to stop the mass deportation of Haitians, which he wrote about in an op-ed in the Huffington Post and discussed on Haitian radio.
When it comes to Clinton, the O'Malley campaign has been quick to broadcast when it feels it is being given short shrift, either with the media on positions it says he took before she did, but also with smaller perceived slights.
On Clinton's big announcement this week, of a broad plan to offer debt-free college, the campaign sent out a release that said he "has led, not followed" on the issue. When NCLR sent an email blast announcing that Clinton would speak at its event, the campaign grumbled that they were glad she was joining O'Malley weeks after he confirmed.
Domenzain has also criticized the Clinton campaign on Twitter, suggesting campaign officials were using Google Translate for its tweets in Spanish. (Her screenshot from Google did not match the language in the tweet, however.)
A recent Univision poll showed Clinton with 73% support from Democratic Latino voters, while Sanders and O'Malley did not break 10%. The Clinton campaign has also made many Latino hires, including high-profile roles like national political director Amanda Renteria and treasurer Jose Villarreal, who is informally leading the Latino fundraising effort. The O'Malley campaign has not hired nearly as many Latino operatives and was hit for their diversity numbers in a July report.
The reality of the polling, though, continues to be an issue — even as activists and Democrats note they like his proposals.
Erika Andiola, a national immigration activist, was in Arizona when O'Malley met with and heard the stories of undocumented immigrants at the offices of Puente Arizona, an activist group. She said out of the three candidates O'Malley has the best platform on Latino and immigrant issues, but it's "hard to challenge Hillary just with O'Malley, because he's behind in the polls."
She lauded O'Malley for speaking out against government opposition to a court ruling to end family detention and said the Clinton campaign should look to some of his policy planks, like the health care for DREAMers idea.
Democratic strategist Jose Parra said O'Malley's place in the polls is not a function of his positions being wrong or him being a bad candidate, but of people lining up with the winner.
He said O'Malley should keep positioning himself the way he is because if "you don't keep pushing and then the opening comes, what do you do?"
But he also said having candidates talking constructively about Latino issues is ultimately good for the Democratic Party.
"You are seeing the Democratic field trying to out-Latino each other as opposed to Republicans that are trying to out-Trump each other," he said.