A video released by Mark Zuckerberg's immigration advocacy group FWD.us, and first provided to BuzzFeed, tells the story of national immigration advocate and DREAMer Erika Andiola, who quit her job in Congress to fight her mother's deportation. The slickly produced video shows tender moments between mother and daughter — as well as repeated heartbreak — ahead of Mother's Day, when activists hope Americans will be able to recognize what it would mean to lose a mother.
"A lot of times people that haven't been through deportations, they don't know what it's like, but people know what it's like to have a mother, to miss a mother, and to miss her when she's gone," said Lynn Tramonte, deputy director of immigration reform organization America's Voice.
Andiola, who said her mother Maria Arreola came to the United States from Mexico to escape a 20-year relationship where she was a victim of domestic violence, said it's important for Americans to see the struggle of so many families in the U.S.
"It's important because I want people to be conscious about the fact that many mothers will spend this special day away from their children because of deportation," said Andiola. "And to bring attention to the amazing courage that immigrant mothers have when they decide to leave everything behind to bring their children to this country for a better life. Just like my mother did."
In the video, Andiola's mother tells the emotional story of what happened after the U.S. Immigration and Customs Enforcement (ICE) came to their Arizona home and took her and her son. She said ICE agents put them in cells facing each other, telling her son they were going to deport her to Mexico, but not telling her.
"He would just blow me kisses and told me everything was going to be OK but he already knew they were going to send me to Mexico," she said through tears in the video.
Andiola said agents also tried to convince her brother to let himself be deported as well.
"They tried to use love for a mother to get him to sign deportation papers, saying, 'Come on, you don't want to be without your mother do you?'" Andiola said.
Her mom was eventually granted prosecutorial discretion after media attention and petitions, but others have not been as lucky.
Lesvi Molina, 25, daughter of Juana Luz Tobar Ortega, a mother and grandmother from North Carolina who is currently in deportation proceedings, spoke on a call put together by America's Voice.
She said her family has been in the U.S. for 20 years and her 12-year-old brother could lose his mother because immigration officials have told her there is nothing they can do and no law that can protect her mother.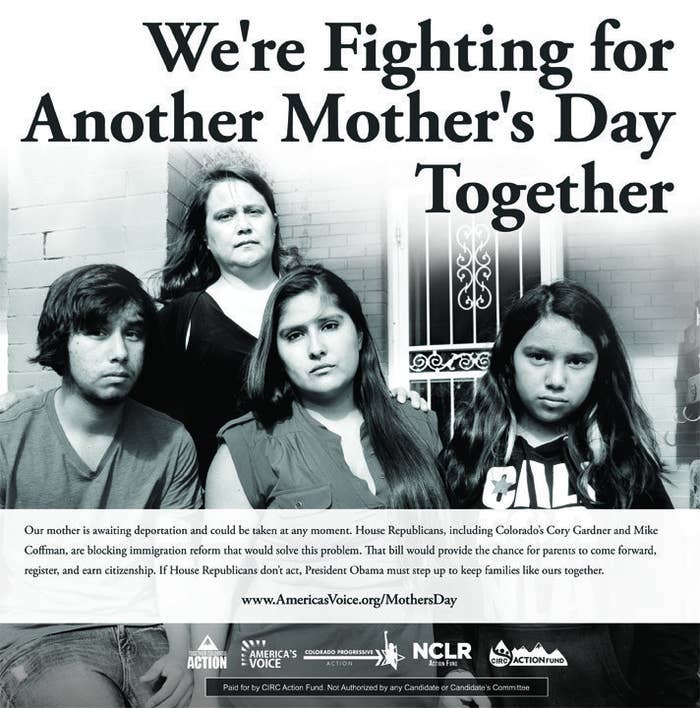 Tania Valenzuela, who will be featured in an ad in the Denver Post on Sunday (above), along with her U.S. citizen siblings and mother Imelda Valenzuela Gonzalez, is also fighting her mother's deportation.
Valenzuela's mother was the victim of a scammer who offered to get her and 500 other immigrants work permits, and then gave the information to immigration agents. Her mother has been in the U.S. since 1999 and owns a beauty salon.
The advertisement calls out House Republicans for not moving a legislative fix on immigration.
"We want to be together this Mother's Day and many Mother's Days to come," Valenzuela said.
The Obama administration isn't escaping pressure on this front, though. Congressman Luis Gutierrez calls out the president in the video of Andiola and her mother over what he said when he signed the Deferred Action for Childhood Arrivals (DACA) executive order that allowed Andiola to stay with legal status.
"The president said in October 2012, just before 73% of all Latinos voted for him, 'I signed DACA because I saw the values that the young immigrants had as being the same values that I and my wife inculcate in our daughter,'" Gutierrez said. "So if Erika has values that he sees that are so powerful in her, remember it is her mom that helped put them there."
Friend of Mark Zuckerberg and FWD.us President Joe Green took the chance to hit House Republicans on inaction in Congress, something the organization wasn't doing early on in its quest for immigration reform.
"Unfortunately, Erika and her mother's powerful story is not unique," he said.
"As we celebrate our gratitude for the moms, grandmas, and the mother figures in our lives, Mother's Day provides a particularly sharp reminder that millions of moms and families in the U.S. have been and will continue to be separated from their loved ones until House Republicans take action to fix our broken immigration system."