Marco Rubio Has Been Saying Obama's Immigration Action Should End Since April
Democrats pounced on Rubio's "transformation" on Wednesday when he said the Obama administration's deferred action program would have to "end at some point." Rubio made similar comments to Univision over six months ago.
Asked on Wednesday whether he would keep Obama's 2012 deferred action program that protects undocumented youth from deportation if Congress doesn't pass a new immigration law, Marco Rubio said, "No, it will have to end at some point."
Democrats seized on the comments immediately, firing off statements about Rubio's damning "transformation."
Sen. Bob Menendez called it part of the "race to the bottom to attack Latinos and immigrant families."

The DNC said Rubio is "about as trustworthy on immigration reform as he is on his tax plan and his personal finances."

Alliance4Citizenship said his "transformation from pro-reform moderate to anti-immigrant extremist is now complete."

America's Voice said, "Finally, we get a clear answer from Senator Marco Rubio on this important question."
Rubio has maintained this position for more than six months, telling influential Univision anchor Jorge Ramos in April that the policy "needs to end."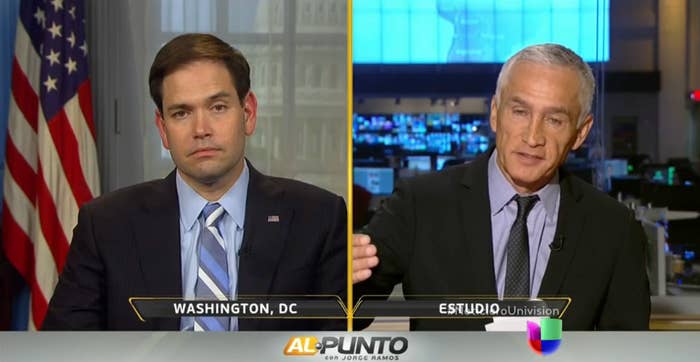 "DACA I think that it's important, it can't be cancelled from one moment to the next because there already people benefitting," Rubio said. "But yes it needs to end, it can't be the permanent policy of the United States."
Trump is actually the reason Rubio had to reiterate his position.
"First of all, Donald was a supporter of amnesty and of the DREAM Act and he changed his position on those issues just to run for president," Rubio also told Fox News on Wednesday.