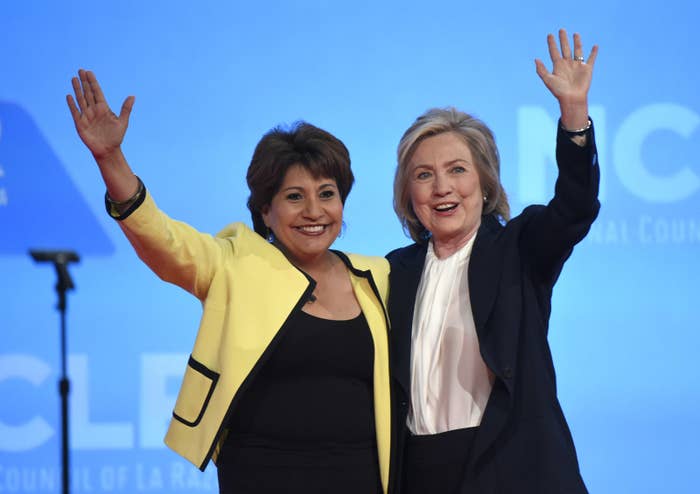 WASHINGTON — The political group affiliated with the largest Hispanic advocacy organization in the country is endorsing Hillary Clinton the day before the final debate in Las Vegas, four sources tell BuzzFeed News.
The nonpartisan National Council of La Raza has a separate 501c4 called the NCLR Action Fund, which is taking the step to endorse for the first time, reflecting the seriousness of the moment many in the Latino community feel the country is in due to Donald Trump's unrelenting negative rhetoric and policies concerning Mexicans and immigrants.
It was, despite months of movement toward an endorsement, unclear if it would actually happen. BuzzFeed News reported earlier this year that the organization was considering taking the step, and the NCLR Action Fund held a board meeting during the summer to discuss the prospect of an endorsement.
When it came time for NCLR's national conference, however, the organization decided against extending an invitation to either candidate — to Trump because of his caustic tone — and to Clinton to avoid an appearance of playing favorites.
NCLR Action Fund would not comment on the planned endorsement only saying that the Tuesday event will focus on the group's work during the cycle.

The Tuesday event at the East Las Vegas Community Center, situated in a largely Latino neighborhood, will feature AFL-CIO's Artie Blanco and Yvanna Cancela, the political director for the majority Latino and almost entirely immigrant Culinary Union in Las Vegas.
NCLR Action Fund will push the message that at a time when Latinos are being talked about negatively by Trump, the organization is mobilizing voters with door knocks, Latino voter programs, and taking the major step of endorsing Clinton.
"It is definitely big news that the nation's largest Latino organization is taking the unprecedented move of endorsing a candidate for president," said Clinton superdelegate and veteran Democratic strategist Andres Ramirez. "In a state like Nevada where Latinos play a pivotal, NCLR's efforts will certainly help Hillary Clinton win the state."