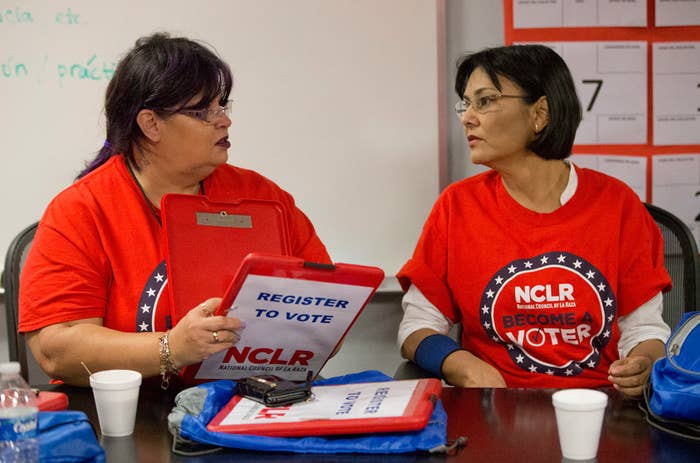 Latinos showing up in big numbers, lining polling sites, all to repudiate Donald Trump, voting against his rhetoric and policies.

That's the Democratic plan for November.
But some top Latino organizations say the important work that goes into voter registration is behind where it was in 2012.
"We are at about one-fifth of the funding to where we were at the same point in 2012," said National Council of La Raza's (NCLR) Clarissa Martínez-de-Castro, of what she called the largest nonpartisan voter registration operation in Florida in 2012, which registered 55,000 voters. So far, she said the number is 9,000 in Florida.
"In my book, we are 120 days behind," said Ben Monterroso, executive director of Mi Familia Vota, who is counting the Tuesdays until election day, which also serve as registration deadlines. (There are 21 until the election, and he said the last three will be devoted to get out the vote efforts.)
From January to May, his organization has registered 22,252 mostly Latino voters, in Nevada, Colorado, Florida, and Arizona, but he said his organization registered 92,000 total mostly in those states as well as California and Texas in 2012.
Both organizations say they have been pledged money by donors but have not seen the checks. (Mi Familia Vota recently received more than half a million from a new group, Everybody Votes, and NCLR officials said they are waiting on a $900,000 pledge from the group to materialize.)
"We have commitments, but the money is not coming in," said NCLR president Janet Murguia.
The landscape for voter registrations is now big and complex. There are new groups. There are old groups. New progressive powerhouses say they have big plans to work with the existing ones but Latino groups argue funding doesn't move quickly enough through mostly white-led progressive coalitions, which are the gatekeepers to funding.
Some of the new groups contend Hispanic groups haven't been successful in the past, and that data and metrics will change how the work is done. Many of the biggest plans are in the hands of progressive players, new and old, who have deep pockets and mostly say they are about to get under way in earnest in the next month.
For instance, Everybody Votes is being funded by Open Society Foundations, founded by George Soros, and other donors. The group is pooling resources for a large-scale, multi-cycle voter registration effort, expected to involve tens of millions of dollars, to target Latino and black voters between now and 2020, according to two sources with knowledge of the group's plans.
"This is money that normally would have gone out in piecemeal way," one source said. "This is being driven by the foundations who said we need a lot more money moving into this, not just for this year but for several years."
Everybody Votes declined to comment.
Not everyone says the voter registration work is behind, either. "We are actually ahead of the curve from 2012," said Tram Nguyen, co-executive director of the New Virginia Majority, which has received funding from Everybody Votes. "At least some of our funders, in-state and out of state, have recognized we have to start early."
She said the group, founded in 2008, was created because they found Democrats were losing "because Latinos, and immigrants at-large, weren't voting."
New Virginia Majority has registered 38,000 voters since February in communities where the heavy foot-traffic is comprised of Latino, Asian, and black people, she said.
Another effort tied to Soros, which includes other liberal donors, is the $15 million Immigrant Voters Win PAC. (The explicitly partisan effort is being led by a coalition of political arms for the Center for Community Change, Latino Victory Project, and America's Voice.)
A document obtained by BuzzFeed News laid out a detailed voter universe of Latino and Asian voters the group will target in the traditional battlegrounds of Nevada, Florida, and Colorado. In Florida, for example, where Obama won by less than 75,000 votes, the ambitious plan is to turnout more than 231,000 Latino and AAPI voters.
"The only silver lining in the nativism and racism unleashed by Donald Trump and other Republican candidates is that we can channel the anger in Latino and immigrant communities to significantly increase voter turnout in 2016," the group wrote in its voter plan summary.
The group, which has already begun staffing in states and launches in mid-July, has a second tier of states it hopes to operate in, including Arizona and Virginia, but officials said the group has only raised $10.5 million of the $15 million goal for the project.
The rise of explicitly political 501c4s has also created tensions with resources and goals with the traditional nonpartisan 501c3 groups, including those Latino groups like NCLR, which have held the position that voter registration is community service. The limited funds are only available to some groups, and donors have at times indicated a preference for partisan messaging.
(One person working with Immigrant Voters Win PAC said the work of Latino groups in past cycles has been "uneven" — good in one state, but bad in another — and said new efforts are also a way to get away from their old school approaches.)
"Our approach is Republicans, Democrats, you have your candidate. Our candidate is the Latino voter," NCLR's Martínez-de-Castro said.
Kica Matos of Center for Community Change Action — a political group — said theirs is a bet that voters are "committed to showing up in a transformational way in 2016, not merely to put an enormous veto stamp on Trump's hateful toxicity and the GOP war on our communities in congress and the courts," but to fight to keep families together.
Other groups have taken a different approach: Every Citizen Counts — a $25 million effort — focuses on litigation and voter protection, but will also work to register and turnout Hispanic and black voters. Guy Cecil, the lead of the pro-Clinton super PAC Priorities, is an adviser to the group. Two sources familiar with the group described it as very metrics-oriented, and said it is looking to work with existing groups working to register voters in Arizona, Virginia, North Carolina, Ohio, and Nevada. It is unclear, however, how much the group has spent on voter efforts, and officials declined to comment on its efforts.
Then there's For Our Future PAC, a heavy-hitting $50 million five-year partnership between environmentalist billionaire Tom Steyer and labor unions like AFL-CIO, the American Federation of Teachers, and the National Education Association.
A source familiar with the super PAC's plans said its focus is on Latino voter contact, and training local organizations in Florida, Nevada, Ohio, Wisconsin, and Pennsylvania. The intention is that the organization will remain after November.
For example, in Wisconsin, the group plans to work with well-respected Voces de la Frontera, an immigrants-rights organization. For Our Future PAC is looking to provide funding to hire additional staff and training on voter analytics and using voter files.
"This important voter contact work can't wait until Labor Day," the source said.
Still, some Latino groups worry that progressives are looking to reinvent Hispanic voter engagement, and that ultimately some groups will receive funding but many reputable groups will be left out. One longtime Latino group outside of the traditional battleground states said that the group approached Steyer, who initially agreed to provide funding for its work, but then was told by his staff that they were going to launch their own effort instead.
"They said, 'We love you, you're the best, but we're going to set up our own operation,'" the group's director said.
And the Democracy Alliance, a group of top liberal donors led by Soros, faced scrutiny when one of its since-departed employees was critical of the capacity and track record of national Hispanic organizations and sought to incubate his own Latino group to do hard-charging partisan work against Republicans.
The group's Latino engagement fund, which has been a $5 million pot in past years, has not been disbursed during the hiring process.
Julie Kohler, senior vice president for strategy and planning at the Democracy Alliance, said she's not sure the Latino engagement fund will remain at $5 million but said the coalition will be looking at Florida, Colorado, and Nevada as top-tier states, as well as Arizona, North Carolina, and New Mexico.
She said the first round of grants will begin rolling out in the next month and said that while groups building political arms for partisan work is not a bad thing, "a lot of the donors that are active in the space do care about working with existing infrastructure and don't want to reinvent the wheel."
Ultimately, many Latino organizations and white-led progressive coalitions have similar goals, but disagree on strategy.
Hector Sanchez, chair of the National Hispanic Leadership Agenda, a coalition of 40 national Latino groups, has joined a table with seven other groups including NCLR, Mi Familia Vota, the Hispanic Federation, MALDEF, and Voto Latino, to share resources and solicit funding from these liberal organizations.
"Funding is a serious concern for us," he said. "Everyone is talking about the Latino vote but there is no investment in Latino communities to make sure the basics are there — voter registration, voter education, and GOTV."
Arturo Vargas, the executive director of the National Association of Latino Elected and Appointed Officials (NALEO), and a member of the same table, echoed a concern from many Hispanic leaders: that the narrow focus on the same three states of Colorado, Nevada, and Florida for a few months during election season damages calls for Latino voting power in midterm elections and into the future.
A frustrated Vargas recalled a meeting he had with the Democracy Alliance in recent months where he said none of the organizations the coalition recommended to be funded were a Latino-led group.
"Latino voters have been abandoned by the funding community in this election cycle with investment in only a handful of battleground states," he said.
Monterroso said some groups are doing it right and it isn't surprising that the one he mentioned is funding Mi Familia Vota. He said it was music to his ears that Everybody Votes had a multi-cycle plan, focused across states outside of the usual suspects.
And he liked one more thing.
"That they're not stingy," he said, finding sardonic joy in the process he insists is running out of time. "It's like if I say I want to go to McDonald's and get a Big Mac and you give me a dollar and ask for change."