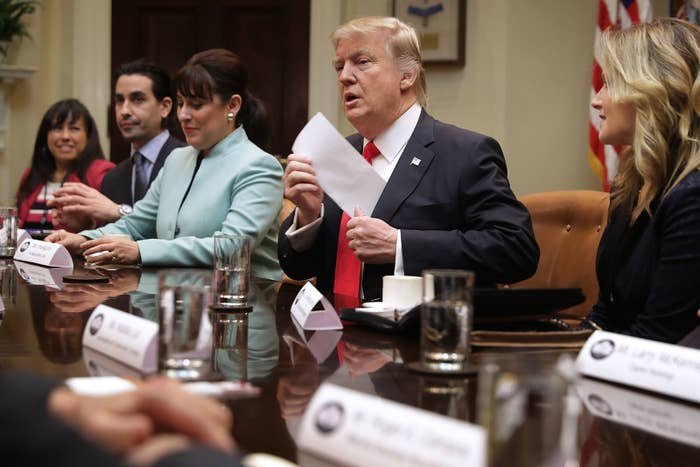 Latino Republicans are increasingly frustrated with their limited access to the White House, telling BuzzFeed News the White House's Hispanic outreach has been ineffective and laying blame on the official who is running point on coalition building.
Their issue is with Jennifer Korn, the deputy director in the Office of the Public Liaison and a special assistant to the president, and they feel that the timing is particularly poor for limited communication between the White House and Latino groups.
After announcing an end to the Obama-era Deferred Action for Childhood Arrivals program, which protected young undocumented immigrants brought to the US as children from deportation, President Trump is now weighing policy that would implement those protections legislatively. Latino Republicans want to publicly back Trump's new position on DACA protections, but they say they are not able to coordinate messaging with the White House and their calls and emails to Korn go unanswered.
"This crazy shift on immigration with Donald Trump, I'm excited by it," said Artemio Muniz, chairman of the Federation of Hispanic Republicans, who also serves on the Young Republicans National Federation Outreach Committee. "I want to be part of it, I have a platform, I want to do outreach. But I want to be able to coordinate with the White House and RNC."
Much of the frustration rests with the public liaison's office, one of the White House's political and outreach offices that chief of staff John Kelly is looking to revamp, Politico reports. As part of Kelly's undertaking, there are already plans to take at least one committee that is under the public liaison office out of its purview, BuzzFeed News has learned. The liaison office is home to Omarosa Manigault, the Apprentice contestant turned Trump confidant who serves as a gatekeeper between the administration and black conservatives and has been the focus of some scorn.
But Manigault's not the only person in the office people outside the White House are exasperated with.
"There's a Hispanic Omarosa, and that's Jenny Korn," said Alfonso Aguilar, executive director of the Latino Partnership for Conservative Principles.

Aguilar, who has criticized Trump over immigration policy, and other Hispanic Republicans told BuzzFeed News that their frustration is that they are often invited to non-Hispanic meetings but aren't welcome at the Hispanic events that the White House convenes somewhat regularly. Aguilar said that he recently attended a pro-life meeting at the White House, but that he does not get invited to similar Latino events.
Latino Republicans stressed that while they are frustrated with the job Korn is doing, they see her as a friend and are not calling for her to be fired.
Some Hispanic conservatives, however, feel there may be lingering distrust from the campaign, when many of them did not support Trump's candidacy. They also say they are particularly bothered by how the White House has treated the National Hispanic Christian Leadership Conference, the country's largest Hispanic Christian organization. The group's leaders, Latino conservatives say, are annoyed that they've only been included in faith-based meetings, but not events geared specifically to Hispanics.
Rev. Sam Rodriguez, the president of the NHCLC, "is one of the religious leaders to give a prayer at the inaugural," Aguilar said. Pastor Tony Suarez, the executive vice president of the NHCLC, "is in constant contact with the White House," Aguilar added. "But they're excluded from Hispanic gatherings. Why wouldn't you want to bring people who want to be supportive of the president's agenda?"

"To have any kind of Hispanic board and leave out Sam Rodriguez, it doesn't even make sense," said a Latino leader who has worked with the White House, and who said Rodriguez had to move his family because he was getting threats for supporting Trump.
The NHCLC declined to comment on the specific issues raised by Latino Republicans, but the final straw for frustrated conservatives appears to have been an event the White House held Friday with Hispanic business leaders, including the conservative-leaning Latino Coalition. Many of the agitated Hispanic Republicans BuzzFeed News spoke to were not invited to that meeting.
But other Hispanic leaders and allies of Korn, who worked for former White House chief of staff Reince Priebus at the RNC, say the complaints from some Latino Republicans are not complaints they share. And a White House that usually just provides short statements in response to reporter questions pushed back forcefully with a page-and-a-half outline of the work the public liaison office has done on Hispanic outreach.
"Hispanics are invited to sit at the table to share and discuss issues of great concern such as jobs and economy, education, national security, veterans issues, access to credit, entrepreneurship and religious liberty, to name a few," a White House official said, adding that the White House prides itself on not just having Latinos only at the table for Hispanic initiatives and meetings.

The White House did not make Korn available for comment, but its list of Hispanic events it participated in included conferences like the Latino Coalition, US Hispanic Chamber of Commerce, and The Hill Latino, where it specified Korn was a featured speaker. There have also been events featuring Ivanka Trump, Energy Secretary Rick Perry, US Treasurer Jovita Carranza, and Labor Secretary Alex Acosta, who spoke at both the LULAC and NALEO conventions this year.
The administration also pointed to meetings at the White House with Latinos, including one with Hispanic faith leaders who attended a private dinner with Trump and a meeting of Hispanic CEOs on Sept. 15, the first day of Hispanic Heritage Month.
After BuzzFeed News reached out, the White House dispatched supportive surrogates to defend Korn, like pastor Ramiro Peña, who was at the dinner with Trump. While he said he usually avoids the limelight and didn't want to divulge private conversations with the president, he said he was speaking about the dinner in between providing wedding consultation and overseeing a funeral, because of what Korn's invitation meant to him.
Seated at a table with well-known figures in the faith community — including Franklin Graham, Billy Graham's son, and pastor Robert Jeffress — Peña said he told Trump he supports DREAMers, and forcefully made the case that Latinos are people of faith, have a great work ethic, and are family-oriented. Peña said that he has a Spanish and English congregation and that a good number of undocumented people attend his church. Which is why his dinner message to Trump was "We need to treat with dignity people who risk their lives just to do hard work for low pay."
Supporters of Korn say she is doing as well as she can in her position. They say she is understaffed and leads a no-nonsense operation, which means the office only really has time to work with people who have clear ways to work together toward coalition building and helping to pass the president's agenda.
"I'm a little bit surprised, my experience has been totally different," said Jose Fuentes, former attorney general of Puerto Rico and a member of the Trump campaign's Hispanic advisory council. He said Korn doesn't only deal with Latino groups and lauded the administration for its work to help Puerto Rico recover from Hurricane Irma.

Mario Rodriguez, who leads another Hispanic group, said Korn is a "complete asset to the Hispanics." His group, Hispanic 100, which works to elect Republicans, was part of the Sept. 15 Hispanic CEO event in support of tax reform.
"What people don't understand is this is the White House," he continued. "She has a lot of work on her plate, and gets hundreds and hundreds of emails. I know they're short-staffed, but at the end of the day, it's not like she's sitting around waiting to answer emails. I know people are going to get frustrated, but in six months to a year we will see more progress."

But Latino Republicans who see the fate of DACA perilously hanging before them don't feel they have six months to a year to see Hispanic outreach improve.
One source close to the administration said Korn is viewed as "an RNC, Reince-person, a whole moderate," putting her on "an island" within the administration.
"Unfortunately she doesn't have any power in the West Wing," the source said.
"It's all smoke and mirrors," a separate Latino leader said. "She's not influential and has no voice on anything that actually matters."

Muniz said his group of Texas Republicans is ready to jump on English- and Spanish-language media ahead of the midterms to talk about Trump's change on DACA because it's "just as important to say Trump did this — owning and receiving credit are just as important as passing legislation."
"I see a chance for a comeback with the community here like a football game but I'm not there, I'm on the sidelines," he said.

Hispanic conservatives were also concerned that Korn appeared to be trying to create her own little "fiefdom," a way for her to decide which Latinos get to engage with the administration and which are on the outside looking in. That, they said, isn't the most effective way to build coalitions and do Hispanic outreach, recalling her moves during the campaign, which they say didn't always work to Trump's advantage.
The communication problems, and Korn's trouble finding an agreeable solution between Trump and Latino leaders, go back to before Trump entered the White House.
During the campaign, the NHCLC organized a call for Trump that would have had 1,000 faith leaders on it, as they did for other candidates, like Carly Fiorina. But the NHCLC was told the Trump campaign was not interested in doing that kind of outreach at that time.
Weeks later, Korn organized her own call with Hispanic faith leaders. But "it didn't have 1,000 faith leaders on it," a call participant said.