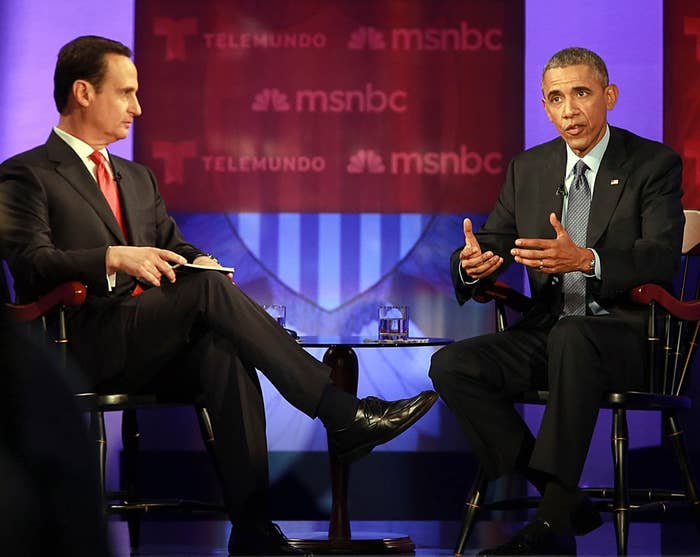 A coalition of 40 national Latino organizations sent a letter to Phil Griffin, the president of MSNBC, and Andrew Lack, the head of NBC News, saying that any effort to eliminate or minimize Jose Diaz-Balart's show would be met with strong organizational opposition, in response to a Thursday report that the anchor would be the odd man out in lineup changes.
The letter sent by Felix Sanchez, chairman of the National Hispanic Leadership Agenda's (NHLA) media committee, said that the group met with MSNBC executives to discuss increasing Latino representation on air, and noted that the network has only had one Hispanic anchor since its inception in 1996.
The Mediaite report Thursday said there would be changes in MSNBC's lineup, including extending Morning Joe an hour and Kate Snow and Tamron Hall taking over two time slots. The odd man out, the report said, would be Diaz-Balart.
Latino organizations mobilized soon after the report was released, contacting MSNBC and each other to first find out if it was true, and second to decide how they would respond. Alex Nogales, the president of the National Hispanic Media Coalition spoke with Griffin who reassured him that the report was inaccurate. Briefed on the call, NHLA leaders were given the indication that Griffin would release a clarifying statement but with the long labor day weekend coming, decided to send the letter.
An MSNBC source told BuzzFeed News that, "Jose is a highly valued part of the network and we expect him to continue to be for a long time."
The NHLA letter was also sent to the Congressional Hispanic Caucus and Latino leaders like Janet Murguia of NCLR, Brent Wilkes of LULAC, Tom Saenz of MALDEF and Nogales, as well as other NBC executives.
Other Latino organizations, including the National Association of Hispanic Journalists, also expressed displeasure with the report.
"NAHJ is advocating for more Latinos in newsrooms, including MSNBC. We are in contact with NBCU and are encouraging them to not only keep Jose Diaz-Balart in their lineup, but to expand the visibility of Latinos in their programming," NAHJ president Mekahlo Medina said. "It's not only important to our community, but important to the bottom line as more and more Latinos become the demographic news organizations will want to watch."
Alida Garcia, the executive director of Inclusv, an organization that works to get minorities hired in politics, said Diaz-Balart provides the critical perspective of the Latino community and has a dedication to diversity and inclusion in media. (Because of its focus, Diaz-Balart's show employs more Hispanics than most shows.)
"We hope it's not true because Jose Diaz-Balart is a beloved and necessary voice on MSNBC," she said. "Canceling The Rundown would take away opportunities of countless other reporters, strategists, advocates, and everyday American voices of color to be heard."
MSNBC has undergone changes this summer, after efforts by Lack to have the network work more closely with NBC News, and adopt more of a news focus, rather than be left leaning. Diaz-Balart, who also anchors two shows on Telemundo, has long been known as a straight news anchor.
While Hispanic organizations believe in Latino representation in the media, they also stressed that the show is important as the 2016 election barrels closer.
In recent weeks Morning Joe, the show that would be extended according to the report, has been criticized as tone deaf on Latino issues.
Host Joe Scarborough slammed Univision anchor Jorge Ramos for his confrontation with Donald Trump at a press conference that led to him being kicked out, saying that Ramos was looking for his "15 minutes of fame."
But Ramos show Noticiero Univision gets more than 1 million viewers a night and he is one of the most influential Latino voices in American media.
Thursday, the day of the report, Latinos in media, like Julio Ricardo Varela who founded Latino Rebels, blasted Morning Joe for a segment where a guest said George W. Bush could campaign well with both "illegal" and "legal" Hispanics.
There would be pushback against comments like these, Latino organizations say, if there were more Hispanic guests and hosts.
Kristian Ramos, with Inclusion Matters, a Media Matters project that monitors Latino media, said Diaz-Balart's loss would be a "real shock given that we are in the midst of the most Latino election cycle in recent memory."
"We've seen a rise of anti-Latino sentiment in the media and we need a counterbalance and objective voice like Diaz-Balart," he said.
Here is the NHLA letter sent to MSNBC.
NBCUniversal is an investor in BuzzFeed.