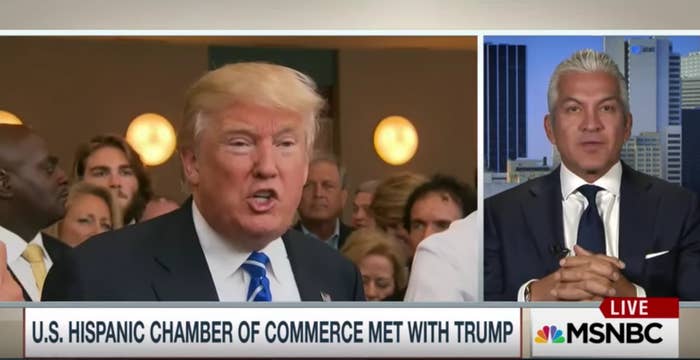 The US Hispanic Chamber of Commerce (USHCC) is moving behind the scenes to oust its prominent president Javier Palomarez over allegations that he misused the organization's money for his personal salary and bonuses, six sources familiar with the effort have told BuzzFeed News.
The frustration with Palomarez, however, is deeper than just finances, with widespread concern within USHCC that he has squandered the Latino business organization's political clout and relationship with the White House with slapdash posturing that has expressly angered Trump officials.
A series of broader political miscues have also hurt Palomarez's standing in the Capitol.
A member of Congress told BuzzFeed News of a meeting the member had with Palomarez that set off alarm bells. The meeting did not appear to be illegal, but inched up to lines that made the member uncomfortable.
Palomarez invited a businessperson to the meeting who needed help from the lawmaker, with the USHCC president positioning himself as a middleman in a proposed business relationship. Palomarez, the lawmaker said, explained the way the arrangement could work. In exchange for helping the businessperson, Palomarez would throw an event featuring the member, something he said he had already done with another lawmaker. But the member of Congress said they had no interest.
"I didn't get into politics to go to jail," the member told BuzzFeed News.
Reached for comment, the USHCC board would not confirm the financial investigation, but told BuzzFeed News it was "undergoing due diligence of its finances" and that "it would not be appropriate to comment on this ongoing process at this time." The board said they did not know about the meeting with the lawmaker.
Palomarez did not respond to repeated requests for comment before publication, but an ally said he blames one of the board members, businesswoman Nina Vaca, for disparaging him to the board and creating the environment where it seeks to oust him. Palomarez also filed a petition, which was reviewed by BuzzFeed News, to depose Vaca, seeking her communications with board members to investigate whether he should sue her for defamation.
Vaca told BuzzFeed News Palomarez has threatened to sue her because she discovered the alleged issues with his compensation and bonuses and flagged them to the board. She said it was her fiduciary duty to do so, and said Palomarez "is a desperate man who will say anything."
Three sources familiar with the board's investigation told BuzzFeed News that one of its members — Carmen Castillo, who runs SDI International, the largest Latina-owned business in the country — was involved with the hiring of two law firms to meticulously go over the group's finances, with a focus on Palomarez's yearly compensation as well as the bonuses he gave himself. Castillo did not respond to repeated requests for comment before publication but afterwards said "if a decision to retain legal counsel for the USHCC is needed, a decision of this type is made by the board of directors, not by any one individual."
One person close to the organization made a comparison of top Latino organizations to show why Palomarez's compensation raised alarms.
Public records, reviewed by BuzzFeed News, show that the USHCC had total revenue of $5,619,759 in 2015, when Palomarez reported making $611,015, including bonuses. UnidosUS, formerly known as National Council of La Raza, had total revenue in 2015 of $38,542,125, but its president and CEO made only $503,715 in comparison. A USHCC board member told BuzzFeed News Palomarez was ultimately making more than double what his contract stipulated he should make, once his bonuses were factored in and "there was never approval from the board" for all of Palomarez more than $600,000 salary.
Palomarez's contract was due up on Dec. 31, but a renewal kicked in recently under the terms of his contract for 2018, sources said. The discussion among board members now is to make a decision about Palomarez's future once the investigation is complete, so that anything the board does is legally bulletproof.
Palomarez filed the petition to depose Vaca on Nov. 7 in Texas state court, which itself says it would allow him to determine if the rumors concerning termination of his USHCC positions are true and aid him in making decisions about any legal action going forward, as well as "facilitate potential settlement negotiations based upon fact, not innuendo and supposition." A board member confirmed that a result of the investigation could be negotiating an exit package as well as Palomarez possibly repaying money if he's found in breach of contract.
There has long been gossip about USHCC finances in Washington's Latino circles among Democrats and Republicans, where raised eyebrows at networking events and in private settings often led to comments that if anyone looked into its records they would find suspicious dealings.
Scrutiny of Palomarez's salary briefly broke into public view at a September question and answer event in San Diego between Palomarez and Tayde Aburto of the Hispanic Chamber of E-Commerce. One questioner confronted Palomarez about how much he makes and why, citing a $2 million figure, though it is not clear where that number came from. Palomarez responded coolly. "I'm not sure what your question was, but some of it had to do with my supposed $2 million salary. I wish it was," he said, before detailing how he got the USHCC out of a financial hole and grew its corporate partners without taking government money.
Former staffers painted a picture of an organization unconcerned with finances, with one saying senior staffers felt they had a $5,000 expense account that renewed monthly, though that wasn't explicitly stated in writing. A separate staffer said Palomarez was "very generous" with USHCC because he believed in a work hard, play hard environment where he could call at 4 am if he wanted to.
But any examination of where Palomarez now finds himself in Washington, with Hispanic business groups across the country, and within the USHCC itself, must include his whiplash year in national politics.
Palomarez endorsed Hillary Clinton and John Kasich in the primary, then Clinton against Trump in the general. When she lost to Trump, Palomarez said it was because of the "young white Ivy League–educated kids" who advised her on Latino strategy, "who knew it all, had the models and the projections, but who called it wrong."
Palomarez praised Trump after his inauguration, arguing that he had to try to work with the new president in areas where they had common ground. He sought to get close to senior administration figures like initial chief of staff Reince Priebus and senior adviser and presidential daughter Ivanka Trump. But Palomarez grated on White House allies who were suspicious of his flip after being so critical of Trump during the election, and who didn't like his penchant for showing up on cable news to criticize the president.
Palomarez's relationship with the White House began to truly sour soon late this summer, soon after the white nationalist rally in Charlottesville, Virginia. Following Trump's remarks blaming "both sides" for the rally's violence, Palomarez wrote an op-ed in the New York Times laying out why he was leaving the president's diversity council, which got a lot of media play. While Trump's longtime lawyer Michael Cohen said he invited Palomarez to the council in January, the council's vice chair later said Palomarez was never part of the council to begin with.
"That was a huge problem," a board member told BuzzFeed News of the incident. "What the fuck are we doing? We're looking like fools here."
The relationship further deteriorated when a planned mid-October meeting between Palomarez and Ivanka Trump was canceled. Palomarez had told many people about the meeting ahead of time, leading him to unload on Ivanka Trump's chief of staff Julie Radford during an "unhinged" phone call, according to a source with knowledge of the call.
"That sealed his fate," the source said of his relationship with the administration.
Board sources say the political misfires were a problem for a "good chunk" of the board, who argued along with former USHCC officials that it was important for Palomarez to serve as an effective liaison between Hispanic businesses, Capitol Hill, and the White House.
"You claim to be part of this board that you're not on and then you get outed for it. You have no access, you have no friends on the Democratic side, you certainly have no friends on the Republican side, so how do you fit in? How do you accomplish the mission of the organization?" said a former USHCC staffer, who imagines the investigation will end with Palomarez ouster. "When you have zero credibility on either side, what's your worth? The first job of the new [president] will be to repair those relationships."
In the last month, four senior USHCC officials have left the chamber, including two vice presidents, Palomarez's chief of staff, and the senior vice president of communications, representing approximately 20% of the staff. But former staffers who spoke to BuzzFeed News were scared to speak even anonymously, painting a picture of a vindictive former boss who they say has become increasingly paranoid in recent months. The former staff said Palomarez regularly traffics in retaliation, and views constructive criticism as evidence that employees are aligned against him.
"We're weighing all of that, which right now is very disturbing," a board member said, adding that "people on the board are eager to get him out."
Former staffers described phone calls where they said Palomarez called them to gauge their interest in testifying on his behalf in the lawsuit he has threatened to file against Vaca, along with comments that he would have their back if they had his, which they perceived as threats.
Pablo Manriquez, who worked for the USHCC, said he doesn't believe former staff should fear Palomarez, and said the effort by the board stems from "jealousy" over the USHCC leader's public platform.
"This is more about the board thinking he's not sharing the microphone. People wanted to get their name out in a national way," he said. "People wanting that attention and wanting to control it."
The stories from many former staffers, though, recall that while Palomarez doesn't hesitate to engage with criticism, he has at times publicly bristled when called out. In 2015, after he first angered state Hispanic chamber chapters over his invitation to Trump to speak to the USHCC, Palomarez pulled out a $100 bill from his pocket to return dues to a New York chamber leader. "I meet with the Pope, I meet with the president, and if I want to, goddammit, I meet with Donald Trump," he said in a meeting caught on video at the time.
Once the USHCC leader found out BuzzFeed News was working on a story about the board's moves, but before he was asked directly for comment, Palomarez held a meeting with staffers where he announced that he was planning to plant his own story that would be more favorable to him, and consulting with media consultants on "damage control."
Hector Barreto, chairman of Latino Coalition, a right-leaning Hispanic business group which often works with the White House, said it's necessary for the USHCC, which his father started, to have access to the White House.
"The Hispanic business community is too important for it to be so partisan that it's out of access and out of power," Barreto said, chiding Palomarez for losing the trust of administration officials with his public attacks of Trump, before citing lessons he learned from his father. "There are no permanent adversaries, only permanent interests."
While Palomarez's fate and the direction the board ultimately takes once it concludes its investigation are not yet known, board members and former USHCC staffers believe things will get worse before they get better. Multiple former officials recalled Palomarez boasting that he holds grudges for as long as it takes to take someone down who has harmed him.
"One time it took ten years," Palomarez would say, according to the sources. "But I destroyed their life."