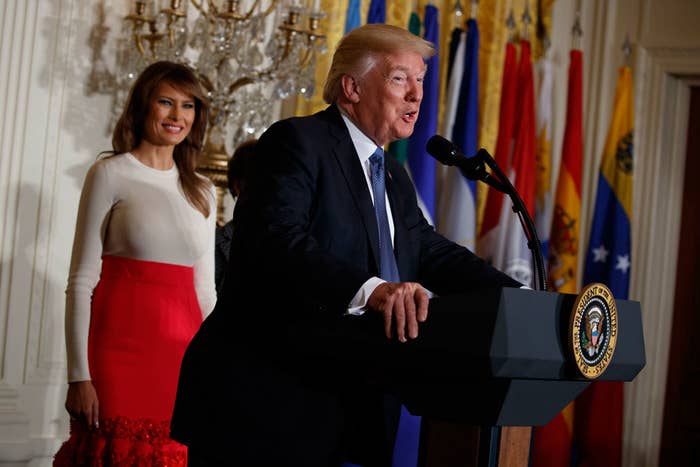 Latino organizations are fingerpointing and backbiting as they grapple with how to engage the Trump administration.
With young undocumented immigrants who had been protected from deportation by an Obama-era program known as DACA now facing uncertainty since President Trump's decision to end the program, the advocates who could form a powerful, united force to lobby the White House are instead riven with internal drama.
A new bipartisan effort from national Latino groups that don't usually find common political ground has spurred the latest rancor among progressives, who feel that nothing is gained by dealing with an administration that backs hardline immigration measures, like building a wall along the southern border and curbing legal immigration.

Liberal and traditionally nonpartisan Hispanic organizations that joined the bipartisan coalition and now face scrutiny include the League of United Latin American Citizens (LULAC), UnidosUS, formerly known as the National Council of La Raza, Voto Latino, and the U.S. Hispanic Chamber of Commerce.
A recent weekly call of progressive groups to hash out DACA strategy was pock-marked with frustration, as participants questioned why Latino groups were working with conservatives who validate the White House, according to someone with knowledge of the call. "There have been tense conference calls and concern of leaking strategy to Republicans," the source said.
LULAC, which bills itself as the largest and oldest Hispanic organization in the United States, has recently lost senior staff, sources say, as the group's president has moved to work closely with the Trump administration. The departures include the organization's executive director, Brent Wilkes. One leader of a major Latino group said the relationship between Wilkes and LULAC president Roger Rocha had become "contentious." While Wilkes disputed that he was leaving because of Rocha's approach to the White House, he acknowledged that there have been disagreements on strategy.
"There are always issues surrounding the best way to approach the Trump administration. There are differences of opinion, I'm not going to say there is not, but it has nothing to do with me leaving," Wilkes told BuzzFeed News. He conceded it's hard to leave with Trump in office, but he said that after 30 years with the organization he has other dreams he wants to pursue.
Three sources said Rocha's efforts to get close to the administration were among the reasons for another senior LULAC staffer's departure. The former staffer did not respond to multiple requests for comment.
Rocha calmly explained to BuzzFeed News Wednesday that while other Latino leaders were "dazed and confused" the day after the election, he was not. And he pointed to the benefits of talking to Trump's White House.
"We're in a good place right now because we've taken the approach of not being combative or being personal with anyone," Rocha said, reiterating what he previously told BuzzFeed News — that if Trump signs legislation enshrining DACA protections, he would stand behind him as he signed it into law.

Rocha's work with the bipartisan DACA group hit a snag even before its launch, when the burgeoning coalition couldn't come to an agreement on what principles it would back in negotiations between Congress and the White House, choosing instead to just broadly announce support for protecting DREAMers.
But Rocha said his open arms to the administration have helped in other ways. Rocha spoke to BuzzFeed from the airport, as he headed to Washington to have a follow-up meeting with Immigration and Customs Enforcement officials to provide them with documentation for detained veterans without US citizenship to help the veterans get medication for post-traumatic stress disorder.
Rocha's goals are lofty — to "reassert LULAC on the national political scene," he said, being of the belief that few Latino organization actually have connections in the Trump White House. His approach has drawn detractors from outside the group.
Two national progressive Latino leaders told BuzzFeed News that Rocha's agenda does not line up with what the Hispanic community is asking for, a fight that's playing out among Democrats more broadly over what to demand from the White House in a DACA deal.
A month after Trump's decision to rescind DACA, on the same day the bipartisan group announced its partnership, undocumented youth with United We Dream (UWD) chanted demands for a "clean DREAM Act" immediately after a speech by Sen. Elizabeth Warren, at an event that also included Sen. Kamala Harris and Rep. Luis Gutierrez.
Supporters of a clean DREAM Act, which would provide a path to citizenship for young undocumented immigrants, know the established Latino groups advocating for compromise and negotiation with the administration have their hearts in the right place. Everyone in the activist community wants to get to a place where DREAMers don't have to fear being deported from the only country they have ever known. But the more adamant faction questions if Latino groups willing to compromise with Trump are really speaking on behalf of people who will be directly impacted by whatever Trump does.
Cristina Jimenez, UWD's executive director, said she lives with the concern that the administration could pass something that will help her DACA recipient brother on the one hand, but enact increased enforcement that leads to the deportation of her parents on the other.
"It is concerning that these groups are not demanding a clean DREAM Act because of the moment that we're in, and it's concerning for us because our lives are on the line," she said. "If we stay unified, we can actually win."
"You can't start compromising before seeing what's going to be on the table," said Erika Andiola of Our Revolution, the Sen. Bernie Sanders-driven group. Andiola said the traditional politics and give-and-take advocacy approach that worked during Barack Obama's presidency is no longer feasible.

"We don't have insiders working with the administration like we had with Obama," she said. "We have a very unstable president."

Rocha dismissed a clean DREAM Act as fantasy in the current political environment.
"While we would like to see a clean DREAM Act passed, the reality is we know that's not going to happen, so what's the alternative? Give me an alternative so we can support it," he said.
Rocha isn't the only Latino leader who has drawn the ire of Democrats and progressive Latino groups for his approach to Trump. Javier Palomarez, the president of the U.S. Hispanic Chamber of Commerce, has had a tortured history with the Trump administration, as detailed in a recent Bloomberg Businessweek story. Palomarez — who blasted Trump last year and endorsed John Kasich and eventually Hillary Clinton, before promptly ditching Clinton as soon as she lost to sidle up to the incoming administration — argued that it was in the interest of the Hispanic businesses he represents to keep a close relationship with whoever is in the White House.
Palomarez has gone back and forth on Trump since, preaching patience with the administration before writing New York Times op-ed declaring that "the moral costs of associating with this White House are simply too high." He said in September he would resign from Trump's diversity council, though the council's vice chairman said Palomarez was never part of it to begin with.
Palomarez's waffling has brought distrust from fellow Latinos, as well as administration figures. He was disinvited from the bipartisan Latino coalition, before being re-added in the email announcement of the event, and was invited to the White House Hispanic Heritage Month event where Trump spoke before being disinvited, a fact Palomarez has grumbled about to sources who spoke to BuzzFeed News.
Steve Cortes, a surrogate for the Trump administration, pulled out of the U.S. Hispanic Chamber of Commerce convention over his treatment of the president, according to two sources close to the USHCC. And after Trump won, USHCC staff complained to Palomarez about his welcoming stance to the new administration. "We were upset that this was happening," said a former USHCC staffer. "We didn't think this was the right choice. He asked our counsel, but he didn't take it."
"Certainly Javier hurt his credibility with his caustic TV appearances," said a source close to the administration of his more recent tact towards Trump. "Anyone who knows this president, when it comes to cable news, this president can hold a grudge."
The split among Latino organizations cropped up even after reports this week that House Speaker Paul Ryan will seek to attach DACA protections to the upcoming spending bill.
Andiola said the devil will be in the details, concerned that her side will give in on interior enforcement without realizing the way increased policing would terrorize her community.
Rocha was upbeat.
"If that's what they're going to hitch DACA to, OK, lets get behind it," he said. "Eventually the spending bill has to get approved, and it would be a great Christmas gift to a lot of people unsure about their future."
Rocha said if no Latino groups have a seat at the table, "where we can have dialogue, then who is speaking up for the community?"

But one Latino leader who didn't want to get publicly involved in the drama said too many Latinos have claimed influence with Trump without anything to show for it.
"We don't have any good examples of people working with him, just people claiming to have access to him," the source said.