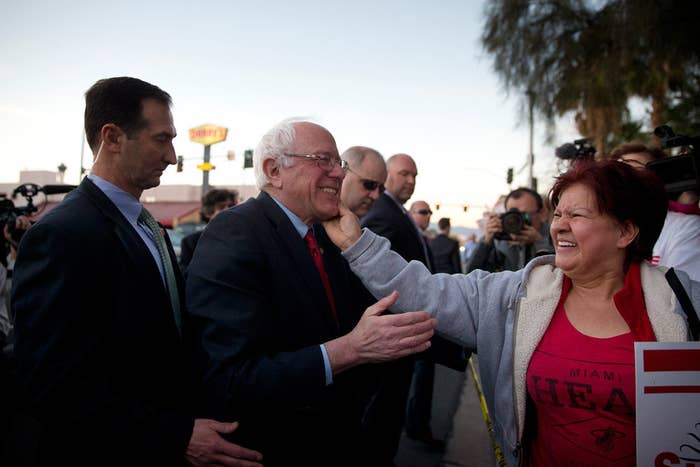 LAS VEGAS – Like clockwork, whenever Bernie Sanders gets hit for his vote against a 2007 immigration bill — which Hillary Clinton's campaign has cited in an attempt to make his immigration record an issue — Sanders begins by saying that LULAC, the League of United Latin American Citizens, opposed the legislation, too.
At the time the group said, "LULAC cannot support a bill that will separate families and lead to the exploitation of immigrant workers," pointing to, as Sanders has, guest worker provisions that it found to be morally wrong.
But LULAC eventually dropped its opposition to the filibuster of the bill, hoping, like other Latino and immigrant groups such as NCLR, that it could be improved in the House.
So how does the group feel about Sanders using them as a shield to protect himself from attacks on the vote? It turns out they're annoyed with Clinton for making Sanders' vote an issue.
"I really think it's unfair for Hillary to make an issue of that vote," LULAC executive director Brent Wilkes told BuzzFeed News. "I don't really know, it's hard to separate Hillary's record from [Bill Clinton's]. The Clintons, when they were in office, weren't exactly friends to immigrants."
Wilkes said that, at the time, President Bush was saying that "temporary means temporary" when it came to the guest workers staying in the country, in effect making the workers second-class citizens vulnerable to exploitation.
"We thought it was cruel and would lead to bracero-like abuses," he said, pointing to the 1940s program that brought in millions of Mexican nationals, who were in turn treated badly. Many were eventually deported in the infamous "Operation Wetback."
Wilkes said that NCLR, led by Cecilia Muñoz at the time, who is now a top Obama official, leaned on LULAC to support ending the filibuster, "but there was a difference of opinion over whether it could be improved" in the House.
Janet Murguia, the president of NCLR, said her organization understood at the time that any stalling would kill the bill, and they thought it had enough positive elements that made it worth moving forward.
"You could argue that what we had in that bill could have saved a lot of people from the agony and pain of having no action," she said, referring to separated families in the following years.
The Democratic candidates' immigration records have become a source of contention in the final days leading up to Nevada's caucus on Saturday, because of the personal and economic importance of immigration in the lives of residents in the state.
At the MSNBC/Telemundo Democratic townhall on Thursday, Clinton made a major shift, signaling that she would seek to introduce immigration legislation in the first 100 days of her presidency, language that she had previously staunchly avoided.
On Friday, her campaign sent out a tough email, contrasting the way Sanders speaks about his 2007 immigration vote now with how he explained the bill's defeat at the time.
"At a time when the middle class is shrinking, poverty is increasing and millions of Americans are working longer hours for lower wages it makes no sense to me to have an immigration bill which, over a period of years, would bring millions of 'guest workers' into this country who are prepared to work for lower wages than American workers. We need to increase wages in this country, not lower them," Sanders said in a press release at the time.
"We need an immigration policy which addresses the very serious problems of illegal immigration, continues our historic support of legal immigration, but protects the shrinking middle class," he concluded.
At the townhall on Thursday Sanders said he voted against the legislation for a number of reasons.
"But I will tell you one of them, included in that legislation was a guest worker provision which organizations saw as almost akin to slavery," he said.