Latino Conservatives United To Attack Trump — But Are Fighting Over Whether To Hit Ted Cruz, Too
A group of national Hispanic conservatives are set to come together Tuesday to blast Donald Trump before the GOP debate in Colorado. But behind the scenes there are sharp disagreements over whether to include Cruz, too. The LIBRE Initiative has already pulled out.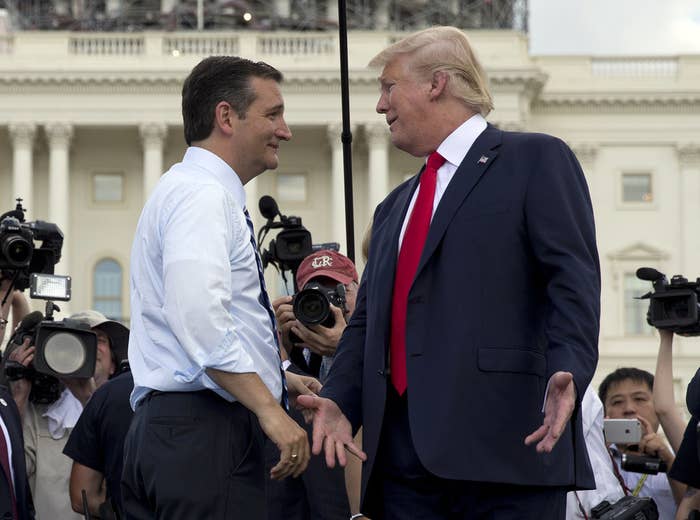 At a charity golf tournament in Houston last week, an influential Hispanic political operative was telling a group of Republican donors and businessman about an event he and other Latinos had planned.
The idea, Massey Villareal told the group, according to an attendee, was to display Hispanic, conservative unity against Donald Trump — and Ted Cruz.
Villareal, the former chairman of the U.S. Hispanic Chamber of Commerce, said 25 national Hispanic conservatives would hold a press conference before this week's Republican debate in the hopes of forcing Trump's poll numbers down. But, according to the source, he ripped into both men, calling Cruz a HINO — Hispanic in Name Only.
The next day, the Washington Post reported plans for the press conference, identifying Trump and Cruz as targets of what organizers deemed an "unprecedented" event.
There's a problem, however: The supposedly unified group of former Bush administration officials, high-level RNC Latino surrogates, and Hispanic leaders has been anything but unified. There is still confusion about whom the event will target, and a major conflict about whether the group should include Cruz. Some feel strongly that the Texas senator should be criticized for positions like ending birthright citizenship. Some feel the RNC should be hit for not being more critical of Trump. Others say the party has its hands tied.
Behind the scenes, the LIBRE Initiative — a major player in the group — felt misled when the news broke of the event. Hit Trump? The group's executive director Daniel Garza was more than happy to sign up for that. But the group was not comfortable attacking Cruz, whom they view as distinct from Trump.
The LIBRE Initiative has since pulled out of the event. From the beginning, Garza could not attend because of a scheduling conflict, but he now no longer plans to send representatives from his organization.
Villarreal said the event is about drawing a line in the sand. "We're going to call out Donald Trump as a community of Latinos," he told BuzzFeed News. "We're conservative and respectful and he has no respect for our community."
But those involved still don't seem to know the exact form the press conference will take and who will be included. After the news became public, Villarreal told NBC News Trump would be the only one named. Speaking with BuzzFeed News, he left it open once again.
"My guess is that Trump will be the only target," he said. "But if we concur that Ted Cruz is on the radar screen, we'll do it, but he's not the target."
BuzzFeed News was sent an early, draft version of the list of conservatives who would participate in the press conference — though, according to the source, the Cruz question could cause some to drop out.
The list includes Samuel Rodriguez, who heads the National Hispanic Christian Leadership Conference (NHCLC), the largest group of Latino evangelicals; Alfonso Aguilar of the American Principles Project's Latino Partnership; Rosario Marin, a former U.S. treasurer; Hector Barreto, former head of the U.S. small business administration; Allen Gutierrez of the business oriented Latino Coalition; and others.
Aguilar — who is one of the event's main organizers, with Villarreal, Marin, and Colorado donor Jerry Natividad — said the initial invitation was simple: to discuss the tone that some candidates have employed regarding the Hispanic community and to look at the candidates' immigration proposals. Speaking of Garza, he said it would be "disingenuous" to think that process wouldn't include Cruz.
"If you're a Hispanic leader what do you think that implies? Only Trump? Really?" Aguilar said. "It's very disingenuous to think that would not include Cruz."
Aguilar said a high-level Cruz campaign staffer called him after news of the event broke asking if he views Cruz the same as Trump. The message from the campaign was, "We're concerned," Aguilar said. "You should be concerned," he responded.
Since the press conference was announced both Garza and the NHCLC's Rodriguez have released statements lauding Cruz.
Garza said that while he "vehemently" disagrees with Cruz on ending birthright citizenship, he views him as different than Trump.
"I want to make it very clear, I have tremendous respect for Sen. Ted Cruz," he said. "We have to maintain a relationship with folks that we are aligned with on other issues. I would advise the other folks to be considerate of that working relationship and be careful with setting a precedent that just because you disagree with an elected leader, you're going to go on attack mode."
Sources both inside the group and with knowledge of the fallout since the event became public said RNC officials are not happy with the press conference — they want to emphasize party unity. Some within the group aren't thrilled with how the RNC has handled Trump, though, believing that the party committee should be more critical.
"There are some that want the RNC to take a bigger stand," a source close to the group said. "But the RNC is not going to do that. If someone says something horribly racist they might say something, but they're not going to talk on policy, that's not the RNC's role. It does politics not policy."
Besides the question of who will or won't be mentioned at the press conference (Aguilar said Santorum might be because of his comments on limiting legal immigration, others said Ben Carson may because of comments he made about drones on the border, and Chris Christie for comparing tracking immigrants to FedEx packages), is the issue of whether the Republican nominee will be able to count on these Latino leaders as surrogates in the general election.
Multiple sources confirmed that the sentiment that has emerged is: "Fine, you don't feel you need us in the primary, but you're going to need us in the general." They said depending on who the nominee is, the Hispanic conservatives may not want to "make the hard case to Spanish-language networks" defending candidates they feel have disrespected the community. None would defend Trump, but candidates like Cruz and others could benefit from support like that.
"I can only speak for our organization but we're definitely not inclined to help people who aren't helping themselves," said the Hispanic Leadership Fund's Mario H. Lopez, who is part of the group, after being asked about Cruz. "We're happy to be helpful and assist any candidate, at any level, who has their heart in the right place and is devoting real energy and resources but I don't see us being very motivated to help any candidates if that's not the case."
Luis Alvarado, a Republican strategist who is part of the group, said targeting specific candidates is not the point of the event but the rhetoric that "scapegoats Latinos to earn poll points in Iowa" is.
"Colorado is one of those states that demonstrated it can be won with Latino votes if the candidates and the message are inclusive and not offensive," he said.
Aguilar said the fact that the meeting hasn't happened yet, but the Cruz campaign has already responded, shows the effect the group can have by coming together. He said it is about policy, noting that Cruz last week led the effort to crackdown on sanctuary cities, "which criminalizes every undocumented immigrant." Immigration is a gateway issue for Hispanics, he said.
But, referencing a Trump event in Miami on Friday where a supporter dragged an immigration protester to the ground, Aguilar said rhetoric can not be cast aside.
"It's totally alarming," he said. "Rhetoric and then the reaction to that rhetoric, when things like that start happening the candidate needs to step in and say something."
That's why on Trump — but also Cruz — Aguilar said he will speak up.
"I can not look the Hispanic community in the eye and remain silent and say everything is fine," he said. "We have to take a stand."