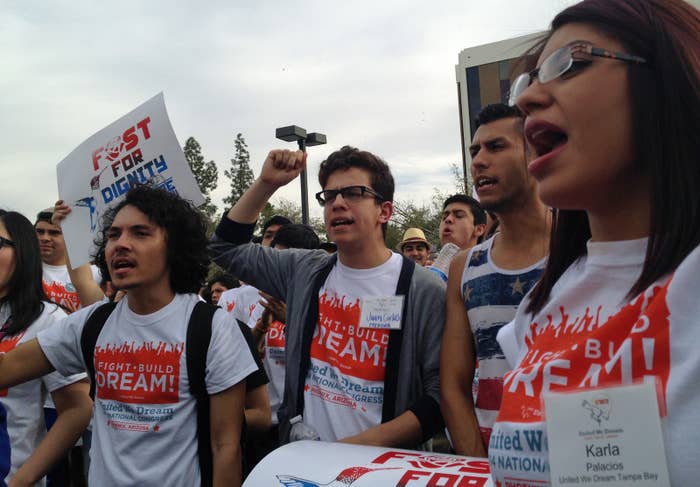 Instead of the jubilant celebration many expected, Latino leaders and activists have woke this week to a new and bleak reality.
Despondent leaders Thursday expressed a willingness to sit down with President-elect Donald Trump to discuss his plans on immigration and health care, all in the name of a fearful and anxious Hispanic and immigrant community that believes Trump will follow through on his promises to deport millions and dismantle Obama's health care law.
Meanwhile, immigration activists who only days ago were planning to execute their tried and true plan of pressuring a Democratic president on the issue, have been plunged into uncertainty. They have made defending deportation protections and work authorization for undocumented youth, known as DREAMers, their top priority.
Many in both camps are privately discussing next steps — but unsure what form reaction to the impending Trump presidency should take.
"I woke up the day after the election feeling that I was a stranger in my own country," said Mi Familia Vota executive director Ben Monterroso, as he stepped to the microphone at a Washington press conference.
Monterroso was flanked by many of the country's top Latino operatives: National Council of La Raza (NCLR) president Janet Murguia; Hector Sanchez, who chairs the National Hispanic Leadership Agenda (NHLA), a coalition of 40 leading Latino organizations; National Association of Latino Elected Officials (NALEO) executive director Arturo Vargas; Voto Latino founder Maria Teresa Kumar; and League of United Latin American Citizens (LULAC) president, Roger Rocha.

While none were fans of Trump during the campaign, they argued that a fearful and uncertain community demands that they engage with Trump. Vargas noted that NALEO had reached out to his campaign multiple times but not heard back.
"With the election over, he cannot continue to ignore our overtures," Vargas said. "He has a responsibility as the president-elect to engage every single American."

"There is a lot of concern," Rocha said. "We at LULAC, along with our colleagues, are looking forward to our first meeting with Donald Trump and want to be at the table for immigration and health care discussions."

Trump, who swept into office on the strength of white support in contested states like Florida and North Carolina — but also in expected safe Democratic states like Michigan, Wisconsin, and Pennsylvania — has promised to build a wall along the country's southern border with Mexico and pledged to deport millions of undocumented immigrants.
In a separate immigration call, national groups and local activists from Arizona, Wisconsin, and Texas, grappled with Trump's immigration threats and immediately moved to prioritize defending Obama's Deferred Action for Childhood Arrivals (DACA).
"The first big fight of the Trump presidency [for activists] will be to defend DACA," said Frank Sharry, a veteran of immigration legislation battles. "Is he really going to revoke work permits and deportation protections of 750,000 Americans? Is he really going to put you back in the shadows after you bought cars, are working, and helping your family? Isn't that what we want young people to do? It's going to be revealing. But I take the guy at his word and we're preparing for the worst."

A day earlier, United We Dream (UWD) held two calls — one in English and one in Spanish — that brought together 3,000 people through their 55 affiliates in 26 states, where community members shared their deep anxiety over whether their parents will be deported and DACA protections will be stripped from DREAMers. UWD staff themselves are concerned: Most of them have DACA or are completely undocumented.
The group's message to DACA-holders was to continue their renewal process if they are already in the middle of it, but not to go forward with new applications because of the specter that the personal information possessed by United States Citizenship and Immigration Services (USCIS) could be shared with other parts of the Department of Homeland Security (DHS). To that end, UWD said it is pressuring the White House to clear a backlog of DACA applications and wants further measures implemented to ensure the USCIS personal data will not be shared with other agencies.
On UWD's Spanish-language call, mothers and parents stressed the community must keep fighting and not give up to protect vulnerable immigrants. "Aqui estamos, nos quedamos," or "Here we are, we're staying," was their message, echoing the #HereToStay hashtag that blew up on Twitter after Trump's election.
While the loosely connected constellation of national and local groups that comprise the pro-immigrant movement are still figuring out their plans, some told BuzzFeed News there is interest from outside white progressive and black groups to join together with Latino organizations to take on Trump more broadly, including cultivating Fortune 500 companies that benefit from the work of DACA recipients.
Others, like Center for Community Change Action, which took part in Thursday's immigration call, believe they can pressure Trump to work on immigration legislation including a path to citizenship, but separate immigration groups said nothing would come of that plan because Trump doesn't owe pro-immigrant groups anything. DREAMers, long a bulwark of the effort to pressure Democrats and Republicans on immigration, said they will hold significantly less sway with a Trump administration.
"We don't have the same moral authority with Trump that we have with Democrats," explained Erika Andiola, a prominent immigration activist who worked for Bernie Sanders' campaign.
Cristina Jimenez, UWD managing director said that unlike Latino groups and immigration organizations that are considering engaging Trump, hers will not even try.
"The conversation around, 'We don't know if he's going to implement what he said,' there's uncertainty, but there has already been a lot of damage because he validated and normalized hate against Latinos and immigrants," she said.

Still, different activist organizations always play different roles in exerting pressure on administrations, and some like Andiola pointed to the work done in Arizona and elsewhere to work with Republicans when their usual allies are not in power.
Cristine Neuman-Ortiz, executive director of Wisconsin's influential Voces de la Frontera Action, pointed to work in the 1980s that included a growth of sanctuary cities, which gave safe harbor to undocumented immigrants and how it led to eventual legalization. Others pointed to working with the Bush administration on immigration, but there is also an unmistakable realization by advocates that Trump's searing rhetoric and his winning coalition will likely not lead to happy days for undocumented immigrants.

Sharry said national groups have a responsibility of trying to work with the new president ("The community is incredibly vulnerable, we thought we were on the verge of getting legal status, and now it's on the verge of mass deportation") but said working with Bush on immigration was an entirely different story and noted that Kris Kobach, one of the most anti-immigrant figures in the country, already joined Trump's transition team.

"Working with George W. Bush on immigration wasn't easy, but it was possible," Sharry said. "If they have [Sen. Jeff Sessions] and Kobach calling the shots, we won't be in those meetings — it will be a hardline, nationalist, anti-immigrant strategy if those guys are in those positions."

Latino and immigration advocates tried to highlight smaller victories they argued show all is not lost.
They pointed to a record number of Hispanics voting in 2016, more than 13 million, and Catherine Cortez Masto becoming the first Latina US Senator, as well as wins up and down Nevada for Democrats like Ruben Kihuen becoming the state's first Latino congressman. They said defeating the embattled and controversial Maricopa County Sheriff Joe Arpaio in Arizona was a historic victory for Latinos, after a court found he was racially profiling Hispanics and continued to do so afterwards. But even as they celebrated victories, the shadow of Trump was never far from their minds.
"Arpaio is out, but we face an Arpaio clone in the White House," said longtime Arizona activist Petra Falcon.