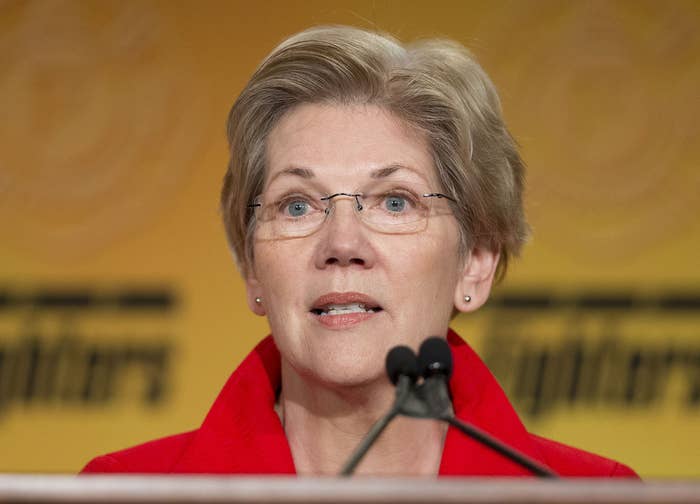 Some of the activists who made immigration a difficult issue for President Obama in 2014 are now signing onto the effort to draft Sen. Elizabeth Warren — or some other Democrat — to challenge Hillary Clinton.
Warren has time and time again said she is not and will not run for president, a declaration that has not prevented MoveOn.org's "Run Warren Run" project or deterred the liberal group from seeking more supporters. The latest participants: Arturo Carmona, executive director of Presente Action, which counts 300,000 members nationwide, and Erika Andiola, a national DREAMer activist, who played a key role in the fight for Obama's executive actions on immigration.
In a letter first given to BuzzFeed News, Carmona and Andiola write, "Contested primaries test and strengthen candidates and ensure progressives have a chance to make our voices heard." They argue that leaders are needed who will fight powerful interests and protect the most vulnerable, including "impoverished Americans, women, children and immigrants to reduce social and economic inequality."
Carmona said he joined the effort because it makes the most sense for Latino voters.
"Latinos are going to play, without question, the most important role they have ever played in an election in 2016 and they want to be an electorate that is not taken for granted," he told BuzzFeed News.
Carmona cited polls released by Pew and Latino Decisions in the aftermath of Obama's executive actions that would shield more than 4 million undocumented immigrants from deportation, which showed high support for the actions. He said Latino support of Clinton will be heavily influenced by how strong she comes out in support of issues like immigration.
After Obama's announcement, Clinton tweeted support for the actions, noting that it was a historic first step, and argued for a congressional immigration overhaul.
"It shouldn't be a foregone conclusion that Hillary will be the Latino candidate," Carmona said. "She has a lot of work to do to show the Latino electorate that she will advance our issues and agenda."
Andiola echoed Carmona, saying her group DRM Action Coalition is worried that Clinton will not be enough to the left on immigration issues, citing comments she made during her book tour as the unaccompanied minors crisis flared, that the children should be given love and support, but many should eventually be deported.
"The letter is saying to the Democratic Party not to put all of their resources to Clinton, to make it so other folks have a chance," she said.
Sources with knowledge of outreach by MoveOn.org said other Latino organizations have been approached and are mulling joining the effort, with the announcement of another Latino leader in the pipeline soon.
But Carmona said there is also a sense that many Latino groups are hesitant to sign on to something that might be viewed as a public rebuke of the powerful Clinton.
"You certainly get a feeling from the inside-the-Beltway types that there is a certain uneasiness with crossing what many people see as the next Democratic candidate," he said. "Our position is that every single candidate needs to be fully vetted."