Kerry: War Fatigue Does Not Absolve Us Of Our Responsibility In Syria
The Secretary of State outlined what the U.S. knows about the chemical weapons attack earlier this month that killed 1,429 people, including 426 children. "Rows of children, lying side by side, dead by Assad's gas."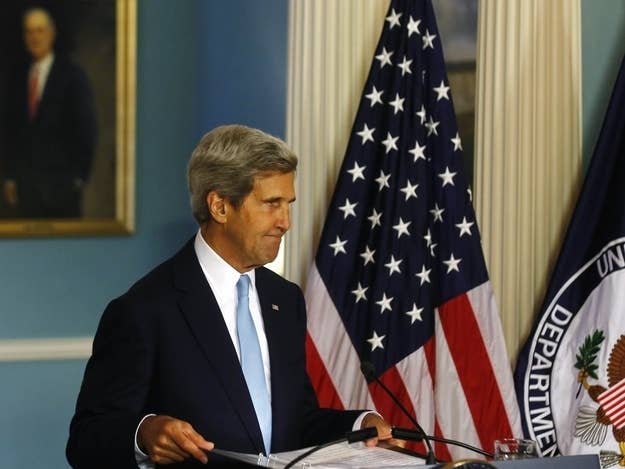 In a forceful speech, Secretary of State John Kerry outlined the findings of a U.S. government preliminary report on what the Syrian regime did to its people in a chemical attack on Aug. 21.
He said Syrian President Bashar al-Assad authorized an attack that killed 1,429 people, including 426 children.
"Rows of children, lying side by side, dead by Assad's gas," Kerry said, his voice breaking.
He said history is full of leaders who warned against inaction and listed the allies who have condemned Syria, including France, Turkey, Australia and the Arab League.
Kerry said "it matters because if we choose to live in the world where a thug and a murderer like Bashar al-Assad can gas thousands of his own people with impunity, even after the United States and our allies said no, and then the world does nothing about it, there will be no end to the test of our resolve and the dangers that will flow from those others who believe that they can do as they will."
"Let me be clear," Kerry said. "We will continue talking to the Congress, talking to our allies and most importantly to the American people."
He said because of Russia's obstructionism, the United Nations can not get the international community behind joint efforts, so the United States and the president will make its decision in its own time.
The secretary of state stressed that possible intervention in Syria would not be another Afghanistan, Iraq or even Libya. It would be limited action to ensure "a despots brutal and flagrant use of chemical weapons is held accountable."
While Kerry opened his speech with analysis of what the U.S. knows -- that Assad had chemical weapons personnel in the area before the attack, that rockets were launched from regime-controlled areas to opposition-contested neighborhoods and that all hell broke loose on social media -- he made it clear that the U.S. will not back down from what it decides is the right course of action, despite the country's weariness of war.
"Fatigue does not absolve us of our responsibility," he said.