Juanes On Gabriel García Márquez Death: The Legacy He Left Behind Is Incalculable
Juanes spoke to BuzzFeed about the Colombian literary giant, the Latino community standing up for immigrants, and the conflict in Venezuela.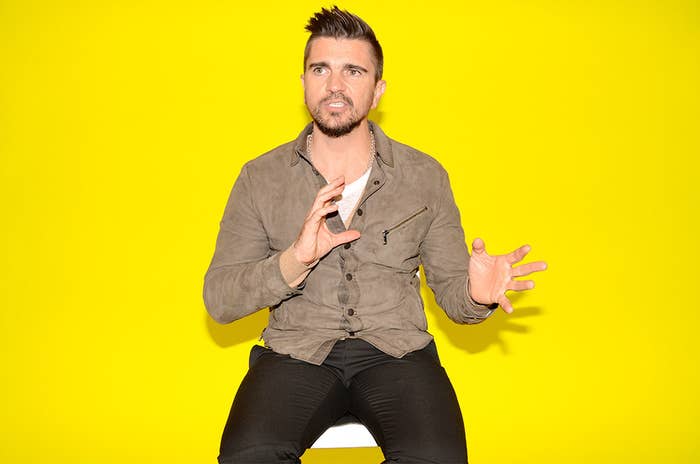 Juanes, the internationally renowned Colombian rocker, said the death of Gabriel García Márquez is a profound loss for his home country.
"I believe that the legacy he has left behind is incalculable and the literary power that García Márquez had for history and world culture is very strong," he said in an interview with BuzzFeed.
The Colombian-born García Márquez, who died Thursday at the age of 87 after a lung infection, wrote classics like Love in the Time of Cholera and One Hundred Years of Solitude, the latter of which Juanes opened again after Márquez's death.
"As a way to honor him, I am rereading one of his books, and every time I turn a page I say to myself, 'Oh my god, this man had such immense creativity.' He was something special," he said.
At Monday's memorial for García Márquez, Colombian President Juan Manuel Santos, and Enrique Peña Nieto, the president of Mexico, the beloved author's adopted home for the last 50 years, gave touching eulogies.
"He will live on in his books and writings," Manuel Santos said. "But more than anything he will live forever in the hopes of humanity."
Juanes, who lives in Miami, also spoke about immigration reform and record deportations that are affecting the Latino community. He said he believes Latino artists should speak up on the issue, but that they're not the only ones.
"It's not just the artists, it's the Latino community altogether. Hopefully the politics that will change these laws will move. But we have to give voice and visibility to the people who don't have it," he said. "This country couldn't live without the immigrants."
Like Residente of Calle 13 in a recent BuzzFeed interview, Juanes had less to say about the conflict in Venezuela pitting the government against opposition factions.
"It's very hard; it's a neighboring country of Colombia that I love," he said. "My desire is that they can find harmony and be in peace."