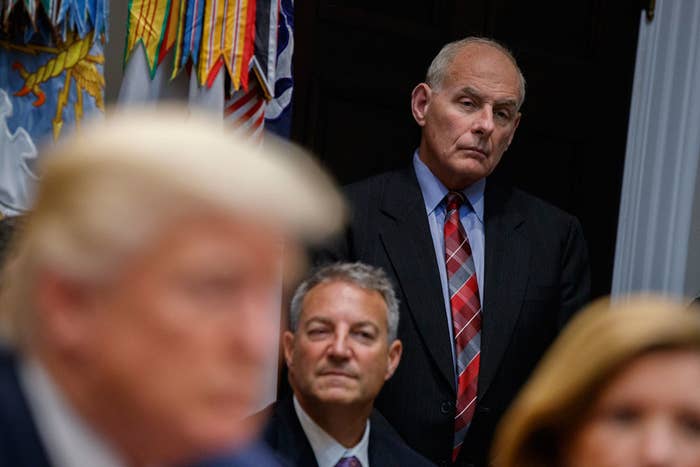 It's John Kelly's turn in the spotlight. And unlike other top aides to President Donald Trump who've been nervous about upsetting their boss by attracting too much attention to themselves, the retired Marine general Trump's flailing White House brought in as chief of staff this summer is increasingly stepping onto center stage — by choice.
Even as he's implemented tighter controls within the White House, upsetting Trump, who at times has complained to friends about feeling too micromanaged, Kelly's recent public appearances have impressed the president, according to sources close to the administration. Trump has been happy to watch Kelly evolve over the last month into an open ideological warrior with his boss's instincts for digging in against perceived enemies and rallying the president's base of supporters.
But Kelly's comments, which include attacking a Democratic congresswoman and praising Robert E. Lee, have stunned both Republicans and Democrats in how willing he's been to unleash his grievances, given the bipartisan praise he received when he first took over as chief of staff, a role that's typically behind the scenes. And the positive reviews from reporters and cable news hosts who had initially been willing to give the retired general the benefit of the doubt have now shifted to stories questioning Kelly's credibility, a pattern usually reserved for members of Trump's staff who've spent more time handling his political storms.
"It made me cringe," said a source who has advised the administration on communications strategy of the Monday night Fox News interview where Kelly said the Civil War was caused by "the lack of an ability to compromise" and called Confederate general Robert E. Lee an honorable man. "As much as I admire him for a million reasons, I don't know what in the world he was doing in that interview. My guess is if he could press redo, he would. So as an administration let's be more judicious in when it's important to use him."
Another Republican strategist close to the administration said Kelly "has put stronger systems in place to make the White House more efficient" and remains a "trusted voice" among Republicans. "At the same time, it would be wise to move past the Confederacy and the Civil War and instead focus on the future of our country," the strategist said, adding that Trump "wants Kelly on the air because he's a strong, credible voice that resonates with the base of the party."
The White House adviser also noted that Kelly has stepped into a precarious position of greater scrutiny from the media, which played a role in the ousters of Steve Bannon, Sean Spicer, Reince Priebus, and Anthony Scaramucci, and chased Stephen Miller away from increased TV appearances. Already Kelly has waded into ideological waters at the urging of reporters, which can be avoided, the source said.
"Just because he had one great moment at the podium doesn't mean he's ready for the onslaught of regular media," the adviser said. "It's hard as hell. You need a lot of at bats to get good at live interviews."
Kelly's interview on Fox News came just over a week after he opened up a White House press briefing with a tirade against Rep. Frederica Wilson, a Florida Democrat, in defense of comments Trump was said to have made to the family of a soldier who had recently been killed in Niger. In the course of his monologue, Kelly lambasted Wilson, who he called "an empty barrel," for taking credit in a speech for securing the funding for a new FBI building in Miami. But soon after Kelly's comments, Florida's Sun Sentinel released video of Wilson's speech, which proved Kelly's words false.
Asked about those comments and the video on Fox Monday, Kelly didn't back down. "I'll apologize if I need to," he said. "But for something like that, absolutely not. I stand by my comments."
What Kelly's done so far as chief of staff is "pretty unprecedented," said Chris Whipple, author of The Gatekeepers, a history of White House chiefs of staff. "Chiefs of staff tend to be seen and not heard, and when they do speak, they tend to think before they speak," Whipple said, adding that the last two weeks have been very revealing in terms of understanding Kelly's ideology and approach to the job.
There was the idea that "he would be the non-ideological adult in the room who would take the rough edges off of Trump — turns out, not so much," said Whipple, who went on to say that the Fox News interview shows Kelly's "politically out of his depth."

But a former administration official who saw the chief of staff transition from Priebus to Kelly, a move made in part to create a more professionalized environment, said the choice to employ Kelly's moral authority comes not from the White House, which nonetheless has weaponized and cheered his appearances, but from Kelly himself, who relishes the chance to have his say on the politics.
Kelly, the source said, jumps into these flashpoint issues because he feels strongly about them and thinks the president is unfairly criticized at times, like he did during his recent press briefing, where he chided reporters who haven't served the country in war.
"People assume the president sent him out there to deliver those particular remarks, but I think he felt compelled to speak out because he has unique perspective on losing a son in the military," the source said.
Kelly has clearly taken his own initiative in the past to dig into perceived critics. In July 2015, as the Marine general overseeing the Guantanamo Bay detention center, Kelly took it upon himself to attack the press long before then-candidate Trump was deploying the term "fake news." Media coverage of Guantanamo, he said in an address to soldiers, "breaks my heart because I know the reporting is wrong, and I believe the media representatives that report what goes on here know it's wrong but they go on their merry way highlighting the negative aspects of what might go on at Gitmo, never giving you credit for what you do here." He added that "the self-appointed and self-anointed critics of what goes on here" can't grasp "our core values as military people."
Some were taken aback by Kelly's comments to Fox's Laura Ingraham this week about the Confederacy because of how pained he appeared during Trump's press conference in the aftermath of the white supremacist rally in Charlottesville. As the president doubled down on his argument that "both sides" — instead of just the neo-Nazis — were at fault for the violence at the rally and compared Robert E. Lee to George Washington, Kelly remained silent in the background with his head bowed down, arms crossed, staring at the ground.
It was Bannon, the former White House chief strategist, who had reportedly encouraged the president to not back down in that instance. But Kelly's response on Fox to a question about a recent decision by a Virginia church to remove plaques that honored the Confederate general and George Washington suggests his views on the subject are in line with Bannon's and Trump's.
"I would tell you that Robert E. Lee was an honorable man," Kelly told Ingraham. "He was a man that gave up his country to fight for his state, which 150 years ago was more important than country. It was always loyalty to state first back in those days. Now it's different today. But the lack of an ability to compromise led to the Civil War, and men and women of good faith on both sides made their stand where their conscience had them make their stand."
Those close to Bannon pointed out that it's not surprising Kelly and Bannon hold similar views. Although they don't have much of a relationship (Kelly told Bannon he needed to resign soon after he took over as chief of staff), they're "both blunt military guys," one of those source said. Bannon was a lieutenant in the Navy in the late 1970s and early '80s; Kelly most recently served as the commander of US Southern Command in 2016. Another Bannon ally said he's usually pretty respectful of the general and his views.
Scott Jennings, an adviser to former President George W. Bush, said part of the reason for the strong reaction to Kelly's comments comes from the fact that "sometimes we get it in our heads that military leaders are somehow above or immune to having political thoughts."
"I don't know too many folks, military or not, who don't have opinions on culture and politics informed by their life experiences," Jennings said, adding that the idea Kelly could serve as a "moderating" force in the Trump administration was "to me, was misguided punditry."
There is also the possibility that the novelty of the heavyweight chief of staff engaging with the press will wear off, and Kelly risks being overused in the role of defending the administration from its latest controversy.
Jack Kingston, a former congressman and Trump surrogate on CNN who knows Kelly from defense appropriations meetings, said Kelly will be fine in that regard.
"I don't think he would allow himself to be overexposed," Kingston said, before embracing dual analogies. "We're the infantry and literally when the general comes in, it's a higher level, he's the closer."
Kingston said he has seen the change from Priebus to Kelly in his role as surrogate, receiving two to three emails a day from the White House where before communication planning had been light. He also said he used to have a 50/50 chance of getting emails answered by the White House, and now he almost always gets a response, which leads him to believe that Kelly's "steady hand is trickling down, bringing that military discipline."
There is another side to the argument that Kelly has unique moral authority to defend the president within the White House. Democratic Rep. Ruben Gallego, a combat veteran of the Marine Corps, cautioned the media to not be cowed by a retired general and blasted Kelly in a scathing interview with BuzzFeed News.
"He's always been a culture warrior since he took off the stars," Gallego said, citing his time as homeland security chief, when the Trump administration attempted to implement its travel ban.
"This is someone who openly lies about a congresswoman and then when confronted with his lies won't apologize," Gallego said. "When I was in the Marine Corps, if I had lied and didn't have the integrity to own up to it I would have been dropped down in my rank. Kelly loves the cover and veneer of a general but won't live the integrity of it."
But those who know him say one of Kelly's attributes is his lived experience. "He's been around the world multiple times," Kingston said, and as a no-nonsense guy he won't be intimidated by the president, Democrats, or the press.
Although Kelly's strong defense of the president and his views have come with criticism, it could help his standing with Trump, who is known to ask his friends and outside advisers for feedback on how his staff is performing.
"As are all positions, he serves at the pleasure of the president, who has been well-served by General Kelly," the former White House official said. "Things have improved, the waters are pretty choppy right now, and you need that steady hand."
But if Kelly has settled into the role, his critics say he has also revealed himself.
"Everyone needs to accept that he is who he is," Gallego said. "He is going to be used as a weapon, so don't be distracted by what he used to have on his lapel."