Jeb Bush's Wife Columba Launched An Instagram And Twitter Account
She will be tweeting and 'gramming in English and Spanish, a source familiar with Columba Bush's plans told BuzzFeed News. Family photos are coming.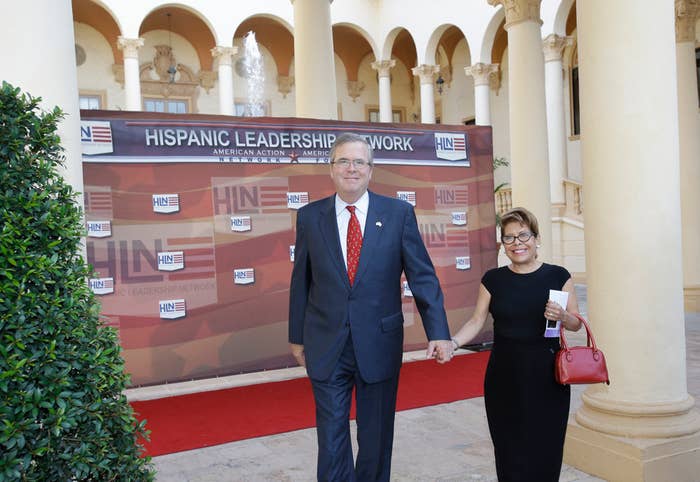 Jeb Bush's campaign hasn't been announced yet, but one of the routine parts of an expected candidacy is here: social media accounts from the spouse.
"Privileged to meet @ICADV leaders while in IA with Jeb this weekend. Join me in supporting Domestic Violence prevention," she tweeted after meeting with the Iowa Coalition Against Domestic Violence.
A source familiar with Columba Bush's plans told BuzzFeed News she's really excited to interact with people, and should Bush decide to move forward with a campaign, this would be a way of gradually getting her out in public and getting Americans familiar with her story.
She will be approving all of the posts on both @ColumbaBush accounts on Twitter and Instagram.
Her bio says she is a "Proud Mother, Grandmother, and Wife of Jeb Bush. Advocate for Domestic Violence and Drug Prevention, the Arts," with a link to Bush's Right To Rise PAC website.
Columba Bush is from Mexico and Jeb Bush is fluent in Spanish. Her new social media presence will be able to highlight the family and softer side of the expected campaign.
The source said you can expect photos of Columba at events and old family photos, especially on Thursdays.
The public social media presence also begins to answer the question of what Columba's role would be if Bush does what everyone expects and announces his campaign for president. She receded from public view when Bush was governor in 1999 after improperly declaring the value of goods she had bought in Paris. Bush has previously said that she "is uncomfortable with the limelight, which is why I love her."
The accounts are a mundane development, but the pre-campaign also sees them as an opportunity to engage with Latino voters.
The source said creating the accounts makes sense because Hispanics use social media more than other groups and this would be an opportunity to speak to them where they are.
This has been a tough week for Bush after bungled answers on whether he would have invaded Iraq. But he is also viewed as an imposing figure among the Republican field because of how much money his Right to Rise PAC is expected to raise. In late-April he told donors they had helped raise more money in the first 100 days than any other Republican operation in history.