Jeb Bush Unveils 228-Member National Hispanic Leadership Team
The list of committee members, obtained by BuzzFeed News, shows a focus on Latinos that is perhaps unique among the Republican field.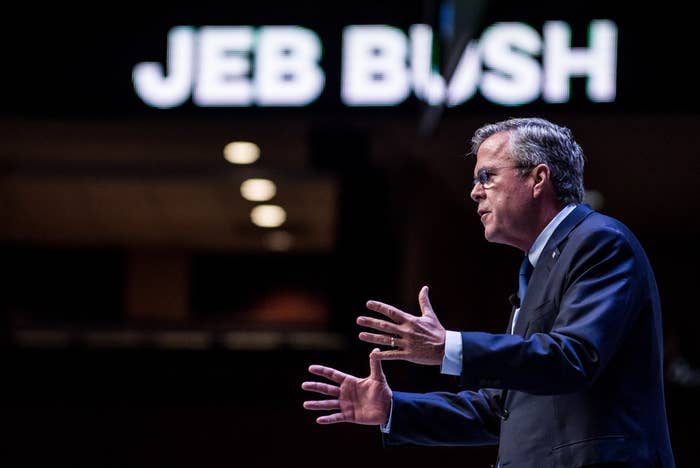 Some are knocking on doors in pivotal states like Nevada. Others are acting as surrogates in Spanish-language media. Some bring policy expertise, and still others are tapping into their networks and setting up events from Texas to Florida and Puerto Rico.
Many of them are experienced operatives and they're part of the Jeb Bush campaign's national Hispanic leadership committee — 228 altogether across 20 states and two territories, an effort to show and fortify the candidate's commitment to the Latino community.
"I'm honored to have these great Hispanic men and women join the fight for all American families, working to lower taxes and reduce regulations that make it harder for us to grow the economy and give people the opportunities they deserve. Together we will work to engage every Hispanic voter," former Governor Jeb Bush said in a statement to BuzzFeed News.
One of the members, Jesus Marquez, has a radio show in Nevada, serves as a strategist for campaigns and is an independent contractor for the LIBRE Initiative, the Koch-funded conservative Latino group. He knows northwest Las Vegas well and he's knocking on doors, asking Republican voters who they support in the primary and what issues they care about most.
"It may surprise some, but immigration is not the number one issue we hear about when we knock on doors," he said. "It's the economy."
The list includes Florida officials like longtime congressional members Ileana Ros-Lehtinen and Mario Diaz-Balart, who said he's looking forward to sharing Bush's proven track record with voters across the country.
"I am excited to join Governor Bush on his Hispanic Leadership Team," he said in a statement. "As Governor of Florida, his conservative record of cutting taxes and eliminating government waste put the state on a path of fiscal responsibility, something our country so desperately needs right now."
But the committee also includes buzzed about newcomers like Rep. Carlos Curbelo and state senator Anitere Flores.
"The people from Florida can give the best, firsthand experience and testimonial of these were the challenges when Gov. Bush came into office and these were the ways that he solved them," Flores said.
She is one of the campaign's Spanish-language media surrogates and has offered herself to the campaign as someone who can travel to states like Nevada and North Carolina to share the "Jeb Bush success story," she said.
The committee members said the campaign is using them according to their expertise. Ivan Gamboa, a Wisconsin businessman who has worked with the state's governor and former presidential candidate Scott Walker, has shared his network with the campaign including contacts in Iowa and Illinois as well as his home state, and has been impressed with the way the campaign has followed up with everyone he has recommended.
The Hispanic vote has trended toward Democrats in recent presidential elections but the Bush campaign plans to make a play for Latinos, as the primary goes on and should he make it to the general election. An August Gallup poll showed the bilingual former governor, who has a Hispanic family, as the Republican with the highest favorability among the group.
And Bush has also started the media outreach; he did a major interview with Telemundo this summer and was the keynote speaker at the U.S. Hispanic Chamber of Commerce's national convention in September.
Ken Oliver-Mendez, the director of MRC Latino, a conservative Spanish-language media watchdog, is part of the leadership committee, and said his personal endorsement is separate from the work he does, much like that of his boss Brent Bozell, who supports Ted Cruz. He said that he, like many others in the group, are Bush administration alumni.
"The Bushes brought a lot of Latinos into their administrations," he said. "We've always liked Jeb Bush a lot and seen him as a natural for presidential office."
Here are the 228 members of the Bush campaign Hispanic leadership committee:
Jose Abreu Florida
Raul Acosta New York
Armando Adame Texas
Eduardo Aguirre Texas
Marta Aguirre Bascom Virginia
Kristen Alexander Nevada
Alberto Alfonso Florida
Carlos Alfonso Florida
Jose Aliaga Michigan
Luis Alvarado DC
Cesar Alvarez Florida
Ramon Alvarez California
Ruben Alvarez Arizona
John Andrews Virginia
George Antuna Texas
Milton Aponte Florida
Luis Felipe Aragon California
Victor Arias, Jr. Texas
Jorge Arrizurieta Florida
Frank Artiles Florida
Andres Asion Florida
Irela Bague Florida
Ruben Barrales California
Hector Barreto DC
Elias Behar-Ybarra Puerto Rico
Gary Berrios Florida
Rudy Beserra Georgia
Blanca Bichara Florida
Othal Brand, Jr. Texas
Romero Britto Florida
Victor Cabral Virginia
Tony Calatayud Florida
Roger Campos Maryland
Raoul Cantero Florida
Alberto Cardenas Florida
Jovita Carranza Illinois
Jose Carrion Puerto Rico
Elijah Casa Texas
Mario Castillo DC
Sharon Castillo Maryland
Julio Cerda Texas
Charles Cervantes Virginia
Linda Chavez Virginia
Mariela Chavez-Knapp Texas
Adriana Comellas-Macretti Florida
Bob Cortes Florida
John Cruz California
Rafael Cuellar New Jersey
Carlos Curbelo Florida
Maria Davis Nevada
Moises De Jesus New York
Berthy De La Rosa Aponte Florida
Deborah DeMoss Fonseca Virginia
Jose Felix Diaz Florida
Lincoln Diaz-Balart Florida
Mario Diaz-Balart Florida
Daniel Diaz-Leyva Florida
Remedios Diaz-Oliver Florida
Manny Diaz, Jr. Florida
Doreen DominguezCalifornia
Susana Duarte Indiana
Oscar Echevarria Virginia
Aurora Espinosa Nevada
Juan G. Espinosa New Jersey
Luis Farias California
Mike Fernandez Florida
Rudy Fernandez Florida
Dr. Maurice R. Ferrer Florida
Andreina Figueroa Florida
Tony Fiorina Texas
Anitere Flores Florida
Rafael Flores New York
Alan Florez Florida
Jaime Fonalledas Puerto Rico
Zori Fonalledas Puerto Rico
Rene Fonseca Virginia
Luis Fortuno Puerto Rico
Blanca Fox Nevada
Adriana Fralick Nevada
Erik Fresen Florida
Denis Freytes Florida
Dennis Freytes Florida
Elizabeth Gallagher Nevada
Ivan Gamboa Wisconsin
Charlie Garcia Florida
Martin Garcia Florida
Rudy Garcia Florida
Diedra Garcia Colorado
Jimmy Garza Texas
Martha Gautier Hawaii
Luis Andre Gazitua Florida
Carlos Gimenez Florida
Jennifer Gonzalez Puerto Rico
David Griego Nevada
Julio Gudino California
Abel Guerra Texas
Frank Guerra Texas
Allen Gutierrez DC
Sam Gutierrez Illinois
Joseph Guzman Michigan
Anita Guzman Michigan
Jacqueline Guzman Michigan
Peter Guzman Nevada
Anibal Heredia Puerto Rico
Maggie Hernandez California
Joe Hernandez Nevada
Daniel Hernandez Texas
Joacim Hernandez Texas
Dr. Juan Hernandez Texas
George Herrarte California
Hans Hertell New York
Hans Hertell, Jr. Florida
Ocatavio Hinojosa-Mier Texas
Jim Jimenez Florida
Hector Lombana Florida
Emanuel Loo Texas
Danny Lopez Indiana
JM Lozano Texas
Gus Machado Florida
Raul Magdaleno Texas
Carmen Mahan Nevada
Mitch Maidique Florida
Abel Maldonado California
Alci Maldonado Florida
Yuri Mantilla Virginia
Jesse Manzano Florida
Marcos Marchena Florida
Krissian Marquez Nevada
Jesus Marquez Nevada
Mel Martinez Florida
Sandra Martinez Nevada
Troy Martinez Nevada
Gil Medina New Jersey
Sonia Medina Texas
Otto Merida Nevada
Damian Merlo Florida
Jose Mier Llaca Iowa
Maria Mier Llaca Iowa
Leticia Mitchell Nevada
Jaime A. Molera Arizona
Al Moncada California
Diana Monsivais Nevada
Jacob Monty Texas
Rosa Morales Nevada
Alberto Morales Puerto Rico
Darryl Morin Wisconsin
Angela Morin Wisconsin
Rafa Munguia Texas
Artemio Muniz Texas
Armando Musa New York
Ana Navarro Florida
Xavier Neira Oklahoma
Jose Nino Texas
Dr. Antonia Novello Florida
Jose Oliva Florida
David Olivencia Indiana
Yesenia Olivencia Indiana
Ken Oliver-Mendez Virginia
Steve Orlando Illinois
Jorge Ortega Florida
Izzy Ortega Tennessee
Alfredo Ortiz Georgia
Umram Osambela Nevada
Nina Oviedo Virginia
Manny Padilla California
Barry Patel Texas
Elsa Patterson Nevada
Sandy Peltyn Nevada
Aron Pena Texas
Roberto Peña Gonzalez Texas
Rafael Penalver Florida
Tico Perez Florida
Dr. Nolan Perez Texas
Charles "Carlos" Perez Virginia
JC Planas Florida
Jason Poblete Virginia
Yleem Poblete Virginia
Michael Pruneda Texas
Ana Quinquoces Florida
Miriam Ramirez Florida/Puerto Rico
Carol Ramirez Maryland
Esther Ramirez Maryland
Henry Ramirez Maryland
Teresa Ramirez Nevada
Mario Ramirez Texas
Alfred "Al" Rascon Maryland
Israel "Izzy" Reyes Florida
Fernando Reyes Texas
Ivonne Richardson Nevada
Diana Richardson-Vela California
Josue Rivera Puerto Rico
Julio Robaina Florida
Reynaldo Robledo Nevada
Mario Rodriguez California
Raquel "Rocky" Rodriguez Florida
Zues Rodriguez Wisconsin
Fernando Romero Nevada
Jeny Romero Nevada
Ileana Ros-Lehtinen Florida
Marlene Rosado California
Manuel "Manny" Rosales DC
Juan Sabater New York
Charlie Safdie Florida
Norberto "Beto" Salinas Texas
Grace Sanchez-Hagen California
Isabel "Izzy" Santa Virginia
Brandon Schneider Maryland
Madeleine Serrano Florida
Walde Serrano Florida
Jerry Silva California
William Solemene Texas
Lionel Sosa Texas
Theresa Speake Virginia
Cecilia Strieber Nevada
Mauricio Tamargo Virginia
Margita Thompson California
Warren Tischner Texas
Adriana Toscano Nevada
Sol Trujillo Florida
Carlos Trujillo Florida
Omar Vargas Connecticut
Luce Vela Puerto Rico
Eduardo Verastegui California
Marielena Villami Florida
Tony Villamil Florida
Rudy Yakym III Indiana
Al Zapanta Texas
Fernando Zapari Indiana
Minerva Zermeno California