Jeb Bush Tells Hispanic Evangelicals He Supports Earned Legal Status For Undocumented Immigrants
Focusing on his work in education in Florida, Bush got big cheers for talking about an immigration overhaul and reestablishing a strong relationship with Israel, from the largest group of Hispanic evangelicals in the nation.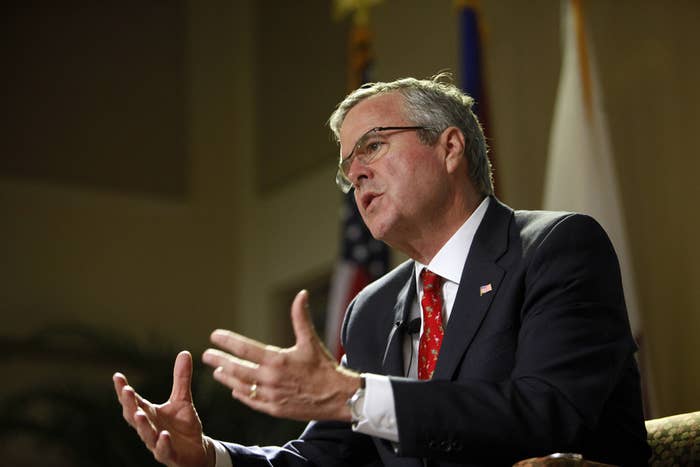 HOUSTON — Jeb Bush said undocumented workers should be able to come out of the shadows, pay a fine, work, and eventually gain earned legal status in a speech to a major Hispanic evangelical organization Wednesday.
Speaking to the National Hispanic Christian Leadership Conference (NHCLC) with his parents George H.W. and Barbara Bush in the audience, the former Florida governor focused on his work in education in the state — but got big applause for talking about immigration and Israel.
"We have to fix the broken immigration system and that means controlling the border and making sure legal immigration is easier than illegal," he said. "But it also means dealing with 11 million undocumented workers... where they pay a fine, they work, they do what they want to do which is come out of the shadows, provide for their families and over a period of time get earned legal status."
Bush knew his audience — education is always a top issue for Latinos in the U.S. and NHCLC does much of its work in education and immigration — as he connected his experience working on education in Florida with the state's current success with Hispanic students.
He spoke of visiting 250 schools when he ran for governor the second time, and stressed his work to raise standards for students and enact a corporate tax-voucher program. He credited this work with growing the Hispanic graduation rate from 47% to 75%, 10 points above the national average, with Latinos now making up 25% of all Florida students.
The biggest applause line, however, was when Bush said the U.S. must reestablish a strong relationship with Israel to bring stability to the Middle East. At the NHCLC conference Tuesday, the Hispanic Israel Leadership Coalition (HILC) was launched which aims to be the largest pro-Israel Latino group.
The speech Wednesday followed appearances in Puerto Rico earlier in the week — two Hispanic-focused events that did not go unnoticed by Democrats. (The DNC and EMILY's List blasted Bush on Wednesday on his opposition to President Obama's immigration executive actions and his support for defunding Planned Parenthood, respectively.)
Despite the presidential emphasis surrounding Bush, his speech Wednesday made only one nod to his expected campaign, saying if he is going to go beyond considering running for president, he wants to share who he is and spoke about how his life changed in Mexico when he met his wife.
Bush argued immigration can separate the U.S. from places like Japan, which has a declining population, and Europe, which does not embrace a set of shared values.
"Immigration is a key element of our country's success," he said. "We're a nation of immigrants and it's not time to abandon something that makes us special and unique."