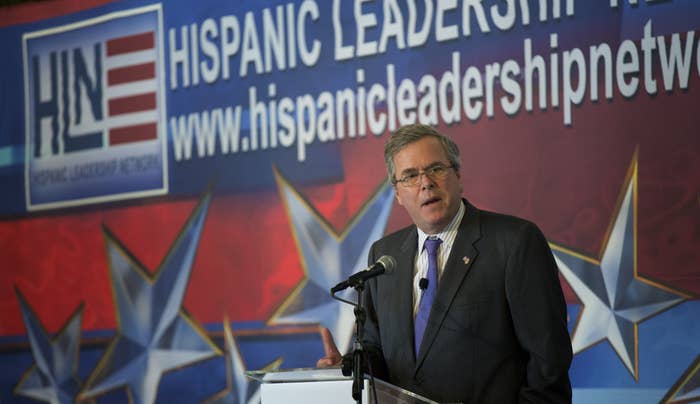 Jeb Bush has hired Emily Benavides, an experienced Hispanic media operative, as he gears up for an expected presidential campaign.
Benavides is joining Bush's Right to Rise PAC as a communications adviser and spokeswoman leading Hispanic media. She would be in line for a similar senior position if Bush moved forward with a potential campaign, a source told BuzzFeed News.
"I'm excited to join Governor Bush's team. I look forward to communicating Governor Bush's conservative ideas for greater economic growth and opportunity for all Americans," Benavides told BuzzFeed News in an email.
Bush is fluent in Spanish and his wife is Mexican-American, and his campaign hopes he can cut into Democrats' recent overwhelming support from Latino voters. Benavides' job will be to ensure that his message resonates culturally and linguistically, and that the candidate is focused from the start on earning the community's respect.
The news comes a day after an early stumble: The New York Times reported Jeb Bush registered himself as Hispanic in a 2009 voter form.
Benavides who is from Ohio, joins Bush after serving as communication director for Michigan Gov. Rick Snyder's re-election campaign. Previously, she served as national Hispanic press secretary and Florida press secretary for the Romney campaign in 2012. She also spent time working on the Republican National Convention and for the Hispanic Leadership Network.
"It shows the Bush camp is bringing on serious talent, seasoned folks who can work both English and Spanish," said Izzy Santa, former RNC Hispanic media director, who left for the private sector in 2014. "Her role for Snyder was just communications director. It's important to know both worlds because being Hispanic doesn't mean you speak Spanish only. It means you can resonate with both markets in the community."
Bettina Inclan, who served as deputy coalitions director in charge of Latino outreach for Romney in 2012, and has worked with Benavides, said her experience will be valuable in Florida and Nevada which have large Hispanic populations.
"It's reflective of Jeb looking at the big picture and wanting to build a team early on that can take him through the primary," she said.
During Benavides' time at the Hispanic Leadership Network, where Jeb Bush serves on the advisory board and which has worked to engage Latinos on center-right issues, she wrote an op-ed for NBC Latino arguing for an immigration overhaul, calling it a conservative issue.
"Smart immigration reform will help our economy," she wrote. "Conservative economists believe that reform would significantly reduce the deficit and grow the economy."
Those views square nicely with Bush, who supports an immigration overhaul, and will try to peel away Latino voter support from Democrats and argue that he's the best positioned to take on Hillary Clinton in the general election if he can make it through a difficult primary.