It's Not Just Gay Rights: Russia Intimidating Activists, Journalists Ahead Of Sochi Olympic Games
With a growing furor over how Russia will treat LGBT athletes at the 2014 Sochi Winter Games, Human Rights Watch has compiled repeated instances of its efforts to silence critics across a whole host of issues.
Russian authorities have repeatedly harassed and intimidated organizations and individuals leading up to the 2014 Winter Olympic Games in Sochi, Human Rights Watch reports.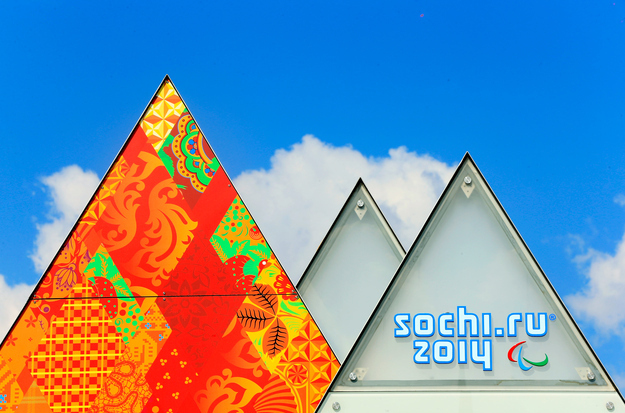 While Russia has frequently antagonized the LGBT community, journalists and organizations also say they've been forced to stay away from certain topics.
Olga Loginova, a Sochi-based journalist, says that when she worked for Maks Media group, editors discouraged her from writing stories critical of the Olympic preparations:
We [were] not allowed to report on Olympics-related housing problems or do stories about people who had problems after having been resettled because of the Olympics…. I couldn't write about the protests surrounding the Kudpesta TES[power plant construction]. I wanted to, starting in May 2012 when everything started to happen there. But they refused to publish my material…. I was told [the protests] was a banned subject.
Natalia Kalinovskaya, a Sochi resident, has organized and participated in public rallies to voice concern about environmental issues and property rights violations related to preparations for the games.
Multiple attacks on the websites of independent groups, blogs, and news portals that conveyed criticism of the preparations for the Games were also documented:
The sheer number of these attacks and the similarity of their targets suggested some degree of coordination or direction, possibly by the authorities or their proxies. For example, a staff member of the Sochi branch of the Russian Geographic Society, whose members spoke out for the protection of Sochi's environment in the preparation for the Games, told Human Rights Watch that in January 2012 the organization's website was subjected to a large-scale hacker attack that made their website inaccessible for eight days. That month the websites of at least three news outlets and blogs – including Sochi News, Privet Sochi, and Blog Sochi – had their sites interrupted by repeated hacker attacks.
Amid icy U.S.-Russia relations, President Obama told Jay Leno he has "no patience for countries that try to treat gays or lesbians or transgender persons in ways that intimidate them or are harmful to them."