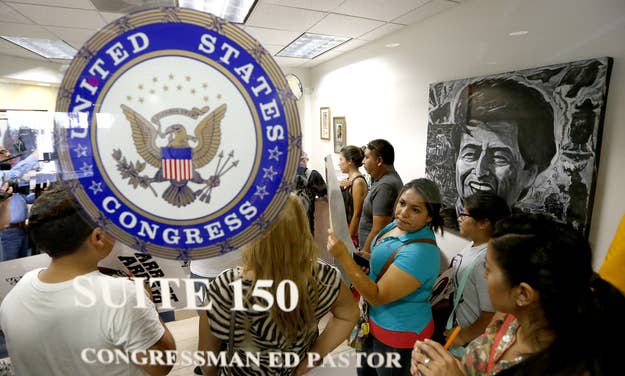 As rumblings begin again about Congress taking up overhauling U.S. immigration laws, tension has developed between key advocates in the reform community over what exactly should be pursued in terms of citizenship.
In a letter obtained by BuzzFeed, a group of more than 80 so-called DREAMers, undocumented immigrants who entered the United States as children, as well as advocacy groups, argue that "citizenship or nothing" is no longer a viable strategy.
The letter, addressed to "friends and allies in the immigrant rights movement," urges practicality:
As people who are directly affected, we ask you to revisit your strategy:

1. Focus on a practical legislative solution for immediate relief for families, even if it doesn't include a special path to citizenship. Our families and communities need relief now, not ideological hard lines.
Democrats and advocates should support "bills that are already amenable to citizenship for Dreamers and legalization for parents without blocking existing citizenship channels," the letter states, adding that they would not accept a proposal that blocks, bans or bars citizenship.
The letter follows comments made by high-profile and longtime advocate Eliseo Medina, who was visited by the president and first lady in November after engaging in a hunger strike to bring attention to the need for immigration reform.
Medina emphasized that any legislative action must include citizenship for undocumented immigrants currently living in the United States in a recent Univision interview that drew wide attention in the advocacy community.
"Our battle is to fight for what we need and not for what the opposition is inclined to give us," Medina said to Jorge Ramos in Spanish on his show Al Punto recently. "Republicans need to know that we aren't disposed to being second-class citizens. They want us to have all of the responsibilities, pay taxes, work, all of it to build this country but without all of the rights. It's unacceptable."
House Republicans are currently preparing "principles" on the immigration issue that will address the fate of the 11 million undocumented immigrants living in the country, BuzzFeed reported earlier this month. What potential legislation would look like and whether the efforts will be tenable this year legislatively remain unclear.
Erika Andiola, a high-profile DREAMer who recently left her job on Capitol Hill to return home to successfully fight her mother's deportation, said Democrats are using the citizenship issue as a cudgel to bash Republicans. She said the GOP deserves blame, but the blame game won't end deportations that are affecting undocumented families.
"The word citizenship, you can define it in so many ways," Andiola told BuzzFeed. "But first we want to be recognized as human beings not as people you can put in detention centers."
Frank Sharry, a longtime immigration advocate for America's Voice, who was part of the previous struggles to pass new laws in the last few years, said there is no sense in activists negotiating against themselves when House Republicans may end up being more open to citizenship than current conventional wisdom suggests.
Sharry cited a report in the New York Times in which Rep. Bob Goodlatte of the House Judiciary Committee "would not support legislation with a 'special' or direct pathway to citizenship" for the country's undocumented immigrants.
"He doesn't say legalization without a path to citizenship, it's legalization with no special path to citizenship," Sharry said. "You could have a House architecture and meet an achievable path to citizenship."
A report released Tuesday by the National Foundation for American Policy, a nonpartisan research group in Washington, found that Republican policy proposals being discussed could eventually lead between 4.4 million and 6.5 million immigrants toward a path to citizenship.
Sharry said pushing for citizenship is paramount.
"It's unwise to talk about reform without citizenship, which would create a permanent underclass that harkens back to the darkest times in American history."
But he understands where the young undocumented activists are coming from.
"I respect them, I know people who signed on to that statement and I respect their right to voice their concerns. I'm not being critical of them, I just don't think we should negotiate with ourselves."
Jose Patino, a DREAMer who appeared in the Dream is Now documentary and founded the Arizona DREAM Act Coalition in 2008, said he appreciates what advocates like Sharry and Medina have done but ultimately, undocumented families are the ones bearing the brunt of a broken system.
"We respect Eliseo Medina a lot, but we don't need 'citizenship or nothing,' what we need is deportation relief," he said. "When I ask my mom, my friends, they say they want to be able to be here, want to be able to work, have a driver's license to go to work and to be able to travel and see family. They say they don't need citizenship right now."
But Andiola said the idea is that relief from deportation should come first and then there will be other battles later on.
"We have to keep fighting for more, once we have a way of being here and work without fear of being deported, then we will keep fighting for the rights we don't have. We're not going to sit there and not do anything," she said.
Patino said the strategy of DREAMers has been doubted before but they've shown that they know what they're doing. He said the original push for the DREAM Act led to the deferred action for childhood arrivals program which liberated many of them from the fear of imminent deportation and allowed them to start advocating more publicly for their families.
"We as dreamers knew what was best for us, people who are undocumented know what's best," he said. "We're not saying we don't appreciate the work the Eliseo Medina's and the Frank Sharry's are doing."
But Sharry says now is not the time to get bogged down in debates over tactics when a better offer might be put on the table.
"You can't dance without a dance partner," he said. "They haven't come with a proposal but I'm optimistic it'll be better than legalization without citizenship."