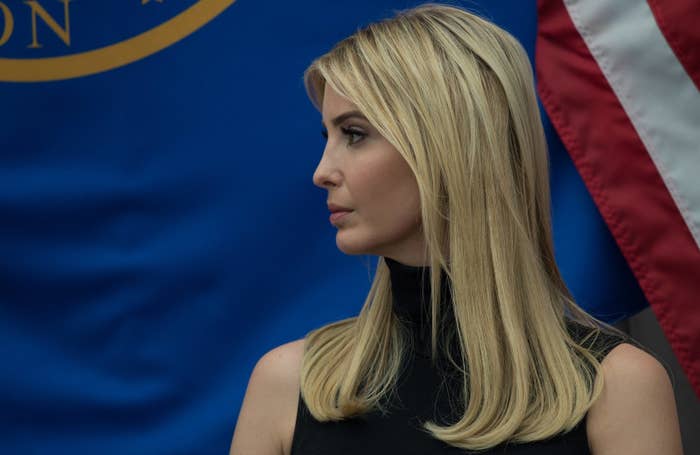 When President Trump set in motion the United States withdrawal from the expansive Paris climate agreement, he was tearing down a central element of Barack Obama's legacy — and the perception that his daughter would shape and moderate his administration's policies.
This is a loss for Ivanka Trump in a family that keeps score. And it suggests the limits of her influence on the highest-stakes policy questions in a new nationalist administration. In the zero sum debate over carbon emissions, and in the broad outlines of health care, Ivanka's role appears so far to have been softening the margins while figures like Trump advisor Steve Bannon set the course.
"The president's survival and potential for success is tied to fulfillment of the agenda that got him elected," Roger Stone, a fierce internal critic of the younger Trump's husband, Jared Kushner, told BuzzFeed News. "To the extent that Kushner and Ivanka are repelled in trying to get him to violate what he promised, [that] is a good thing for the president. What they don't understand is that when they urge him to do things that are antithetical to what he ran on they are doing him a disservice."
That simple math is persuasive to many in Trump's orbit.
"This president or any other is going to cater to the people who elected him," said Jeffrey Lord, a longtime Trump ally and CNN commentator. "Otherwise you won't get reelected."

Ivanka Trump, who has reportedly been a behind-the-scenes advocate for the US to stay in the Paris Agreement along with her husband Jared Kushner, now risks having raised expectations for her own role and for the administration that are basically impossible for her to fulfill. Her allies have repeatedly given her credit for modest victories, and she's spoken openly of her role as an internal advocate.
"I'll go to the mat on certain issues and I may still lose those," she said in an interview with the New York Times last month. "But maybe along the way I've modified a position just slightly. And that's just great."

For a figure who shares her father's inexperience in government, Ivanka Trump has certainly shown some influence. Her strong reaction to Syria's use of chemical weapons on its own people was said to influence her father into launching dozens of tomahawk cruise missiles into the country. People close to her were also quick to tout to reporters her role in limiting a plan to pull back LGBT civil rights gains. And she was credited a paid leave plan in Trump's budget plan, though few expect that piece it to make it through the Congressional budgeting process.
But on the issues that will leave a lasting mark, Trump has played either to his base or to the conservatives further right of his campaign on issues of government spending. And Ivanka's struggle to put her mark on the central policy questions recalls, in some ways, a presidential family member who played a role in an early administration 20 years ago, Hillary Clinton. Though the First Lady arrived with deep policy credentials, she faced similar tensions: Progressives outside the White House had high expectations that she would be their ally; staffers feared and at times mistrusted her unique relationship with the president.
As a Washington Post profile last year put it, 1990s health care debacle "showed the first lady as the Washington neophyte that she was, overvaluing her own ideas, misreading power relationships." Ivanka Trump faced similar charges after she sought, in a meeting with Planned Parenthood head Cecile Richards, to find a compromise on the issue of abortion.
Surveying the political landscape around defunding Planned Parenthood over abortions, she suggested that the group split into two — a smaller organization that could provide abortions and a larger group to offer women's health services. It was the kind of plan that might make sense in the business world she came from, but Planned Parenthood officials reportedly saw it as "naive," and ignoring the importance women place on reproductive rights.
Democrats are frankly enjoying the fraying of the Ivanka myth.
"But she's a moderating influence! She's really a Democrat!" joked former Clinton aide Paul Begala. "Ms. Trump's biggest problem is not Congress or the press or bureaucracy but the nutcase in the Oval Office."
The young Trump has also been caught up in the White House's larger internal schism between nationalists and globalists. Sam Nunberg, a former Trump aide, said the climate defeat was most of all a blow to Gary Cohn, Trump's top economic advisor.

"I don't believe it's about Jared or Ivanka, it's about Gary Cohn, a liberal interloper in the administration," Nunberg said. "It would have been political suicide had the president remained in the Paris agreement. It would be political malpractice for anyone to advise him not to withdraw."
An Ivanka Trump spokesperson declined to comment for the story. Another spokesperson did not respond to a separate request for comment. But as it became clear that Ivanka Trump was headed for a bad loss, her allies sought to downplay her role, suggesting to the New York Times her real job is to ensure that her father "heard from both sides" in recent weeks on the Paris accord.
That repositioning recalled an April interview with Gayle King of CBS where she said, "Most of the impact I have, over time most people will not actually know about." That doesn't like the sort of thing a Trump would say. And it certainly doesn't sound like winning.