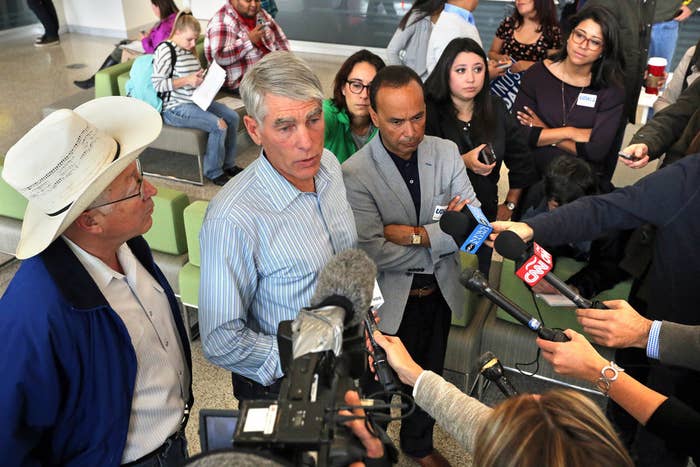 Latino voter turnout was lower in 2014 than both 2012 and 2010 in three-quarters of the states, despite Hispanics making up a larger percentage of the electorate now, according to an internal Democratic document obtained by BuzzFeed News.
Details of November's Republican wave election continue to shed light on the challenges Democrats face. At the DNC winter meetings Saturday, Democrats unveiled a preliminary task force report, which Kentucky Gov. Steve Beshear said showed the party had "lost its way."
Latino voters, who increasingly make up a key part of the Democratic base in presidential elections, having given President Obama 71% of the vote in 2012, are a group the Democratic Party needs to be able to mobilize and count on in midterm elections too, something Democratic officials made clear at the winter meetings.
The data in the document obtained by BuzzFeed News looks at 36 states and compares that data to voting history for past elections.
In those 36 states, despite growing from 8.9% of registered voters in 2010 to 9.4% in 2012 and 9.7% in 2014, Latinos represented only 5.9% of actual voters in 2014 — down from 6.2% in a comparable 2010 midterm election.
The document also outlines Hispanic turnout compared to all Americans in the 36 states. In 2010, 47.7% of the population of those states voted, compared to 33.4% of Latinos. In the presidential year of 2012, 64.9% of Americans in those states voted, and 53.7% of Hispanics. But in 2014, when 42.3% voted overall in the states, down from 2010, Latino voting plunged, with only 25.6% turning out to vote.
"Outreach to Latino voters is a priority, and the Democratic National Committee is focused on continuing to build a broad coalition of voters and to mobilize the most diverse coalition of voters possible," the DNC told BuzzFeed News in a statement.
Matt Barreto, of polling firm Latino Decisions, presented data Friday to the DNC Hispanic caucus on areas where Democrats could improve with Latinos. He told BuzzFeed News the statistics from the party on Hispanic turnout squares with what he has found looking at 2014 data.
Latino Decisions found that only 33% of Latino voters think the Democratic party "truly cares" about the community and only 12% feel the same way about Republicans.
"If Latinos don't think the two major parties truly care about our community, that is a recipe for low turnout," he said.
There was only one mention of Latinos in the preliminary task force report, with Democrats saying they must "excite key constituencies such as African American women and Latinas, and mobilize the broadest coalition of voters possible to not only recapture state houses but also Congress."
Democratic strategist Jose Parra, who worked for Harry Reid, including during a successful 2010 race, said Latino voting was down 157,000 in Nevada, and in Colorado, where the Latino population is centered largely in the middle of the state, voting patterns looked like a donut, with a huge chunk missing in the middle where nonvoting was higher.
"Even in stellar years, our community doesn't break a 50% turnout. The basic issue is that many campaigns talk at our community, instead of talking to them, or with them, and often only a couple of months before election day," Parra said. "And on the Republican side you have just outright hostility as the last few weeks have shown. This results in 12 million voters who stay home in the best of cycles."
Colorado has been a big highlight for Republicans and a case study for sober Democrats who feel former Senator Mark Udall missed opportunities to maximize his share of the Latino vote, in part because he didn't draw sharp distinctions between his policies and those of Republican Cory Gardner.
"This should be a wake-up call to Democrats that they can't just assume the Latino vote will be there in record numbers," Barreto said. "They need to work very hard to connect with Latinos, just as Reid did in 2010 and Obama did in 2012."