Donald Trump Has Caused A Bitter Fight Inside A Hispanic Group That's Planning To Host Him
The national U.S. Hispanic Chamber of Commerce invited Trump to speak — and some local chambers really, really don't like it. "I don't see any reason why any credible Latino organization or leader would give Trump the time of day, much less a forum to speak to the Hispanic community."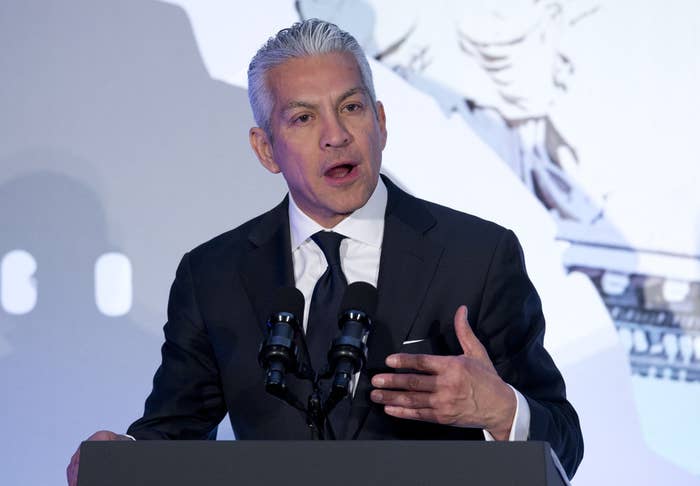 A dispute between national and local Hispanic leaders that has been simmering for weeks spilled into view this week in Houston.
It all started when the president of the U.S. Hispanic Chamber of Commerce invited Donald Trump to speak to the group.
Weeks ago, the group's president, Javier Palomarez, met with the billionaire in private in New York City — without notifying any local chamber leaders of his plans to do so.
Palomarez emerged from the meeting with a message: While he has disagreements with Trump, he praised his private demeanor, calling him gracious, hospitable, and elegant. He also announced plans to interview Trump during a candidate Q&A session, as he has done with other candidates like Ted Cruz and Bernie Sanders, on October 8.
For Frank Garcia, this was too much. Garcia, who is the chairman of a New York state coalition of 26 Hispanic chambers, started a petition to get the Trump session cancelled. He also went on Univision in New York calling for a boycott of the event. Other local chambers' leaders have expressed displeasure, too; they say they began receiving complaints from their members because of the Republican frontrunner's controversial comments disparaging Mexicans and immigrants.
But on Sunday morning in Houston, Garcia confronted Palomarez at a meeting of chamber leaders.
In the video sent to BuzzFeed News, Garcia tells Palomarez that he wasn't looking to hurt the chamber, but that he wanted the event cancelled.
Garcia claims that he was late to the event the two men were filmed at, because the police were called to keep him out. (The national chamber spokesman said security held him outside for some time before letting him in because they knew Garcia was going to disrupt the event.)
"Trump is a bully and sometimes I feel you're a bully with me," Garcia tells Palomarez, adding that he was a member of the chamber in good standing, but wasn't there to embarrass Palomarez.
"We will meet with Donald Trump, the only person getting embarrassed is you," Palomarez responded, reaching into his pocket to pull out his wallet. "I'm glad to give you the $100 [of chamber dues]."
This isn't the first time that Garcia, the New Yorker, and the national chamber have clashed, something Garcia and officials with the national chamber both said. But the Trump invitation set it all off again. The difference was that it wasn't just New York leaders who were upset by the invitation, however.
Sam Guzman, chairman of 35 Texas chambers, said Palomarez's meeting and upcoming event with Trump sends the wrong message.
"I don't see any reason why any credible Latino organization or leader would give Trump the time of day, much less a forum to speak to the Hispanic community," he said.
In an interview with BuzzFeed News, Palomarez, a former farmworker, echoed the comments he made in the video on Sunday, and said he is the poster child for the kinds of people Trump is most scared of and wants to deport.
But because his association represents 4 million Hispanic-owned businesses, which bring $661 billion to the American economy, Palomarez argued he has to be above the rhetoric and his job is to host candidates from both parties with different views.
"Donald Trump is surging in the polls. There is a possibility that man can be the Republican candidate," he says to Garcia and the assembled chamber leaders in the video. "It's irrelevant whether you feel that it's the right thing to do or not, this is what's going to happen because that's what my association has asked me to do."
Palomarez said most of the local chambers agree with hosting the Trump event and the USHCC said its board of directors unanimously agreed, as did its advisory council made up of corporate members including Macy's, Univision and Comcast, who have cut business ties with Trump.
Palomarez also had Al Aguilar, chairman of the San Antonio Hispanic Chamber of Commerce, by his side during the interview, who said his past experience with voter registration campaigns is what leads him to believe the national chamber is doing the right thing hosting Trump.
"Hearing all candidate's voices, whether you agree or disagree, it's important that we listen," he said. Trump's comments on immigration and building a wall are "stimulating Latinos," he said, and argued that more of them are being activated to register to vote because of him.
Garcia said Palomarez has done a lot to save the national organization, but he said state leaders who feel the same way as he does about Trump are scared to speak out. BuzzFeed News spoke with two leaders in Missouri and California who indicated they wanted to talk and later decided not to.
A former high-ranking official with the USHCC said it's not uncommon for local chambers to fight with the national organization, and said the New York chambers are usually the third rail of the state groups, always ready to start trouble.
But the former official said the organization has also switched from a policy focus to a focus on marketing itself nationally and positioning itself as a political player.
A USHCC spokesman disagreed with the characterization, noting that the organization worked in favor of the recent trade deal, working with the Hispanic caucus and calling members of Congress.
"We care more about policy than politics, but you have to have a say politically to shape policy," a spokesman said. "During an election cycle that's the biggest contribution we can make."
Local leaders said they were troubled by the Trump event because while it isn't an endorsement, Palomarez seemed to be telling Latinos that Trump is OK, he's not a bad guy. While they want the event cancelled, they at least want the bombastic businessman challenged.
Palomarez said he will be civil, but is up for the task, at least when it comes to Trump's plan to build a costly wall on the border and deport all undocumented immigrants.
"You're a Republican, supposedly running on being fiscally responsible and the first thing you're going to do is spend $300 to $400 billion?" he said. "We represent corporations in hospitality, construction, and agriculture — what are you going to tell them when you send their workforce out the door? How are you going to round up 11.5 million people that don't want to be found? Those are the kinds of questions we're going to ask."
The former official wasn't surprised by the Trump drama.
Palomarez, the former official said, has been a strong influence in stabilizing and growing the organization after it had a cavalcade of ineffective leaders.
"Javier has been very competent," the former official said. "But he's attention hungry and has sharp elbows."
And while the fight has been over Trump, the personal nature of the disagreement is also hard to miss.
As the video concluded, after Garcia confronted Palomarez and he responded Sunday, Garcia can be heard asking, "How did I do?"
"Perfect," another New York City leader answered.