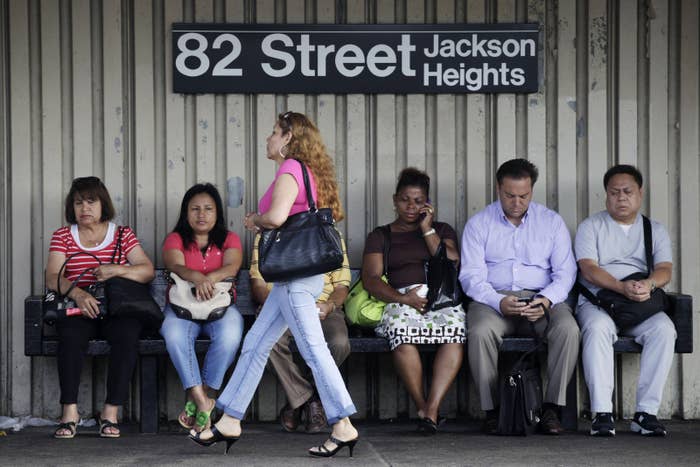 JACKSON HEIGHTS - On a recent lazy Thursday afternoon, under the occasional roar of the elevated 7 train, kids in backpacks walked one of the most diverse stretches in the country: from Corona to Jackson Heights.
Neighborhoods like Jackson Heights and Corona are the kind that would be hugely affected by Donald Trump's proposed policies, from the undocumented immigrants who live there to the U.S. citizens with undocumented family members to the immigrants from beyond Latin America who Trump has proposed barring. And walking the streets you could be mistaken for believing everyone is Latino or an immigrant or both.
It's the kind of neighborhood where outside an Ecuadorian restaurant, a man yells the specials of the day like guatita, or where two Hispanic men sell blood-red sugary piraguas for $1 from a small stand to kids walking home from elementary school. (One of the men said he couldn't talk about Trump because they had just arrived in the United States last week from the Dominican Republic.)
In fact, Corona and Jackson Heights are actually the two parts of the city with the highest number of undocumented immigrants — the group most often targeted by Trump, who is expected to dominate the New York Republican primary next week.
Undocumented immigrants make up 40,000 out of 191,000 residents in Jackson Heights, according to Center for Migration Studies statistics. In Corona, there are 30,000 out of 150,000 residents.
On 102nd Street in Corona, inside MJ Furniture (current deal: dining room set including a table and four chairs for $149), Tonia Perraza, a legal resident from Venezuela, can't vote in the primary but still had a lot to say about Trump.
"How are you going to be against the immigrants who are the workers of this country?" she said in Spanish, surrounded by mattresses. "Even if you're a citizen, your parents, or grandparents were probably immigrants."
Some longtime legal residents are also choosing this year to become citizens and register to vote against him. Trump, who has famously called — and been derided for — a loosely explained plan to have Mexico pay for a wall along the border between the two countries, recently clarified that he would stop remittances from Mexicans (i.e. money that those in the United States send back to family in Mexico).
In a neighborhood where immigrants are everywhere, sending back money to home countries isn't unusual. Delgado Travel — a money exchange — dots streets in the area.
The response to Trump here tends to range from barely taking Trump seriously to cursing him out. Romulo, an immigrant from Ecuador selling salchipapas from his home country out of a food cart on a street corner, slowly smiled at the mention of Trump.
"He's discriminating against people, against the immigrants," Romulo said in Spanish. "He's not going to do well."
If he's the Republican nominee, Trump is expected to lose big. But Trump will do well in New York's primary; the Queens native is polling with a double-digit lead over his opponents in the liberal state.
"If I saw him out on the street, I would slap the shit out of him," said Jake, 28, an employee at Art Assassins Tattoo Studio, with ink up his arms, and a crisp, deep-blue Golden State Warriors All-Star edition cap.
Jake said Trump calls to mind days from American history that were more backward, when minorities suffered and the country was less open-minded.
"How do you want to become the president when you are stepping on every minority you see, like black people and Hispanics?" Jake said. "To me, he's just a clown — I really do hate him, too, just like he hates us."
"Hispanics have helped his career, they help build his buildings," said Roberto, an Argentine in his 30s who runs a cell phone repair shop among the row of small businesses in the shadow of the 7 train line.
Upon hearing the topic was Trump, Julio Melendez, the owner of Aries Digital — which sells Mexico and Colombia soccer jerseys alongside Batman and Superman hats — lost his good cheer.
"His comments aren't OK. He's not good for this country," Melendez said.
Melendez is a Bernie Sanders supporter ("es buenisimo"), but would vote for Clinton if she ultimately faced off against Trump. Still, Trump who has some Hispanic support across the country, also had a couple admirers in Queens.
Diana Suarez, who works at Buenos Aires bakery on 90th Street, said she likes a lot of the things he says, likening his plans to limit immigration to "people who have so many kids for the state to take care of them."
"If we don't have economic capacity to have children here — that can happen to the government," she said. "I'm going to vote for Trump, he's going to bring the country back to what it was."
William, a tall Colombian security guard at Abuelo Gozon, a Mexican bar and restaurant, said he likes how Trump thinks but wouldn't be voting because it doesn't matter. (As a woman in tight jeans walked by, he looked in her direction and said, "That's what really matters.")
Nobody expects a Queens neighborhood to vote Republican, but Jackson Heights and Corona are just concentrated areas for how he's viewed by many Latinos — and others.
At 74th Street in Jackson Heights, a major junction where subway riders can go farther into Queens or back toward Manhattan, a small businessman said he respects Trump as a businessman but doesn't see him as ready to be president.
He's not Hispanic or a New York resident. For 30 years, Zahid has made the trip from his home in New Jersey to his small pharmacy in Jackson Heights, where on a recent day, a Puerto Rican employee talked on the phone with a local customer.
When the general election comes along, "I'll vote for the Democrat," Zahid said, before turning to ring up another customer.