The verdict left many shaking their heads: George Zimmerman was found not guilty of murder in the shooting death of an unarmed 17-year-old, Trayvon Martin.
So on Sunday, hundreds came to New York's Union Square to talk about race and crime, and demand change.
Many of those in attendance voiced fears that a member of their family or their children could suffer a similar fate to Martin's just because of how they look to a stranger.
"I can relate," said Elijah Maynes, 16, to BuzzFeed, with his little brother propped on his shoulders. "I go to Florida a lot. It's important to have justice for Trayvon so people know what happened is not OK."
Maynes was at the rally with his mother Trina and two younger brothers. Trina, who is the senior vice president of human resources for Nickelodeon, felt she had to come with her boys because of the immense disappointment she felt Saturday night after the verdict was announced.
"As a mother with three boys, it's personal," she says. "This was about the value of a young boy's life. After the verdict I prayed over my three sons. I've talked to them about what it's like to be a young, black boy and how to talk police or an official who asks them questions. But now I have to worry about telling them what to say if a stranger or a normal citizen walks up to them?"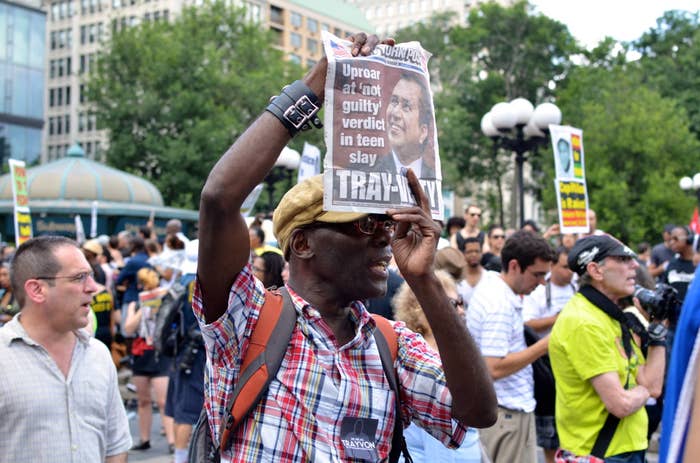 A spirited conversation broke out among five people in the crowd as they went down the list of reasons why what happened to Martin and Zimmerman's fate was a travesty. "Michael Vick killed dogs and he went to jail," one man who had previously lived in Florida said.
They talked about former New York Giants receiver Plaxico Burress who was jailed for accidentally firing a gun in his waistband. "Shoot your own damn self in the leg and you go to jail for two years!" said one woman in the group.
Another talked about where the black community should go from here. "Some are saying we should arm ourselves, but that's just going to make it worse," she said.
"If Trayvon was a young Jewish boy this would be a different story," said one woman, talking about how the black community needs to have more unity, like other ethnic groups.
Wearing a hoodie in 900-degree heat, Derrick Wilson, a 46-year-old consultant who lives in the city, held a "We Are All Trayvon Martin" cut out (above) as people took photos with it.
He echoed what others at the protest said, that fears of violence by members of the black community after the Zimmerman verdict, was itself a race-based presumption, as if the only way they could react to a disappointing verdict is through rioting. He said when he heard the news, he began looking for events to attend.
"There has to be something, somewhere," he thought. "An outlet for people to vent."
On the way into the protest he thought about the three-word fears African-Americans must contend with. "Crime that is 'black on black,' 'stop and frisk,' and now 'stand your ground,'" he said, invoking tactics by New York Police Department officers to stop and frisk young minority men and the Florida stand your ground law.
As a "black son" he says, it's hard for many like him not to worry about their black sons.
"You used to think if you're in a gated community, you're safe," he says.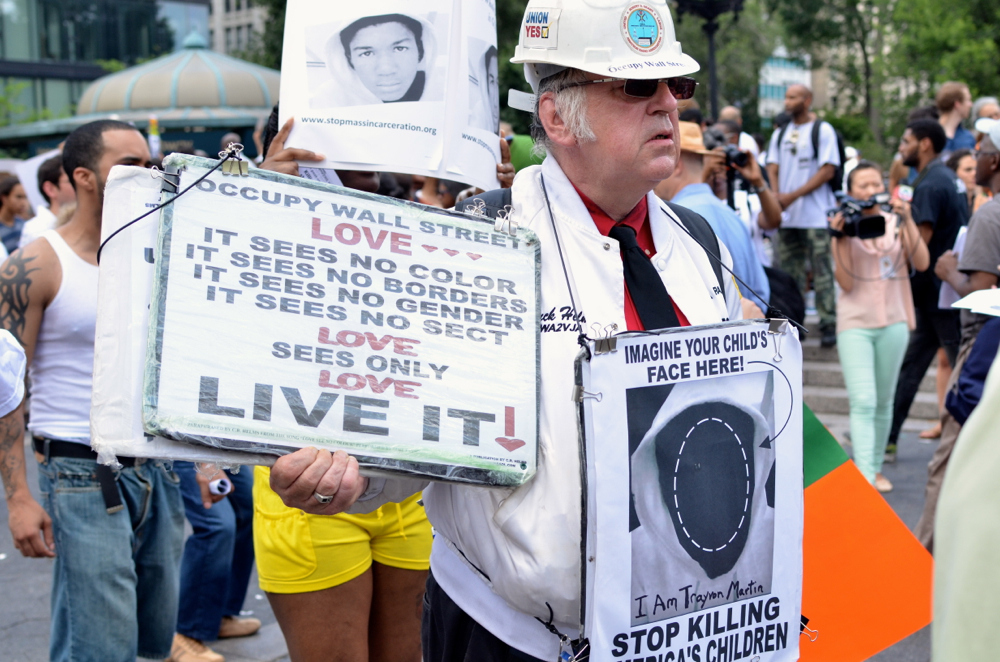 Retired police officer Mary Parnell says this isn't just about being black in America.
"It doesn't have to be a black child," she says. "It could be a gay child. It could be a poor child dressed in a certain way in a rich neighborhood and someone thinks they don't belong."
Dressed in a summery white shirt, New York City mayoral candidate John Liu showed up to express solidarity with the Trayvon Martin supporters. Engaging in call and repeat with the audience like previous speakers he asked, "What did Trayvon do wrong?"
With a cadre of young campaign volunteers by his side, he talked to BuzzFeed about why he felt the need to come to the event.
"Because the verdict is so upsetting," he said. "Here again we have a young black man who was unarmed and gunned down and there is no price to be paid."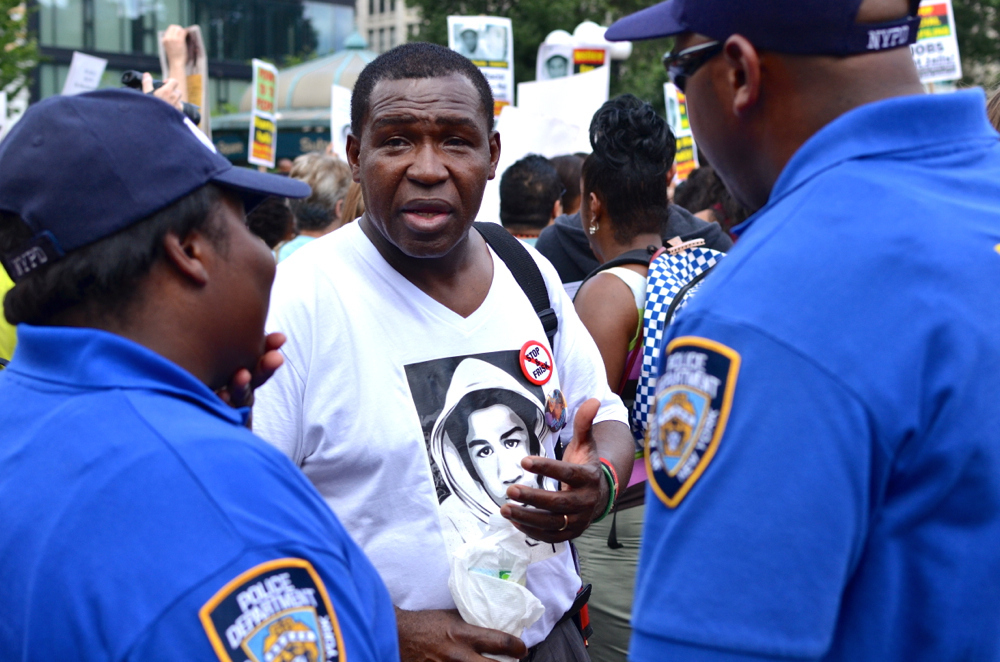 Curtis Johnson exemplified what many in attendance had to say. Wearing his Brooklyn Nets fitted cap, the 29-year-old business school student from Philadelphia said he could easily be profiled for how he looks.
"I'm out here today because I feel disparities with the way young black men are treated in the system," he said. "The verdict sent a message that the life of a young black man is not on par with others."
"There's a certain somberness about that," he continued. "It could happen to me or my brother, who is going to be 17 in a couple weeks, or to my future son."
UPDATE - July 14, 2013, 8 p.m. ET: The march for Trayvon Martin in NYC.
Later in the day, the crowd in Union Square marched to Times Square.
UPDATE — July 14, 2013 9:10 p.m. ET: More from the march for Trayvon Martin.