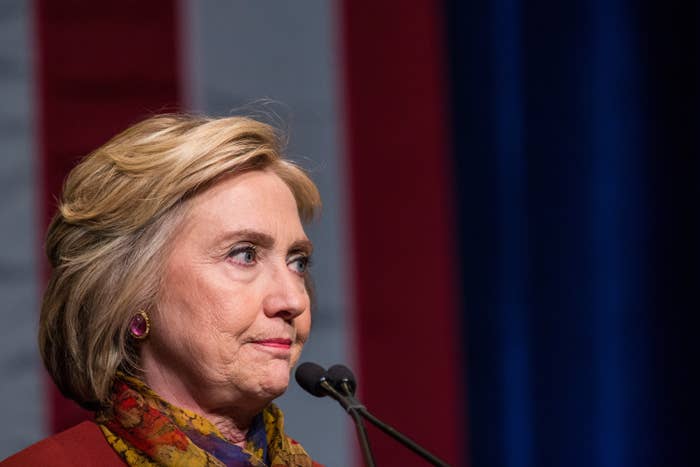 LAS VEGAS — Hillary Clinton for the first time said, if elected, she would deal with immigration in the first 100 days of her presidency at an MSNBC/Telemundo town hall — a significant and new promise on immigration, just two days ahead of the pivotal Nevada caucus.
Moderator Chuck Todd asked Clinton whether she would focus on immigration in her first 100 days, and Clinton again would not address the issue in those words, saying that she would immediately begin working on "priority legislation and immigration reform will be among those issues."
But answering a follow-up question from MSNBC's Jose Diaz-Balart on if she would commit to introducing immigration legislation in her first 100 days, Clinton said she would.
"This will be among it," she said, embracing the language she has thus far avoided, perhaps well aware of how Obama has been hit repeatedly on the left for not passing immigration legislation.

Clinton campaign officials confirmed that it was a shift in the way she discussed the 100 days question.
Bernie Sanders, who once said in Nevada in the fall that immigration would be a priority in his first 100 days, would not go there this time, calling it a top priority.
On Thursday night, Clinton followed Sanders — and was able to pivot from a question about her flip-flop on driver's licenses for undocumented immigrants to a woman who had earlier asked Sanders about 3- and 10-year bars. Specifically, the woman asked Sanders about her undocumented husband, who must remain outside of the country for 10 years before coming back to the United States (and is therefore separated from his family).
With just hours before the caucuses, both candidates are trying to make the final case that they are the candidate who can be trusted on immigration by Latinos — though that is not without continued scrutiny of both. People have noted that Bill Clinton signed into law the 3- and 10-year bar; and Sanders voted for it.

Both candidates faced tough questions about immigration, race, and veteran's issues in both English and Spanish.
Sanders, who at times seemed frustrated by questions coming from Clinton supporters (at one point he yelled, "Are any of my supporters here?" to applause), was once again asked — this time by a 20-year-old DREAMer named Dulce Valencia — about his vote against a comprehensive immigration bill in 2007. Because he has said he voted the way he did due to provisions in the bill akin to "slavery" for guestworkers, he was asked whether he would vote against big legislation that was not "perfect."
Sanders noted that he "voted for immigration reform in 2013 because it was a much better piece of legislation" and said his immigration policy is to unite families not divide families.