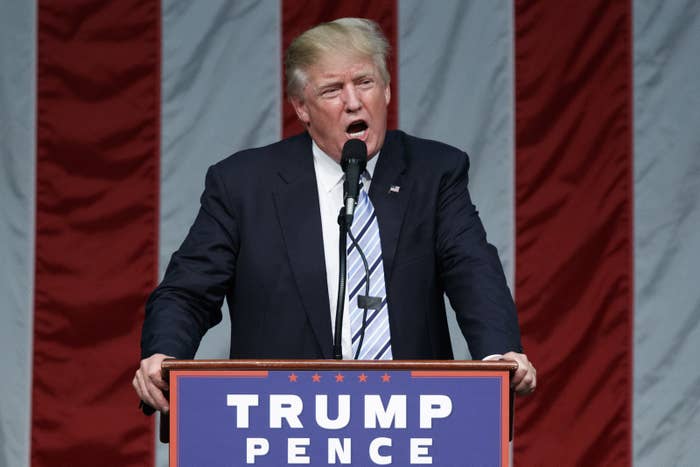 In a Saturday meeting with his newly announced Hispanic advisory council, Donald Trump suggested he is interested in figuring out a "humane and efficient" manner to deal with immigrants in the country illegally, according to three sources. Trump, however, stressed that any new announcements will still be in line with the border security-focused approach that has invited intense opposition from Latinos and immigrants since he launched his campaign.
"He said people who are here is the toughest part of the immigration debate, that it must be something that respects border security but deals with this in a humane and efficient manner," said Jacob Monty, a Houston-based immigration lawyer who sat in Trump Tower with other Latino supporters and Trump.
"The idea is we're not getting someone in front of the line, we're doing it in a legal way, but he wants to hear ideas of how we deal with 11 million people that are here with no documents," said Jose Fuentes, who was chair of Mitt Romney's Hispanic advisory committee in 2012, and attended the meeting.

In a statement, Steven Cheung with the Trump campaign dismissed the BuzzFeed News account of the meeting as "clickbait journalism" and disputed attendees' claim that he opened the door to legalization behind closed doors.
"Mr. Trump said nothing today that he hasn't said many times before, including in his convention speech—enforce the laws, uphold the Constitution, be fair and humane while putting American workers first," Cheung wrote. "Today's conversation was productive and enlightening, and Mr. Trump looks forward to speaking with these leaders again soon and often."

But privately the campaign worried that "legalization," much like "amnesty," has become a derogatory word and said it doesn't accurately represent Trump's position. It stressed that Trump has always called for a humane approach, but Trump's use of the word "humane" has previously been in the context of deporting immigrants, not soliciting ways for them to stay in the country.
Hillary Clinton's campaign said Trump's new openness to letting undocumented immigrants remain in the country was a "cynical attempt" to distract from dangerous policies and rhetoric that he doubled down on this week in his first general election ad, like building a wall, instituting a deportation force for 11 million immigrants, ending the DACA program as well as birthright citizenship, and banning Muslims from entering the country.
"Donald Trump will be Donald Trump and what's clear is that he's dangerous for the Latino community," Clinton's national political director Amanda Renteria said in a statement.
Importantly, Trump did not explicitly use the word "legalization" at the meeting, but sources in the room said they feel it is the direction the campaign is going.
Rick Figueroa, a Texas member of the new advisory council said it would be a stretch to say Trump will absolutely support some form of legalization, but lauded the candidate for being open to listening, saying Trump spent 80 to 90% of the meeting listening.
"It's important that we don't get ahead of ourselves but he had authentic leaders speaking truth to power and he was receptive to it," Figueroa said.

Monty pushed back, saying that Thursday's immigration speech, on the heels of black outreach efforts this week, wouldn't be billed as a big deal if it was more of the same. "If it were just 'law and order,' he doesn't need to bring everyone to Colorado and make an immigration speech," he said.

Ideas circulating from Hispanic Trump supporters to the campaign is not new. Univision reported that Lola Zinke, a San Diego lawyer at the meeting, said Trump himself said deportation is not the answer to have people regularize their immigration status and said a better idea was to "let them do it at embassies or consulates of their countries."
That idea was first suggested to the RNC, which solicited ideas on behalf of the campaign, by Alfonso Aguilar, a conservative who initially opposed Trump before coming around to his candidacy, he told BuzzFeed News.
"I shared with folks a proposal for internal touchback," Aguilar said of the policy, considered in 2007. "He said he wants to 'bring back the good people' right? So you register with your consulate or embassy."

Also at the meeting were Trump's new campaign leaders, CEO Steve Bannon and campaign manager Kellyanne Conway, who Aguilar credited with understanding the importance of a big tent coalition including Latinos and being open to immigration legislation in 2012 as a Newt Gingrich supporter.
Trump initially planned to meet with the Hispanic leaders Friday, but instead went to Louisiana to observe the aftermath of flooding in the state. The group still met without him on Friday, though, and one participant said campaign officials accepted the idea of a task force to present ideas on how to accommodate undocumented workers, short of amnesty.
"They want to put together a task force very much like the Ronald Reagan days, with the exception of amnesty," said Jerry Natividad, a Hispanic Republican from Colorado who was at the Friday meeting. "I believe the campaign is very open to taking the initiative on this," he said, adding that the idea is to come up with a policy for undocumented immigrants that "doesn't put them in front of the line, but puts them in line."
Trump will plainly struggle to convince many skeptical and frankly disdainful Latino voters that his effort to cozy up to the Hispanic community, much like a similar effort aimed at black voters, isn't just the result of sliding poll numbers, rather than a warming heart. His campaign's recent efforts to begin Latino engagement have stopped, started, and sputtered.
In 2012, Romney was widely believed to have hurt himself with Hispanic voters by suggesting "self-deportation," while Trump out of the gate said he would build a wall along the border and deport 11 million undocumented immigrants.

Even soliciting ideas on what to do with immigrants in the country illegally, short of deporting them, represents a major departure from how the campaign has talked about dealing with them previously. Trump's first general election ad, which was released Thursday and has already amassed nearly 600,000 views on YouTube, hit Clinton as soft on refugees and said "illegal immigrants convicted of committing crimes get to stay, collecting social security benefits, skipping the line."
"It's a sign of desperation," said Frank Sharry, a veteran of legislative immigration battles for America's Voice. "Trump wants to fool these Republicans uncomfortable with his racism and bigotry that he's pivoting. But a late head fake won't be taken seriously by Latinos and their allies."
United We Dream, a national immigration advocacy group, said Trump has no intention of doing right by the Latino and immigrant communities.
"Latino leaders should be standing firm against this man instead of using their heritage to sell his racist agenda," said the group's head, Cristina Jimenez.

To the Hispanic Republicans in the room excited about a more flexible Trump, though, it didn't seem like pandering at all.
"He didn't need to pander to us, everyone in that room is already supporting him," Monty said.