Immigration Legislation Is Not Dead, Democratic Senators Insist
"65,000 voters in a Republican primary should not decide the future of the country," Sen. Dick Durbin says.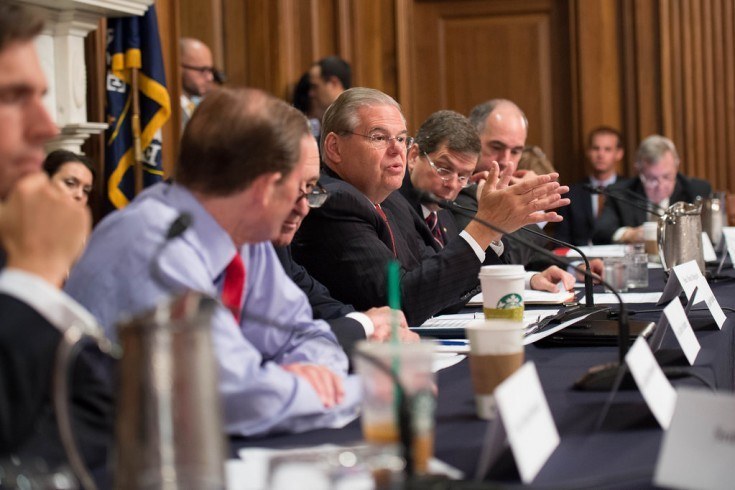 Democratic senators put on a united front Wednesday, arguing that immigration did not cause House Majority Leader Eric Cantor's stunning primary loss to a Tea Party challenger.
"Eric Cantor's loss had virtually nothing to do with immigration," Virginia Sen. Tim Kaine said.
Kaine, who formerly ran the Democratic National Committee, said Cantor's role in the House leadership contributed to his loss.
"Cantor's leadership position made him seem like a Washington guy," he said, "not like a guy from the seventh district of Virginia. I can assure you with rock solid certainty that it wasn't because of immigration."
Sen. Bob Menendez pointed to a Virginia exit poll from left-leaning Public Policy Polling that was commissioned by liberal advocacy group Americans United for Change, which showed that 72% of voters support immigration reform, while 63% of voters disapproved of the job Cantor was doing.
Democrats were quick to point instead to the win by Sen. Lindsey Graham in South Carolina, despite openly embracing immigration reform, as the more important race.
Both Sens. Chuck Schumer and Amy Klobuchar said they spoke with Graham, who told them he is going to make the case that his win means now is the time for Republicans to move forward with legislation. Several senators disputed the notion that Cantor's loss means it's game over for immigration reform because Republicans will be skittish to move a bill.
"I have great respect for Virginia, but 65,000 voters in a Republican primary should not decide the future of the country," said Sen. Dick Durbin, who was part of the bipartisan Gang of 8 who passed last year's Senate bill. "If we let a professor named [David] Brat derail it, shame on us."
Schumer believes there is still a "good window" for moving immigration legislation.
"We can be our own worst enemy if we say this is over," he said. "I've been on this a decade. We're close. Speaker Boehner wants to do this. One, he thinks it's good for the country and two he thinks it's good for the party."
The way Schumer tells it, Cantor was a major impediment in the House because he was trying to keep his job. "If he allowed immigration reform to occur, it would strengthen the challenge to him on the right," Schumer said.
But the senators were vague about what specifically President Obama should do if immigration legislation doesn't happen in the House.
Many activists now believe the Cantor loss dealt a fatal blow to major congressional action. They say Obama must go big through executive action.
"What the president said is we need to move comprehensive immigration reform by the end of August, and if it doesn't happen the president will have to look at what he can do," Durbin said, without elaborating on specifics.
Though asked about it, Schumer did not reiterate his longstanding call that Obama should move to give administrative relief to those who would be protected by the Senate bill, as activists have called for as well.
On the House floor Wednesday, Rep. Luis Gutierrez told Republicans time is running out, mentioning the July 4 recess as the deadline for legislation.
"But in the absence of anything resembling leadership from the legislature, the President will not just sit back and watch a bad situation get worse and he will act in accordance with existing law to protect all the immigrants he can," Gutierrez said. "I believe he can protect literally millions of them through executive action."
Sen. Robert Casey of Pennsylvania said he and his colleagues are not doing enough to make people understand the importance of reform, and cited meeting DREAMers, undocumented youth who were brought to the country as children, as powerful.
"We're kidding ourselves if we think all we need to do is apply pressure to Speaker Boehner," he said.
"We need to tell stories, these are remarkable stories," he said. "They're demonizing; we need to humanize. In American politics, forces that demonize run faster than those that humanize."