Immigration Groups Sound The Alarm As Trump Implements Policies They Dreaded
"Trump's directives mark the start of his mass-deportation crusade," one advocate warned.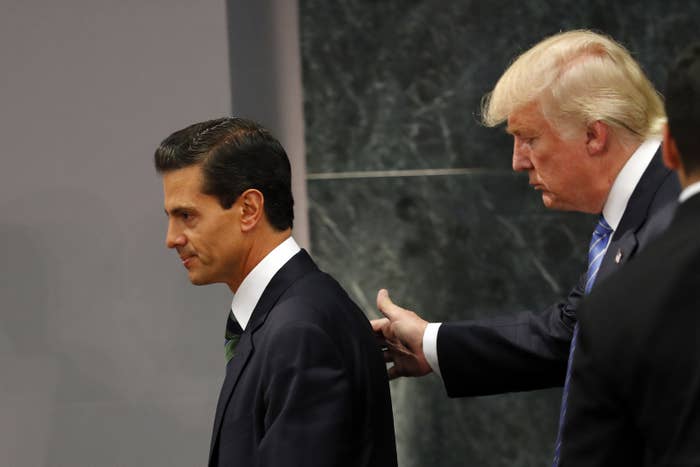 WASHINGTON — Sitting behind a desk in front of 70 people at the Department of Homeland Security, shortly after Vice President Mike Pence swore in the new head of the department General John Kelly, President Donald Trump began enacting the hardline immigration agenda that propelled him to the presidency.
Trump signed two executive orders, authorizing construction of the border wall along the southern border with Mexico, withholding federal grants from so-called sanctuary cities that give safe harbor to undocumented immigrants, reinstituting the Secure Communities immigration enforcement program that codifies cooperation between law enforcement and immigration agents, and tripling the number of immigration agents.
Immigration groups said the moves confirm the worst fears of the immigrants they represent.
"President Trump reiterated the promises he made in his campaign that he would create a deportation force," said Alida Garcia, director of coalitions and policy at Mark Zuckerberg's FWD.us, which does bipartisan work with congressional members on immigration policy. Garcia cited the order's scope of expanding detention facilities along the border, adding 5,000 border patrol agents, and the return of Secure Communities as policies that will "wreak havoc on the lives of many hardworking and loving families across the country."

United We Dream, an organization that advocates for undocumented immigrants, called on state officials, faith leaders and members of Congress to oppose Trump's plans.
"Today's Trump directives mark the start of his mass-deportation crusade and make clear that he will try to rule through race-based terror and criminalization," director Cristina Jimenez said.

Ali Noorani, executive director of the National Immigration Forum, which works with a wide coalition of groups including faith leaders and law enforcement officials, said the focus on forcing municipalities to cooperate with immigration agents will poison the relationship between officers and those living in the community.
"Pressuring local law enforcement to take on immigration responsibilities undercuts the very oath they take to 'serve and protect' the entirety of their community," Noorani said. "Smart law enforcement is built on intelligence gathering and trust; which are dramatically undermined once the cop on the corner is asking victims of crime about their immigration status."

House Speaker Paul Ryan, who will work closely with the administration to enact its immigration agenda, lauded Trump.
"I applaud President Trump for keeping his promise to make this a national priority," Ryan said in a statement Wednesday.

Press Secretary Sean Spicer said in a press briefing that a wall "will stem the flow of drugs, crime, illegal immigration into the United States and yes, one way or another, as the president has said before, Mexico will pay for it."
But in recent days Mexican officials have said repeatedly that they would not pay for Trump's border wall, they would respond to a border tax with one of their own and they have threatened to leave the NAFTA trade agreement, that Trump wants to renegotiate, if it is no longer beneficial to them.
A BuzzFeed News report Wednesday said that after Trump's announcement caught Mexican officials unaware, the planned meeting between Mexican President Enrique Peña Nieto and Trump next week is in danger of being canceled.
A source close to Mexican officials confirmed the frustration felt by the Mexican government and said officials fear retaliation from the Trump administration should they come out strongly against the wall pronouncement.
Trump's executive order on Wednesday said that he is beefing up border security in response to a "recent surge of illegal immigration at the southern border with Mexico [that] has placed a significant strain on federal resources and overwhelmed agencies charged with border security and immigration enforcement."

But an April Pew Research Center report using U.S. Border Patrol data found that the number of Mexican migrants apprehended at U.S. borders in 2015 had actually dropped to the lowest levels in nearly 50 years. "This change comes after a period in which net migration of Mexicans to the U.S. had fallen to lows not seen since the 1940s," the report said.
Trump, who elevated the stories of Americans who had been victim to crimes by undocumented immigrants during the campaign, and invited some of those families to the White House as he signed the executive orders Wednesday, will also institute an office within Immigration and Customs Enforcement to help these victims.
In an interview with ABC News set to air Wednesday night, Trump addressed the thorniest issue with his border wall plan — his promise that Mexico will reimburse American taxpayers, who will pay for the wall initially, despite the fact that the Mexican president says they will not pay for it.
"I think he has to say that," Trump told ABC News. "But I'm just telling you there will be a payment, it will be in a form, perhaps a complicated form. And you have to understand what I'm doing is good for the United States. It's also going to be good for Mexico. We want to have a very stable, a very solid Mexico."