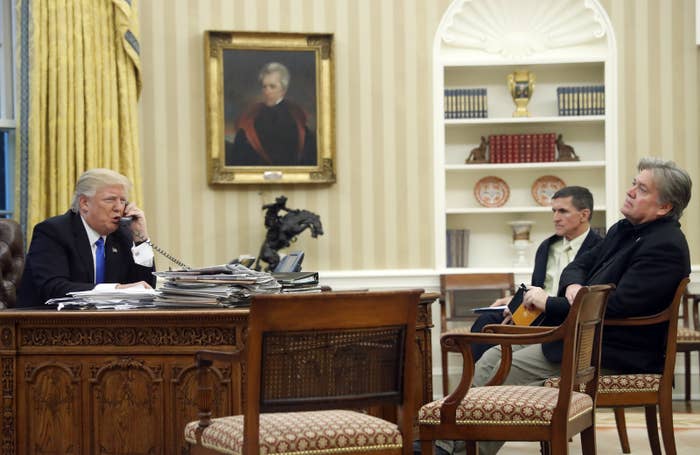 WASHINGTON — A weekend of chaos and conflict has produced one piece of clarity: Steve Bannon is the central force shaping Donald Trump's presidency.
Panic set in Friday evening into Saturday, with people taken off international flights, refugees and visa holders detained at airports, and lawyers and protesters parachuting into the tumult after President Donald Trump's executive order banning immigrants from seven Muslim-majority countries. But it was the latest evidence that Trump was following through on the radical departure from US norms on immigration that he had promised throughout his campaign.
Then, amid the outcry, the administration released a presidential memorandum Saturday evening reorganizing the National Security Council and thrusting Bannon, Trump's chief strategist, onto the cabinet-level interagency group with more access than the director of national intelligence and the chairman of the Joint Chiefs of Staff. The move made it clear that the central figure on the White House staff, and one of the most powerful men in America, is now Bannon. And his fingerprints were all over Trump's refugee ban and hardline immigration executive orders.
And as Bannon emerges as central to the administration, the former Breitbart boss — who seems to enjoy controversy but avoids interviews — has also become the central target for Trump's opposition. The top hashtag on Twitter for a time Sunday was #StopPresidentBannon.

Bannon rose by using Breitbart for fierce attacks on more moderate Republicans and by embracing racist and white nationalist elements of the party — though he has disavowed white nationalist views. Bannon and his close White House ally Stephen Miller have cast themselves as plain-old nationalists instead. And in one week, they have built a clear power center in the White House. Bannon did not respond to a request for comment for this story.
Bannon and Miller wrote Trump's inaugural address that referred to "American carnage" and then spent the following days writing executive orders that seemed meant to stop it. While the border wall plan was no secret, an accompanying order on interior enforcement contained theatrical and confrontational features: hardline policy prescriptions like denying federal funding to so-called sanctuary cities, publishing the crimes committed by undocumented immigrants in sanctuary cities, and taking away their privacy law protections.
Bannon, who supports a border adjustment tax floated by the administration, was even able to find common ground on the subject with Speaker Paul Ryan, who he had previously called a "globalist." But that was before Ryan described the plan as "responsible nationalism," according to an Axios report.
Bannon and Miller also reportedly overruled Department of Homeland Security guidance that green card holders would not be affected, according to CNN, which White House Chief of Staff Reince Priebus denied on NBC's Meet the Press on Sunday. Those people with lawful permanent residence in the US will still face additional screening and questions, Priebus added.
A source close to the Trump administration denied that Bannon is pulling the strings, saying Trump doesn't do things he doesn't want to do. The source lauded Bannon as "someone who very much understands the populist sentiment that was championed by the president on the campaign trail" and would effectively implement that vision.
As for the National Security Council, the source stressed that Bannon was not supplanting the military and intelligence officials but merely being added to the group, because he is one of the "premiere experts on the populist, nationalist movements that we're seeing around the globe." Bannon laid out his views in detail in a 2014 speech reported by BuzzFeed News.
But key Republican sources who have been in contact with the administration told BuzzFeed News they view the developments of the first week as a way for Bannon to consolidate power for his side amid internal competition between different camps of aides.
And an Axios report on Sunday noted that Bannon "packed the administration's economic team with officials who were friendly to, or at least open to, his nationalistic plans" and that during the transition, "he dreamed up a governing plan that was acutely attuned to Trump's base, with a clever outreach to unions and minorities through an infrastructure-spending plan."
The only real threat to Bannon's power appears to be Trump, who has in the past encouraged competition between his advisers as a way of limiting the power of any one individual. He hasn't yet expressed any apparent concern that the former Breitbart chairman is driving his administration's agenda.
Bannon, at least, may see his role in historical terms. In an interview with The Hollywood Reporter, he compared himself to Thomas Cromwell, the 16th-century chief minister to King Henry VIII.
Cromwell became the most trusted adviser of the king, helping to usher in the English reformation and "giving force to Henry's grand declarations." Bannon's telling of the story, however, left out the ending: Cromwell was executed for treason by a fickle king.
Tarini Parti contributed to this report.