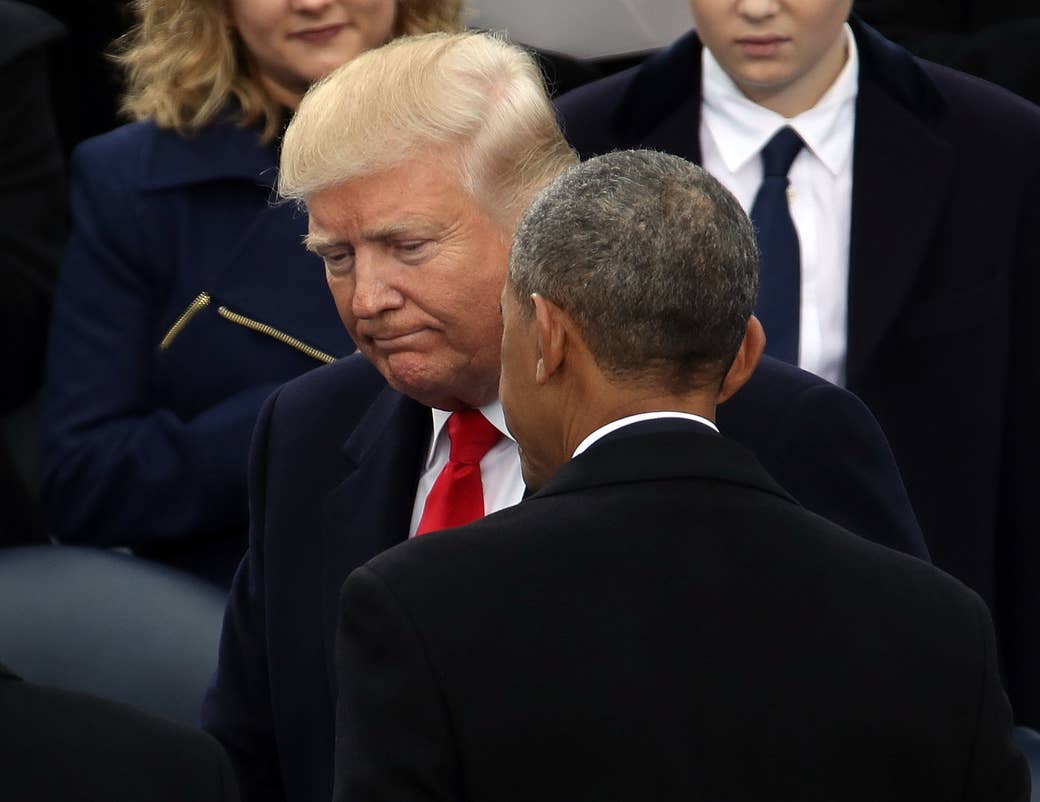 On a Friday in summer 2012, in the midst of his reelection campaign, President Barack Obama spoke of "young people who studied in our schools, they play in our neighborhoods, they're friends with our kids, they pledge allegiance to our flag. They are Americans in their heart, in their minds, in every single way but one — on paper."

With those words, Obama announced Deferred Action for Childhood Arrivals, a program that allowed undocumented youth brought to the country as children (known as DREAMers) to stay in the country for two-year periods and receive work authorization.
At the time, Obama's move was seen by Republicans as political posturing to juice the Latino vote in November. But immigrant activists were excited, having spent months leveraging Republican Sen. Marco Rubio's legislative approach to his own DREAMer fix as a means of putting pressure on the White House.
Now, five years later, President Donald Trump has moved to kill that program.
If creating DACA was a political near necessity for Obama — who was facing pressure from his left and hoping to force Congress's hand through bold executive action — killing it eventually became a foregone conclusion for Trump, who rose to power under a stringently anti-immigration banner and is driven by a need to satisfy his base.
After Republicans inside and outside the Trump administration voiced last-minute opposition to the expected decision to Trump himself, Attorney General Jeff Sessions and the Department of Homeland Security announced Tuesday that the administration would "wind down" the program with a March 5, 2018 expiration date — giving Congress time to work on a legislative fix that is no sure thing.
But despite nearly 800,000 DREAMers who signed up for it, DACA was a political orphan in Trump's White House. It was not strongly supported by any influential officials left in the administration, but instead targeted by aides who were longtime opponents of the program and saw its end as fulfilling a key campaign promise.
Sessions strongly opposed the program, and didn't want to defend it in court, sources said, as did his former staffer from his days in the Senate, White House Senior Adviser Stephen Miller. White House advisers Ivanka Trump and Jared Kushner, daughter and son-in-law of the president, were not significantly involved in DACA deliberations.
Chief of Staff John Kelly, often presumed to be a leveling influence on Trump's turbulent White House, supported delaying a decision on the program but has been dour about the program's legitimacy. In July, when he was still homeland security chief, Kelly told the Congressional Hispanic Caucus that if DACA "goes to court, it might not survive," his spokesman said at the time.
Kelly took more of a middle ground on the program's merits, a former Trump administration official said, but he still did not support keeping it in place indefinitely: "If you rescind, you put pressure on Congress to act. He believed that was [the] right move."

But those who helped create the program say its legality had nothing to do with why it was targeted by the Trump administration.
"Their concern about DACA isn't with whether it's legal," said one of the program's architects, former Obama senior administration official Cecilia Muñoz. "They don't like immigrants."
Back in 2012, the legal argument by the Obama administration was summed up like this: There are 11 million people rendered deportable by Congress, but Congress does not provide resources to deport 11 million people. So you have to pick who to deport, you have to establish priority. "When defining who is high priority, you can define who is low priority," Muñoz said.
By the time the Obama administration came to that legal rationale, the president had already spent months under pressure from increasingly well-organized DREAMers and activists on the left, some of whom had taken to calling Obama the "deporter-in-chief."
Muñoz disputed the characterization that Obama's eventual action was a political calculation, arguing his administration took a serious political risk with the move, not knowing if popular support for the DREAM Act would carry over to strictly executive action.
"DACA wasn't a political decision because it wasn't clear to us within the administration that we would have widespread support for it, because it was a very assertive use of administrative authority," she said.
A confluence of activist pressure, Congress refusing to act, and election-year calculations led Obama to enact the program with the idea that it would spur Congress to eventually pass far-reaching immigration policy. The bipartisan 2013 immigration overhaul looked like that opportunity, but it failed, due in part to renewed pressure on Republicans by forces like Sessions and Miller, then in the Senate, as well as right-wing media led by insurgent sites like Breitbart.
If someone like Hillary Clinton, Sen. Bernie Sanders, or even Republican Jeb Bush had won the presidency, DREAMers likely would have continued to receive some type of protection, either through the continuation of DACA or a separate legislative fix. But the temporary program was always going to be in danger of being scrapped if a hardline Republican came into office. That political risk became an extreme reality when Trump won the White House.

Republicans who didn't want Trump to do away with the program say the problem with Obama's administrative action was that this situation was always going to resurface.
"I'm really concerned about the kids," said Daniel Garza, executive director of the Koch brothers–led LIBRE Initiative, who called Trump's decision a "damn shame," before turning to Obama's culpability. "But why did he preempt Marco Rubio with an executive order? It was a temporary solution for political gain."
Obama, who has a soft spot for DREAMers, became particularly protective of the policy as he prepared to leave office. In a meeting before Trump was sworn in, Obama "spoke to Trump very directly" about the need to keep DACA, according to a Politico report, and said a threat to the program would be an issue that would draw him back to the political arena.
"His message was, those are good kids who didn't do anything wrong," a lawmaker told Politico.
Trump himself had personally gone back and forth on DACA, saying in February that his administration would "deal with DACA with heart."
But Trump's campaign was accented by his hardline stance on immigration, and declarations of support for wide-scale deportations. "We have at least 11 million people in this country that came in illegally. They will go out," Trump said during a February 2016 presidential primary debate. Some of those people will come back to the US, he added, but they'd have to "come back legally."
While Trump has been stymied in his attempts to fulfill campaign promises to his base of supporters to end Obamacare or quickly begin building a southern border wall, DACA gave him a chance to satisfy at least a component of what his most eager supporters had demanded.
Once in the White House, Trump's senior advisers quickly drew battle lines on the program, a senior administration official confirmed earlier this year. Former chief of staff Reince Priebus and former chief strategist Steve Bannon supported keeping DACA around for leverage against Democrats in future immigration policy negotiations. Hardliners, including Sessions and Miller, were stridently anti-DACA, believing it to be unconstitutional.
The administration was happy for much of this year to let the program float in the ether, opposed by voices on the far right and never openly supported by the White House. But once Texas and 10 other states threatened in June to fight the Trump administration in court over DACA's legality if the program wasn't ended by early September, there was simply no one in the administration willing to defend it.
A White House official said Sessions had Trump "in a box" on DACA, because he made it clear he didn't want to, and didn't think he could, defend the program in court.
And the former Trump official said Miller's "whole game plan was to do nothing and let them sue and then decline to defend it in court," unconvinced of the likelihood of getting Trump to strike the program down on his own.
Once Priebus and Bannon left the administration this summer, the hardliners had the clear advantage. And Kelly's move into the White House didn't necessarily hearten DACA's proponents.
"I think the administration is going to turn its back on DACA, and Kelly seemed to be setting the groundwork for that," a source in the July Hispanic caucus meeting told BuzzFeed News at the time.
As rumors became rampant that DACA was in danger over the weekend, forces inside and outside White House tried a last-ditch effort to convince the president to save the program, or at least get the group of attorneys general led by Texas to delay their threatened lawsuit until later in the year.
White House counselor Kellyanne Conway moved behind the scenes to get the president to change his mind, recruiting Hispanic Trump supporters to reach out to the president, a source said, but a source familiar with Conway's thinking said she will support Trump's final decision, "period."
Newt Gingrich was among those who was working Trump, due to his access to the much sought-after private cell phone number of the president — "a way to get around Kelly" — one source close to the administration said. "Newt's been bugging the crap out of me," Trump said, according to the source. But that late movement came because proponents saw the writing was already on the wall. By midweek Miller was confidently telling people that the program was going to end, a source who spoke to him said.
Trump's move to end DACA has left prominent Democrats, Latino leaders, donors, and advocates who had been powerless to save the policy turning to what they will do next. Like Republicans in 2012, they see Trump's decision now to be nakedly political.

Saying recently the end of DACA would be "a tragedy for our nation," Texas Democratic Rep. Joaquin Castro said the decision would betray the trust DREAMers put in the US government, which now has their personal information, and contradict the nation's core principles.

"It's up to Congress to do the right thing and pass legislation that will protect DACA recipients," he said. "Republicans must make a choice: Will they stand with President Trump and help carry out his mass deportation plan, or will they act on behalf of the majority of Americans who support DACA? This decision is not just about policy; it defines our morality. There has never been a more urgent need for Congress to act and take a stand for DREAMers."
Hector Sanchez, chair of the National Hispanic Leadership Agenda, a coalition of 45 of the top Latino advocacy organizations in the country, told BuzzFeed News plans are underway to take to the Capitol steps arm-in-arm with black groups, LGBTQ organizations, and Native American, Asian, and women's groups to show a united progressive front and fight back, with plans to eventually enact a boycott of Trump properties and products.
"It's a declaration of war against the Latino and immigrant community," Sanchez said. Coming so soon after the pardon of former Maricopa County sheriff Joe Arpaio, Sanchez said the DACA decision would be "a continuation of extremist, racist, anti-immigrant policies" that will lead to "very serious consequences."
Mike Fernandez, a longtime Republican donor who donated $33 million in the last seven years to candidates like Mitt Romney, Sen. John McCain, and Jeb Bush before spending $3.5 million in an effort to stop Trump from winning last year, said if nothing else, Trump should look at DACA as a businessman — "at the contribution these individuals can make versus the cost of getting rid of them."
"I was brought here when I was 12, I had no choice," said Fernandez, whose family took him from Cuba through Mexico to the United States. "If I wasn't allowed to come in, I would not be able to create over 100,000 jobs throughout the years and give $200 million to charitable causes dealing with children's health care. It was because of the welcoming support from the American people versus having a foot on my throat trying to kick me out."
Erika Andiola, a DACA recipient and veteran of the immigration wars in Arizona against Arpaio and others, sees the Arpaio pardon followed by the imminent threat to DACA as a momentous political shift, signaling that Trump will not only govern this way, but believes he can win reelection this way.

"I hope this is opening the eyes of more people to see what he is willing to do," said the former Sanders staffer, adding that she's disillusioned with both parties, but now feels Republicans need to be targeted. "I'm tired, burned out, and jaded, but I also understand that we need to figure out how to change the power in this country, unfortunately Republicans have power in every level of government."
A source close to the administration, who wants DACA to remain in place, confirmed Andiola's belief that Trump is chiefly concerned with his own voters.
"I think it's a little bit worrisome, but I also think the Trump voter clearly chose someone who is not ambiguous about immigration," the source said. "He said he was going to lower immigration, and he was largely elected on this kind of an agenda. None of this was a surprise."
A report on the economic impact of losing DACA, released last week before Trump's final decision by the liberal Center for American Progress and Mark Zuckerberg's immigration group FWD.us, found the potential for an average of 30,000 DACA recipients to lose their jobs each month if the government stopped taking new applications and allowed old work authorizations to expire.
FWD.us President Todd Schulte also took aim at immigration compromises floated by administration officials in reports, even before Trump's Tuesday decision, suggesting dangling DACA protections or a new DREAM Act in exchange for border wall funding and other parts of Trump's immigration agenda.
Plans by Republican Sens. David Perdue and Tom Cotton that would curb legal immigration and the floated compromise that would fund a border wall and implement e-verify, a system for employers to check immigration status, would not "be a negotiation to make immigration work better," Schulte said on a conference call last week.
"It's not an option DREAMers want to sign up for to get work authorization in exchange for their parents getting deported," he added.

Trump's plan with a six-month delay places immense pressure on renewed Republican-led congressional efforts to extend protections to DREAMers by law before the administration's decision goes into effect.
While DACA recipients were able to move on with their lives without fear of deportation and could get jobs while the program existed, the temporary nature of the program always lurked under the surface as a problem for DREAMers.
That dynamic was at play in a private White House meeting with Priebus, Bannon, and Hispanic supporters on May 4, the day before Cinco de Mayo. A conversation that mentioned the need for more Latinos in the administration, and touched on the economy and Hispanic wages, also led to a spirited back-and-forth on DACA, according to three sources who attended the meeting.
While the Latino leaders said they were happy that the program hadn't been scrapped in the early days of the administration, they also pushed for the program to become permanent through legislation, arguing that DREAMers occupied a different space in the immigration conversation because they had come into the US through no fault of their own and should be allowed to stay, according to a meeting participant. Bannon fundamentally disagreed with that idea, and Priebus didn't want to go there.
"Why can't you just take your win?" Priebus shot back.