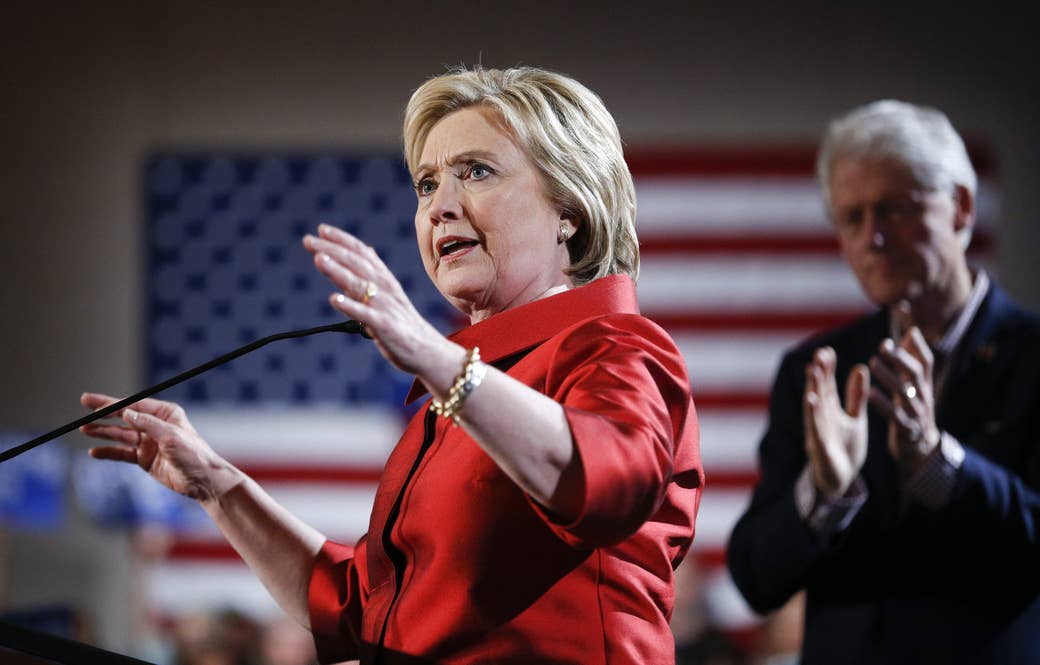 LAS VEGAS — After Iowa but before Bernie Sanders' big win in New Hampshire, Jorge Neri picked up the phone.
The Nevada organizing director for the Clinton campaign was incensed. Staffers for Sanders' campaign were going around saying that their campaign had cracked the code on Hispanic voters, after Sanders won the majority of precincts where Iowa's small Hispanic population lives.
So, on a conference call with the Clinton campaign's organizers in his state, Neri literally read the words of Erika Andiola, a top Sanders staffer and well-known activist. He told them sarcastically that the Sanders plan was to win the state by parachuting into Nevada just two weeks before and "talking to people."
And then he told them: I want you to go out one extra hour knocking on doors tonight.
Two weeks later, Hillary Clinton won Nevada in a close but decisive win — the product of a 10-month organizing effort led by two Obama campaign veterans and 22 full-time staffers, one that entailed 1,100 one-on-one meetings with constituencies ranging from Latinos and Native Americans to rural Nevadans and veterans, all by last summer, and before Sanders had even hired a single staffer in the state.
Before Hillary Clinton took the stage to give her victory speech on Saturday, she was introduced not by one of the high-profile Latino surrogates the campaign sent to Nevada in the final days, but by Emmy Ruiz, the state director.
"From the bottom of my heart, I want to thank all my field organizers who have worked so hard and our precinct captains who knocked on doors in 120-degree weather and when it was 15 degrees in Reno and everywhere in between," she said, through tears.
Last April, Neri and Ruiz arrived in Nevada with a mission. In 2012, they had helped Barack Obama win Nevada with the highest margin of any battleground state that year and 70% Latino support. They wanted to deliver again.
Quietly confident that the results would reflect the months of meetings and work they put into the state, Ruiz and Neri talked about what got them to this point, in an interview a week before the caucus, at a coffee shop named Beat that sells vinyl records. This story is drawn from a series of conversations with them and other operatives inside and outside the campaign.
There were a few challenges to begin with: They had to build a new voter list. This was a caucus in a primary, not a general election. Nevada is a transient state, and unlike Iowa and New Hampshire and their established history of early voting, the Nevada caucus is relatively new. Last time, Clinton won the popular vote in 2008, but Obama edged her in delegates — so "equal coverage among different geographical areas," Neri said, was imperative.
And from the start, they wanted to go right at established narrative that Clinton had waffled on immigration in the past. They wanted to do something big and bold as her first event in Nevada to show that she was serious about making the issue a priority.
So they started the official campaign in Nevada in May at historic Rancho High School in North Las Vegas. Clinton went there. She committed to going further than Obama had on executive action, a path to citizenship for undocumented immigrants, phasing out detention centers, and protecting the parents of DREAMers from deportation.
The event may actually be one of the most significant of the entire campaign — the Democratic frontrunner staking out a very liberal, expansive position on immigration at the very beginning — and one of the most overlooked.
People in the room — including the activists brought to the event by Neri and Ruiz — had been prepared to challenge Clinton on her positions. But they didn't…really have anything to say.
The comments from the time are so positive that they seem almost alien now, in a campaign getting nastier every day.
Andiola, a tough immigration activist who had confronted Clinton in 2014 and would go on to be a fierce critic of her after joining the Sanders campaign, said she was "happy" after the event, calling it "a really great step recognizing what she could do."
United We Dream — which interrupted one of her speeches later in the year — said Clinton signaled that the 2016 election may stand out as the first time in history that the country would have a substantive debate on immigration policy and executive actions, including "full and equal citizenship for our communities." (This was before Donald Trump entered the race.)
Amanda Renteria, the national political director, as well as Lorella Praeli, at the time consulted by the campaign before she came on officially, both had a hand in the event. But Ruiz and Neri led it, bringing Astrid Silva, Blanca Gamez, and other DREAMers who they had longstanding relationships with to talk to Clinton at the roundtable event.
"It had Jorge's vision," said Ben Monterroso, the executive director of Mi Familia Vota, who has worked with him.
Ruiz understood that the campaign had to push back against the narrative that Clinton wasn't strong enough on immigration.
"I don't think we had any opponents in the race yet at the time," she said. "I know there was this narrative that we had to own and work on."
Monterroso said the seeds planted that day in May bloomed Saturday when he saw some activists who work for the Progressive Leadership Alliance of Nevada (PLAN) standing with Clinton.
"The fact that you saw today all those groups fighting for immigration reform, groups like PLAN, a bunch of kids were very openly supporting Hillary Clinton," he said. "They worked with them very heavily."
(PLAN stresses that the organization did not endorse Clinton and its staff can do what they choose to on their own personal time.)
And before Sanders had a staffer in the state, Ruiz and Neri headed on a summer bus listening tour. Specifically, it was an SUV tour ("an American one," Ruiz said) that crisscrossed the state to visit with Native Americans, Asian-American and Pacific Islander and LGBT groups, rural Nevadans, and residents of an actual ghost town.
As part of the rural program, the Nevada team confirmed a precinct captain in Goldfield, an old mining town that once struck it rich when gold was found. (It has an actual entry on Ghosttowns.com and a rumored haunted hotel.)
"There are 250 people that live in that community, including a group of Hillary supporters," Neri said.
At the end of August, the Clinton campaign rolled out her plan for rural America, which includes elements like access to broadband internet, health care, and substance abuse prevention, and was largely meant for Iowa. But the feedback from that SUV tour also made it in.
"Access to fresh produce is another one," Neri said. "These are people who may have to drive 20 miles to have fresh produce or to have a baby."
For Neri, who grew up in Chicago, he saw some of the same problems in rural areas that can be found in the inner city. "The drug epidemic is very real," he said of heroin and meth addiction. "The use of it is tearing these small towns apart."
The campaign did well in rural areas, keeping it close in areas like Pahrump — where 300 people came out to see Bill Clinton at 9 a.m. leading up to the caucus — and winning in others, like Ely, a place they visited during the summer tour, and where Sanders was supposed to do well.
Billy Vassiliadis, the CEO of R&R Partners and a Nevada Democratic operative for more than 35 years, said Clinton had the advantage of Ruiz's experience in 2008, which showed the operation had to reach into the farthest corners of the state to ensure a win.
"Rural voters in a close race make a big difference," he said. "The rural tour came to people that don't usually see Democrats, who are not used to seeing a presidential campaign be not only visible, but asking their concerns."
But Latino voters were always the ones they hoped and expected to dominate.
East Las Vegas is one of those working-class Latino strongholds where the Clinton campaign hoped they could do really well. Sanders had an office in the same area of town, a bit smaller, with a diverse group of young volunteers — including 15- and 16-year-olds and lots of high school and college kids. The Clinton office was similarly diverse, and it had young people too, but it was an older group, including older black and white women among them.
The Clinton campaign hoped their own group of 30 high school volunteers from the area speaking to residents was going to help them win. (Ruiz and Neri did something similar in 2012 using the "neighborhood team model": neighbors talking to neighbors about issues that matter to them.) But if the caucus process is new to Nevadans in general, it was even more unfamiliar to the Latino community.
Operating under this assumption, Clinton field organizers believed that the key to making inroads was not bringing up the caucus immediately.
"Support for Hillary was there, but turning their support into an actual caucusgoer is difficult," said Natalie Montelongo, a 29-year-old staffer from Texas who worked with the high school students.
Montelongo and her organizing partner, Vanessa Valdivia, understood that the organizing model works: First tell their life story to the voter, and hear their life story, and make three to five contacts with them. At some point in the middle of that process, once they knew each other, the organizers felt comfortable asking, "Do you know what a caucus is?"
"People have to know what the caucus is," Valdivia said, noting that the campaign held Spanish-language caucus trainings, too. "They would say, 'I was here last election and no one told me this was happening.'"
The campaign put a lot of thought into the fact that a simple "Go out and vote!" message in Spanish wasn't going to be enough. The smallest details mattered: Ruiz came up with "Caucus conmigo," or "Caucus with me," an initially unpopular phrase that the organizers warmed up to.
This methodical, painstaking approach was possible because of the head start the campaign had, and it looks to have worked: In the most heavily Hispanic districts of populous Clark County, which includes East Las Vegas, Clinton won close to 60% support, higher than her overall vote share in the county as a whole.
In an email to supporters a week before the caucus, the Sanders campaign made a call for "volunteers across the country to help us call Spanish-speaking voters in Nevada and find out who is for Bernie and who is still undecided."
"You have had to understand the Latino culture," Vassiliadis said. "It is one of building a relationship, one of building loyalty, it's not transactional. You can't make a promise, do a deal, and walk away. There needs to be trust and a sense of belonging, a sense that there is a heartfelt commitment."
Despite the strong early lead, things got a little messy at the end. Sanders showed he can compete in a state with a larger nonwhite population, and the campaign, citing an entrance poll of 213 Hispanics, insists that it won the Latino vote. The Clinton campaign disputes this, pointing to the Clark County data.
The entrance poll showed Sanders with 53% support among that group, within the 7% margin of error. Latinos made up 19% of the electorate of about 80,000 caucusgoers — meaning close to 16,000 Hispanics participated, a sign that both campaigns mobilized them. There is now real evidence that Latinos, who are much younger than other demographic groups, will continue to offer an opening to Sanders in getting wide swaths of their support.
As the national media descended on Nevada in the final week leading up to the caucus, declaring the notoriously difficult-to-poll state a dead heat, the pressure was unbelievably high for Ruiz and Neri, said Andres Ramirez, a Democratic superdelegate supporting Clinton.
"Especially with all the hysteria after New Hampshire, the pressure to win Nevada became so great, but they didn't buckle, they didn't collapse, they stayed resolved, they stayed focused, they increased their efforts and pulled it out," he said. "It would be easy for any young operative, when the stakes are that high, to lose it and make mistakes and start being erratic."
Ruiz and Neri were bemused by Sanders staff who said they would win the state powered by enthusiasm for the candidate.
"I do question anyone who doesn't really take this state's ground game seriously," Ruiz said last week. "This is not an easy state; since it is such a transient state, you have to put in work. If there was a misstep it was thinking you could swoop in, put on a badge, and help make a difference."
Neri said there is no "silver bullet for Latino outreach" and noted that what he found was the least understood part of the well-publicized incident where Andiola with the Sanders campaign dismissed the endorsement of the DREAMer Silva as a "press hit."
That group of DREAMers who met with Clinton last year were on policy calls leading up to the event, Neri said, and Silva was giving the campaign input well before she endorsed Clinton publicly.
"That's why it's funny that Erika wanted to hit us as a press hit," he said. "We could have blown those meetings up, just to get a press hit, but we did it behind the scenes."
A week before the caucus, in the coffee shop, Ruiz was reflective and already getting nostalgic, remembering days at far-flung parts of the state. She remembered a Get Out the Caucus training during Christmas and New Year's in December. Organizers were only given 48 hours off — and that was the actual moment she felt they would win the state.
"To see people come in, organizers who have already sacrificed so much," she said, leaning forward, tears in her eyes. "When we concluded training they were going around talking about the reason for their commitment, talking about the volunteers, and talking about our family here. That's the stuff that makes me know we're going to see magic happen in Nevada."