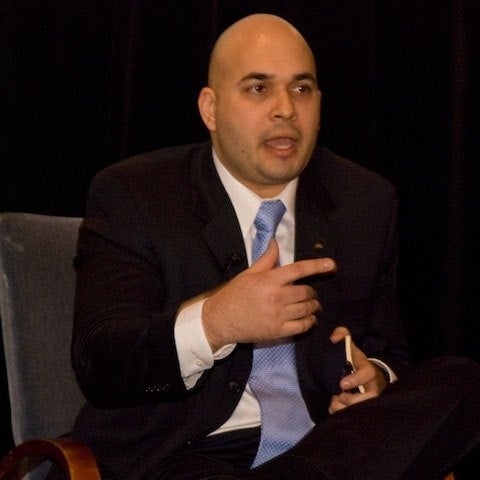 Louis Pagan, a man who helped launch two of the entrenched Latino social media companies, Latinos in Social Media (LATISM) and Hispanicize, died suddenly in 2013, but those who knew him say his selfless legacy lives on through an awards show created to honor individuals just like him.
"He always wanted to bring out the best in other people even when they didn't believe in themselves he would capitalize on their strengths," his wife Yolanda Pagan told BuzzFeed. "He was selfless."
Joscelyn Ramos Campbell, a friend and colleague of Pagan's, captured his influence upon his death.
I knew of Louis during his #Latism days and met in person in 2011 when he was co-partner of Hispanicize and I was on the advisory board for Hispanicize. He was one of the first male Hispanic social media influencers that I met that truly understood the power of bloggers, especially those that were blogging about living as Hispanic Americans. We had several conversations about journalism, media, and blogging in a professional manner. He always wanted the Latino social media community to excel and not work for free but create beneficial relationships. He was a wonderful individual who adored his wife and children. His passing is a loss to our community as a whole.
It was in that spirit, that the Positive Impact Awards saw a small launch in 2013 in Miami at Hispanicize, a conference aimed at Latino bloggers, journalists, and brands with a focus on film and music, where an education fund was launched for Pagan's two daughters. Hispanicize and Proctor and Gamble raised $11,000. George "Urban Jibaro" Torres was the first person honored, for his efforts to mobilize relief after Hurricane Sandy and donate toys to poor children at Christmas.
"I'm very humbled by all of these people I've heard of through Louis, who came out to give back to my family," Yolanda Pagan said. "These people in the Hispanic community they don't know me, but they learned about me and my family through him."
Torres credits Pagan with elevating him to a national platform from being a local blogger.
"Louis was a really good friend of mine, and our conversations were always about helping people in the community," he said. "I kind of equate it to losing a twin. Losing him felt like how do i continue what I'm doing? It was like losing family, but also losing an ideological partner."
The awards show, set for April 3, has grown. Think the CNN Heroes awards, but nominating 20 Latinos from across the country who are doing important work for the Hispanic community.
People like Henry Acosta, who has spent two decades making contributions in Hispanic mental health policy, education and advocacy. His program, "Changing Minds, Advancing Mental Health for Hispanics," was highlighted by the World Health Organization and the World Federation of Mental Health. He has also served the Puerto Rican Family Institute, the March of Dimes New Jersey Chapter, and the National Alliance on Mental Illness.
Another nominee is Gaby Pacheco from Miami, a prominent DREAMer and national immigration activist, who had a key role in working with the Obama administration ahead of the deferred action for childhood arrivals policy announcement that gave legal status to DREAM Act-eligible undocumented youth brought to the country as children.
Yolanda Pagan said reading the profiles of the nominees online was wonderful and has once again showed her what her husband left behind.
"His death was unexpected, my world did fall apart having two girls to raise, but all of these blessings have come after his death, it's amazing," she said.
"I'm just trying to raise the girls, never letting them forget his memory, constantly putting pictures of him all over, so they always have a face to his name and so they know who he was and the legacy he left behind. The footprint he left behind can never be erased digitally."