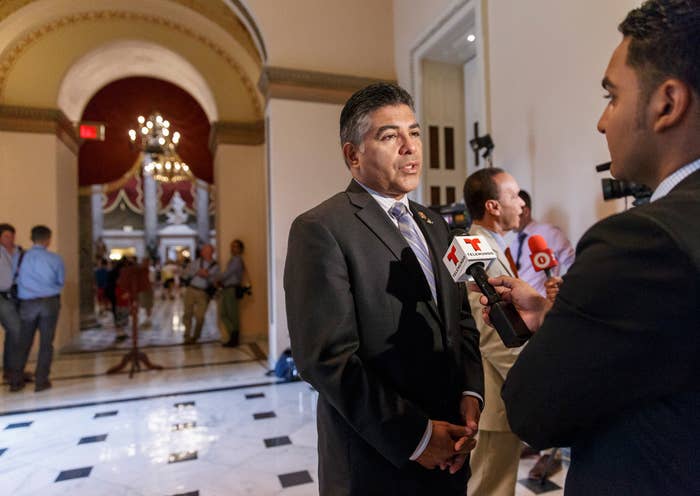 Hispanic lawmakers have formally asked the Justice Department to release data about Latinos who have died after interactions with the police.
In a July 28 letter sent by Rep. Tony Cardenas and 13 other members of the Congressional Hispanic Caucus, the lawmakers asked the department to release the number of Latino deaths "resulting from police interaction during the preceding 5 years" — and a wide array of additional information about each instance.
The lawmakers asked for the ages and immigration status in each case, the law enforcement agency involved in each incident, a list of DOJ law enforcement agencies that exclude ethnicity as a variable in data collection, and the number of complaints and corresponding investigations received by Justice Department related to the deaths of Hispanics as a result of contact with police.
"As a group of concerned policymakers, and members of the Hispanic Caucus, we wrote the Department of Justice looking for unbiased statistics on Latinos' interactions with law enforcement in the U.S.," said Democratic Rep. Joaquin Castro.
Castro has spoken on CNN this week about Gilbert Flores, a Texas man who, in a video, appeared to have his hands up when he was shot and killed by police. Authorities said a second video, which may show Flores holding something in his hand, is being reviewed.
"The more data we have, the more informed our decisions will be and the better we can represent our constituents and our community. Transparency goes a long way," Castro said.
Cardenas and advocates also repeatedly invoked Donald Trump, saying they're concerned about the effect of harsh language about immigrants and Latinos. They pointed to the beating of a Hispanic homeless man in Boston; the two men said they agreed with Donald Trump about "illegals."
Right now, the problem, those who spoke with BuzzFeed News said, is there are no publicly available statistics or hard evidence to corroborate what they believe to be true based on more anecdotal evidence: that Hispanics must be included in the larger conversation about police violence.
A Justice Department official said the department will be responding to the lawmakers' letter soon. "We have received it, are reviewing it, and we do plan on responding," said spokesman Kevin Lewis.
The DOJ Civil Rights division has investigated cities where police conduct toward Latinos is the focus, including Maricopa County, AZ, East Haven, CT, Albuquerque, NM, Alamance, NC, New Orleans and Puerto Rico.
The National Council of La Raza (NCLR), has also gotten involved with this effort, at the behest of its local affiliates who said Hispanic and immigrant communities face this issue.
"As police abuse has bubbled nationally, the intensity and desire to tell the Latino story has grown from communities," said Eric Rodriguez a vice president in advocacy and legislation for NCLR.
At the organization's national conference in Kansas City, a session featured advocates talking about the challenges Hispanics might face, like limited numbers of Spanish-speaking police officers and immigration status, which may make them targets or hesitant to speak to law enforcement about crimes they have witnessed.
Alberto Retana, the president of Community Coalition in south central Los Angeles, said that while the LAPD is instituting body cameras for officers, growing anti-Latino sentiment makes the Justice Department request imperative.
"This data is only going to amplify our ability to advance policy solutions that better protect black and brown lives from state violence," he said.
The data, the advocates say, is critical for addressing problems. The solution, they argue, will in part come from fostering closer relationships between Hispanic and immigrant communities and law enforcement.
Jessie Ulibarri, a Colorado state senator who previously served as policy director of the local ACLU chapter, was the lead sponsor on a bill for a body camera grant program that passed. The state also now has a "right to record" law enforcement law. He said the link has been broken between many local law enforcement agencies and immigration officials — and the result is more trust in the community. The Justice Department figures are a crucial part of this continuing fight, to him.
"Communities of color know this in their lives but the data would prove what people are seeing on the ground," he said.
He remembered Jessie Hernandez, a 17-year-old Latina teen killed in controversial circumstances, when she tried to evade police in a stolen car and was shot by two officers, one of whom said he feared he was going to be run over, which the family's lawyers disputed. No criminal charges were filed against the cops.
And his heart was broken, he said, when he visited a group of fifth graders in a largely minority part of north Denver, and he asked the students what they would tell him to focus on if they were his boss. Public safety, they answered.
"We don't see police officers in our community unless it's to arrest our parents or break up a fight," he recalled them saying.
Ulibarri said what makes him hopeful about the work that has been done in Colorado is that there has been a relationship established with Latino, immigrant, and police communities.
He remembered a meeting on the subject of how to collect data and prove whether officers are racially profiling motorists. A sheriff helpfully suggested that race and ethnicity could be optional information on someone's driver's license, which avoids asking about immigration status, but would be registered when a driver's license is scanned.
Similarly, Luz Gallegos, who was on the NCLR panel in Kansas City on the issue, said her work in Perris, California, with the TODEC legal center has seen tension between police and immigrants give way to a successful community policing program.
Where police used to immediately ask for a license during a stop — which made drivers feel like they were being profiled — now officers first inform motorists why they stopped them.
The Obama administration has also been involved in efforts to increase data collection, with the March release of its Task Force on 21st Century Policing report.
"The Administration launched the Police data Initiative to encourage law enforcement agencies to publicly release data, disaggregated by demographics, across a number of fields, including uses of force and officer-involved shootings," said White House spokeswoman Katherine Vargas.
So far 26 law enforcement agencies have voluntarily joined the Initiative and have started the process of publicly releasing certain data sets, which helps increase transparency and build community trust, she added.
In their letter, the CHC members said the data on Latino deaths was a continuation of the president's focus on criminal justice.
NCLR's Rodriguez said a consistent problem has been this lack of data to substantiate the issue of police abuse.
He rattled off a few instances, including the 13-year-old shot and killed in California after his pellet gun was mistaken for the real thing.
He doesn't want a huge national flashpoint to emerge to make people pay attention.
"We know it's a problem," he said. "Just like before Ferguson, people know we had a problem."