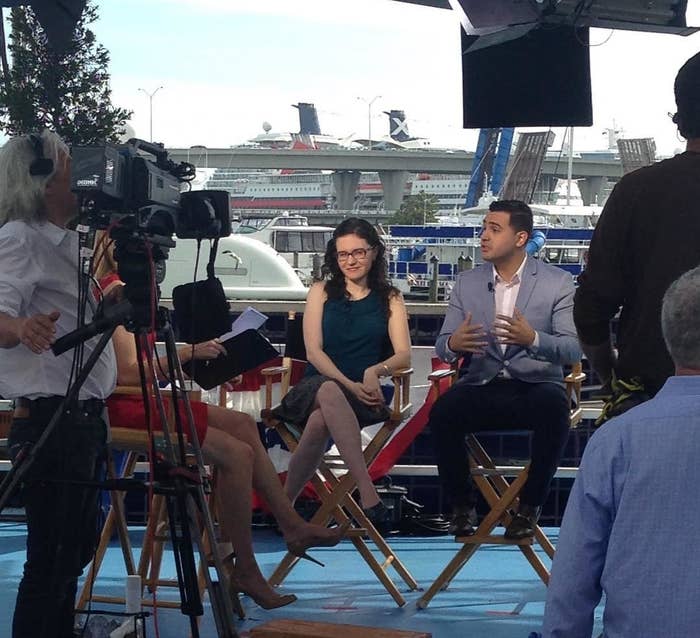 Wadi Gaitan took the helm of the communications department for the Florida Republican Party in May 2015, fresh off making House Republicans more well-known on Spanish-language media.
His plan was to work toward flooding Florida with the message, tone, and care that would aid Republican efforts to wrest back control of the presidency.
Donald Trump cannonballed into the presidential race a month later.
Now after more than a year of comments by Trump that have roiled the Hispanic community, and after one of the worst weeks of his campaign, Gaitan has decided to leave the Florida GOP to join the conservative LIBRE Initiative.
"I'm thankful for my almost two years with the Florida GOP, however, moving on gives me a great, new opportunity to continue promoting free market solutions while avoiding efforts that support Donald Trump," Gaitan said in a statement to BuzzFeed News, declining to comment further.

But friends of his say the operative of Honduran descent could not stomach supporting efforts to elect Trump any longer.
"His job was getting difficult with the indefensible things being said about immigrants," said one friend who spoke with Gaitan at the Republican convention.

Gaitan follows other Hispanic Republicans who grew disillusioned with working to elect Trump, and have left the party or now refuse to go on Spanish-language television to defend Trump's comments, which have ranged from calling immigrants dangerous to criticizing a Mexican-American judge in the Trump University case who Trump considered biased because of his heritage.
"We should be a big tent and inclusive party and whenever people are exiting the tent, we should worry," said a Republican operative friend of Gaitan. "When folks find it tough to support the nominee — Ronald Reagan said come one come all, not get them out of here."

Gaitan was credited with taking the lead on ensuring Florida's Sunshine Summit, where 14 presidential candidates took the stage, was a success from a bilingual point of view. The event, billed as Florida's biggest political event of 2015, also partnered with Telemundo and saw coverage from Univision.
"One of the things he was tasked with was how to grow and engage Hispanic and African-American and Asian-American reporters," said Izzy Santa, the RNC's former Hispanic media director, who worked with Gaitan. "He's done a great job with the state party and did a great job in the House conference creating events and helping members engage with different ethnic groups."

Republicans argue that away from the Trump orbit, Gaitan can help share the benefits of free-market principles with the Hispanic community, where many are small business owners.
"Obviously, for us it's no secret that we don't feel either candidate is going to help us achieve the policy outcomes we want to achieve," said LIBRE's Daniel Garza, who has been critical of Trump. "But the fact that we were able to persuade Wadi Gaitan to join our team, we're thrilled, the kid is a true talent, who is knowledgeable about federal and state policy and brings tremendous value to what we're trying to get done."

One of Gaitan's associates, who works for a Republican member of Congress, indicated that many staffers feel the way Gaitan does and Trump isn't helping matters with the way he has come out of the conventions.
"I think its tough for a lot of people," the operative said. "If you're Hispanic, sure, but if you're Millennial, if you're a woman, too."