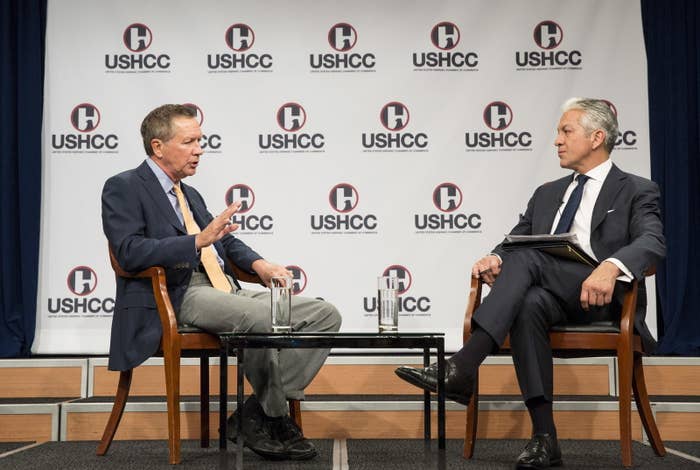 WASHINGTON — Over the course of the 2016 campaign, Javier Palomarez, the US Hispanic Chamber of Commerce president, repeatedly criticized Donald Trump; calling him a "buffoon," and calling his mass deportation plan "the argument of a child and fear mongering at its worst."
That was then. Now Palomarez is singing a different tune, having joined the President-elect's national diversity coalition as an advisor.
"Our association is going to respect the process and respect the will of the people. We're going to do everything we can to help the new administration move this country forward," Palomarez said. "I'm very enthused and encouraged by the progress thus far."

Palomarez was able to raise the profile of his organization during the 2016 campaign by holding high-profile sit downs with candidates from each side. He held news-making, public townhalls with Ted Cruz and John Kasich, Bernie Sanders and Hillary Clinton. But discussions to hold a similar event with Trump fell apart in the Fall of 2015, leading to Palomarez's very public rebutting of Trump.

Many Latino leaders would scoff at the idea that there has been progress on their issues since the election, with the heads of various Hispanic organizations repeatedly calling on Trump to meet with them and lamenting the fact that they can't even get their calls answered. But Palomarez, who still says he disagrees with Trump on a host of issues, cited the appointments of Rick Perry to be secretary of energy and Treasury nominee Steve Mnuchin as two who he believes could help the 4.2 million Hispanic small businesses that comprise the USHCC membership.
A November Bloomberg report said OneWest Bank, the lender Mnuchin created and quickly sold was accused by advocacy groups of breaking federal laws "by keeping branches out of minority neighborhoods and making few mortgages to black and Latino borrowers."

Three sources said Palomarez was briefly discussed as a candidate for a cabinet position, with the small business administration and the department of agriculture coming up in those conversations.
"Because Javier explained to me that he was not in a position to leave the Hispanic chamber of commerce, I asked him to serve as an advisor to [Trump's] national diversity coalition," said Michael Cohen, the president-elect's attorney and advisor.

While the national diversity coalition has Latinos in it, Cohen said none "have the outreach and the number of members that Javier does."
Cohen said the group was partly founded to "dispel the notion that Mr. Trump is one of the many things that the liberal mainstream media tried to label him as — that he is anti-Hispanic."
Still, Palomarez disagrees with Trump on big issues, perhaps chief among them, immigration, which he says the USHCC views through an economic prism.
Palomarez said he's heartened by the idea that Trump may go after only "criminal" immigrants and leave children and families alone, though the lines between those two groups blur depending on who is making the distinctions. But even there, he hopes his counsel will have an impact but frankly says he doesn't know what will happen.
"In my conversations with [Cohen] they've made it clear to me they're not in the business of breaking up families and deporting children," Palomarez said. "Now does that make it into policy? I can't say, man."